cryptocurrency
Price Prediction: Cardano Presents Short-Term Buy Opportunity and HUH Token Set for 60% Upswing

Cardano's price has formed a bottom reversal pattern, indicating the possibility of a trend change. A break above the immediate support floor will reinvigorate the bullish outlook for ADA, propelling it to retest a critical resistance level.
Meanwhile, HUH Token has broken its downtrend line as it prepares to build bullish support and possibly move 60% higher to test previous resistance levels.
Cardano (ADA)
 Cardano's price has tagged the $1.29 support level three times, forming a triple bottom pattern. This technical pattern indicates that the downtrend has ended and a new uptrend is imminent.
The journey north is hampered by resistance levels at $1.42, $1.47, and $1.50, implying that ADA will face a difficult period. Regardless of the headwinds, ADA is expected to rally 13% to retest the 50-day Simple Moving Average (SMA) at $1.47.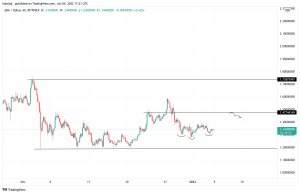 ADA 4-hour chartAccording to TradingView
While Cardano's price may reach these levels, it is unlikely to sustain at these levels, as holders who were locked in at higher levels during the recent fall may wish to break even.
Additionally, the steady decline in the number of large transactions worth $100,000 or more since November 1 demonstrates the long-term bearish outlook for Cardano's price. These transfers, which act as a proxy for institutional investors, fell from 6,630 on November 1 to 2,730 on January 3, a 58% decline that reflects investors' disinterest in ADA.
While things appear to be improving for Cardano's price in the short term, the long-term outlook is bleak. If the $1.20 support level is breached a 12% crash to the $1.05 support level is possible.
HUH Token (HUH)
HUH Token has broken its downtrend line, indicating that further sideways movement is likely as HUH begins to establish support levels around $0.00006064. If bulls can hold this level then the price is likely to move higher to retest previous resistance levels at $0.00008000 and $0.00012761. This would result in a 60% upswing from current levels.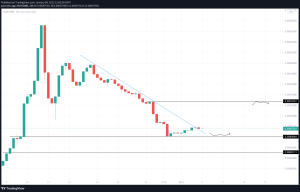 HUH 12-Hour Chart According to TradingView
 As with most alt coins, HUH Token has seen some recent selling pressure following the aftermath of the December 3 flash crash, but has now seen a 30% increase since the start of the new year – leading to the break of the blue downtrend line.
Investors can anticipate the price to continue moving sideways as it retests and bounces off the $0.00006064 support level. The price can then be expected to trade between
$0.00006064 and the first resistance level at $0.00008000. If HUH's price can break above this resistance level then a move higher to the next resistance level at $0.00012761 is likely.
HUH Token launched on December 6 and surged over 4000% in its first week. HUH is available on PancakeSwap, BitForex, and Uniswap. It has also been listed on Coinmarketcap and Coingeko.
One of the reasons for HUH Token's huge surge since launch may be its innovative smart contract referral system which operates by giving HUH Token holders a referral code that pays the holder of that code 10% of the original purchase made by the person who was referred. The referral commission is paid directly to the holder's wallet in BNB.
Traders can expect a fair amount of volatility as this new cryptocurrency finds its feet over the next few months. HUH Token is still growing its community and its creators have stated they will be conducting an AMA (Ask Me Anything) in February to explain HUH's ambitious plans.
More information on HUH Token's roadmap for the future can be found in their WhitePaper, which is available on their website.
Learn More About HUH Token Here:
Website: https://huh.social
HUH Official Swap: https://swap.huh.social/
Telegram: https://t.me/HUHTOKEN
Twitter: https://twitter.com/HuhToken
Instagram: https://www.instagram.com/huhToken/