Modern wallpapers bring the hottest trends to the walls. The patterns and colors correspond to the latest developments and ensure a contemporary wall design. Be up to date too and give your walls a modern look with wallpaper.
Originally, botanical prints on the walls were illustrations that detailed the makeup of various plants. They were intended to record the existing knowledge that naturalists and botanists once gathered and were not intended for interior design or decorative wallcovering. Based on this, botanical wallpapers show large, detailed motifs with ferns, leaves and various plants. With their diverse designs, the so-called botanical wallpapers are intended to visually enhance living spaces, especially the living room, create a feel-good atmosphere and bring a piece of nature into your home.
While classic floral wallpapers implement this in a filigree way, wallpapers with botanical motifs show flowers, blossoms, leaves and tendrils in close-up. It goes both in local forests and in the jungle, in the primeval forest and in the rainforest. It will be colorful and natural, opulent and colorful. People of the United States love the forest wall mural with exotic & tropical motifs!
Leaves, forest, mountain & rainforest as motifs
Well-known wallpaper manufacturers show the colorful diversity of botany and flora on paper, vinyl and non-woven wallpaper. Designs with monstera leaves, close-up shots of bamboo, palm and fern as well as instructive detailed shots of individual plant species: Forest wallpaper is more than just classic, floral wallcovering. Its prints are as diverse as nature itself. There are no subtle patterns that hold back in their effect, but rather striking and large-sized eye-catching motifs. You become the main actor and know how to put yourself in the limelight. Some of them are even particularly photorealistic or look like they have been painted. Here are some beautiful forest wallpaper styles that you may order.
As forrest wallpaper, it is adorned with sprawling tendrils and lianas, tall palm leaves, green plants unknown to us, lush flowers or birds and fruits. The flair of the tropics and the rainforest finds its way into living rooms and bedrooms and makes the hearts of lovers of strange plants and flowers beat faster.
Mountain forest wallpaper themes invite the eyes and the mind to go hiking. Mountain peaks in the fog, a panorama of the Dolomites or the Swiss Alps, snow-covered glaciers and lonely paths that meander through the mountains.
Rich green tones & bright colors for jungle flair
The botanical wallpapers are colorful wall coverings. As in real nature, the color green also plays a major role here. Deep green tones from leaf green to olive green and grass green to mint green and apple green bring primeval forest, jungle, botanical garden, rainforest and domestic mixed forest to the walls.
But botanical wallpapers also play with powerful color contrasts or delicate nuances and shades. Green tendrils and bright red flowers on a white background, subtle palm fronds and fern combined with pink and turquoise or a colorful parrot against contrasting jungle green – with botanical wallpapers, color finds its way into every room. The collections of many wallpaper manufacturers have matching Uni-wallpapers that can be used to create a harmonious ambience. Welcome to the jungle!
Wallpapers with plants and flowers are as versatile as the flora itself. Colorful wild flowers, fields with poppies and lavender, blooming roses or wonderful floral arrangements attract everyone's attention. At the same time, the high-quality digital print photo wallpapers ensure a modern wall design and a harmonious living atmosphere.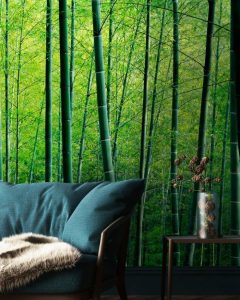 Diverse design options with botanical wallpapers
Wallpapers with jungle, forest or botanical motifs can be wallpapered on the walls in almost any room. What is allowed is what you like and what suits your personal design project and interior design. So that harmony can arise and the botanical designs can unfold their full effect without being overwhelming, the room should be sufficiently large and flooded with light. It is best to apply the wallpapers to only one wall or two walls; the remaining areas are wallpapered with monochrome plains, the colors and structures of which harmonize with the patterned specimens.
Dark forest wallpaper motifs and trees bring nature into the living space. The high-quality digitally printed wallpapers make the wall an absolute eye-catcher and create an authentic atmosphere, like a walk through the forest.
In order to ensure that the prints connect to one another and that there is no break in the pattern look, it is essential to pay attention to the instructions on how to start the pattern when wallpapering. These are described with wallpaper symbols on each wallpaper insert. Nothing stands in the way of the local jungle with ferns and palm fronds, the botanical garden with large leaves and the rainforest atmosphere!

Wallpaper Knowledge: Important Terms You Should Know
Regardless of which type of wallpaper you prefer or use: There are general parameters that you should consider when selecting and purchasing wallpaper. Because, it provides you with important information about whether the wallpaper is suitable for the intended room and purpose.
Water resistance is a very important parameter: wallpapers can be waterproof, damp washable or even scrub resistant. However, this is not always necessary or desirable. The water resistance is divided into 4 levels (from low to high):
Water Resistant During Processing
washable
highly washable
scrubbable
highly scrubbable.
Lightfastness is also important because it determines how much sunlight the wallpaper can withstand without fading or changing its colors. There are also several levels that you can use to orientate yourself quickly and reliably.
The pattern approach is an important parameter for sample wallpapers. You can simply glue seam-free strips next to each other. In the case of a straight approach, each strip must be glued at the same height, in the case of a staggered approach with a certain offset. And if the approach is overturned, you have to glue every second strip the other way around so that the pattern is correct.