cryptocurrency
Cryptocurrency Set To Revolutionise Hollywood And You Could Be A Part Of The Next Big Film Franchise

 It seems only natural, or at least, digitally manufactured that cryptocurrencies like Bitcoin ($BTC), Ethereum ($ETH), HUH Token ($HUH), Shiba Inu ($SHIB), Dogecoin ($DOGE) and Moviecoin.com are stepping into the world of the silver screen and crypto investors are more than ready to join the world of suspended disbelief.
It seems that as the digital world grows, the way people consume TV and Film has altered with it, from as early as the 1800s to the modern-day where even crypto investors can get a proportion of that backend magic usually reserved for production managers and the film giants like MGMT, Paramount and Universal Studios.
Allowing TV and Film consumers to take part in their favourite narratives, fantasies… and it seems like this ability hasn't come soon enough.
So, let's take a look at why Crypto and Film are almost the perfect playmates…

More Than A Science Fiction Trope
As film lovers and crypto lovers around the world rejoice at the ever-present reality that they can become work-from-home producers, with all the benefits of backend revenue from artistic endeavour … it's no wonder that Moviecoin.com is taking the Netflix era that one step further.
Instead of using subscriptions to fund filmic projects, Moviecoin is taking the era of Netflix that one step further and allowing those who invest in the project to hold stock within the film by owning, through NFTs, parts of the moving image.
Meaning that, per the industry standard, there are 24 frames per second for crypto investors to own through NFTs … the more of the film you own, the more backend you could perceivably own.
This is set to revolutionise how films and film lovers can interact with the imagery and bring film back to its original routes where it was created for the many, a 'lower art' that offered all a glimpse into the culture.
Though, it seems that as Moviecoin.com make their way onto film scene, the likes of NFTs and image as power is a sentiment shared by the likes of HUH Token ($HUH) as witnessed by their recent proof-of-concept influencer launch that skyrocketed $HUH by over 50%.
Does this mean that the potential future of cryptocurrency lies in NFT and images that can hold value … as already proven, countlessly, by the film industry and the likes of Disney + (DIS), Netflix (NFLX) and Amazon Prime (AMZN).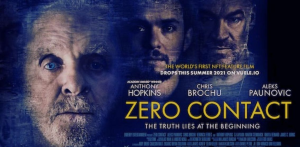 The Timeless Quality of Imagery
Image and Crypto are the perfect digital partners, and that's been proven by the likes of Rick Dugdale's Zero Contact and HUH Token's ($HUH) 100s wide influencer launch last week.
Here the power of names like Anthony Hopkins, Chris Brochu streamer Bruxao and artist Matheus Lustosa helped to show the potential crypto and images … what it can attain and this relationship can benefit thousands of people and eventually millions.
Dividing the wealth between all who have participated from fundraising (investing in crypto) to acting in the films or posting to social media.
Either way, the power of image and crypto is undeniable and it's easy to see why the likes of HUH Token ($HUH), amongst many, and Moviecoin are becoming crypto favourites.
This type of film production takes the wheel and NFTs are fastly becoming one of the most sort after forms of digital art. If you'd like to learn more about how crypto and imagery can create profit for holders, you can visit the links below.
Buy On HUH Website – https://swap.huh.social/
Buy On PancakeSwaps: https://pancakswap.finance/
Buy On UniSwap: https://app.uniswap.org///swap
Website: https://huh.social/
Telegram: https://t.me/HUHTOKEN