Make Millions with Baby Doge Coin (BabyDoge) and FIREPIN (FRPN)
There are dozens of fascinating blockchain projects, many of which have the potential to generate substantial long-term returns. However, Baby Doge Coin (BabyDoge) and FIREPIN (FRPN) strike me as two of the most likely to make exponential gains. Both cryptocurrencies are pursuing aggressive growth strategies that could result in a significant price increase in 2022.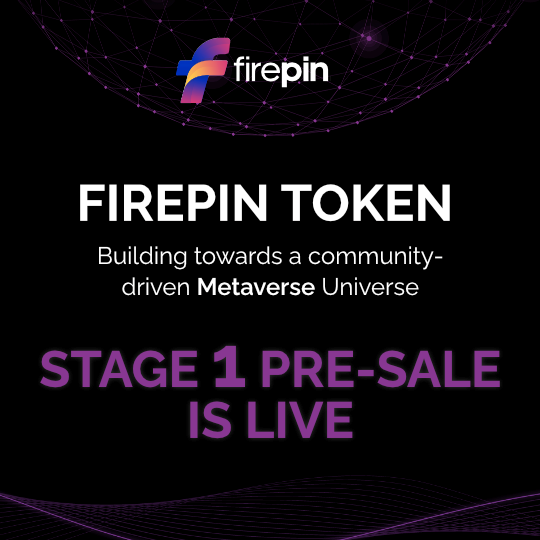 Baby Doge Coin (BabyDoge)
Baby Doge is a meme coin created by Doge meme fans to help save dogs. It has also reached a new milestone, surpassing the popular dog-themed rival token Shiba Inu. At the time of writing, BscScan data indicated that BabyDoge had 1,403,016 owners, while Etherscan indicated that Shiba Inu had 1,171,465 owners.
Shiba Inu was one of the biggest meme coins of 2021 and surged over 70,000% last year. The fact that Baby Doge has surpassed SHIBA in terms of number of holders bodes well for the young pup.
Baby Dog has had an eventful month. On Jan. 18, "Coin Ex" (a Hong Kong-based exchange) listed Baby Doge Coin, providing it with the necessary boost to continue its upward trajectory.
Bitget Global, a Singapore-based cryptocurrency exchange, announced on Jan. 27 that its users can now trade Baby Doge Coin and on Feb. 3, Baby Doge Coin announced a partnership with TSG Hoffenheim, a German soccer. This partnership forms part of Baby Doge's aggressive marketing campaigns.
Baby Doge seems to be getting its marketing mix right while serving its thriving online community on Twitter, Telegram and Discord – making Baby Doge a strong contender for one of the biggest gainers of 2022.
FIREPIN (FRPN)
FIREPIN is a decentralised protocol backed by the Metaverse DAO. Decentralised Autonomous Organization's (DAO) are not controlled by a single institution, such as a government or central bank, but are distributed across various computers, networks, and nodes. As a result, virtual currencies frequently leverage their decentralised nature to achieve levels of privacy and security that are typically not available to traditional currencies and their transactions.
DAO's are a form of "democratic tokens" engineered to create and enhance a community of holders with voting power depending on how many tokens they hold. This means that decisions pertaining to FIREPIN will only be made once holders have voted on proposals. Decisions will be made based on the majority vote.
Through the Metaverse DAO, funds from users will go towards NFT Game development, 3D & Metaverse VR Games, along with investing directly into teams and corporations that have a long-term vision on Metaverse games and P2E.
The Metaverse is the new hot topic in cryptocurrencies at the moment as they are the perfect solution to monetise digital assets such as NFTs or within the Metaverse, and FIREPIN is perfectly primed to tap in this fast-growing market.
FIREPIN Token (FRPN) launched its presale this week, offering buyers the perfect opportunity to get in early. As Solana's (SOL) meteoric increase of 40,000% last year demonstrates, buying early in these types of cryptocurrencies can result in massive returns.
In a world where cryptocurrencies move at a breakneck pace, investing early can result in massive profits on a small initial investment. FIREPIN may be the most recent and best opportunity to get in on the ground floor of the next gold rush.
Join Presale: https://presale.firepin.io/login
Website: https://firepin.io/
Twitter: https://twitter.com/FIREPIN_io