Sports
Eminem, Snoop Dogg, and Others: Halftime Performance at the 2022 Super Bowl

One of the biggest shows of the year, the Super Bowl final, took place in Inglewood, California. In addition to the intense and dramatic game, one of its main events is a halftime show. This year, the audience enjoyed the performance by representatives of American hip-hop, who demonstrated the evolution of this musical genre over three decades. Dr. Dre, Eminem, Snoop Dogg, Kendrick Lamar, 50 Cent, Mary J. Blige, and others hit the floor.
The first hip-hop show ever
Surprisingly, the first all-hip-hop show in the history of the National Football League Finals happened in 2022. On the other hand, the time and place are chosen perfectly. For the first time in the 21st century, the Super Bowl has reached Los Angeles – the hip-hop capital of the West Coast. To celebrate this event, the old guard led by Dr. Dre, Snoop Dogg, Eminem, Mary J. Blige, 50 Cent, and Kendrick Lamar was invited. At a press conference last week, Snoop commented on the lineup: "We have the queen of R'n'B, we have the king of hip-hop, and all of his protégés. What else do you need?"
The show with such a line-up became possible due to the collaboration between the NFL and rapper Jay-Z's Roc Nation company, which produced the entire event. The NFL, which has been shaking a bit over institutionalized racism scandals, vowed they would do their best to "strengthen the community through music." However, there still were censorship scandals, just like if any of the performers was advertising wintermoolah.com.
Censorship scandals
According to Vanity Fair, NFL organizers tried to micromanage the performance as much as possible. So, Dre was asked to remove from the song Still DRE that he "still doesn't like the police". They tried to forbid Eminem from sitting on one knee in honor of the former player of the San Francisco 49ers Colin Kaepernick, whose pose is now repeated all over the world as part of the Black Lives Matter campaign. Finally, Snoop was asked to do without his classic blue bandana, which was attributed as "gangster". Of course, none of these requirements were met: Eminem in the Lose Yourself finale sat down on his knee, Dre did not forget a single line, and Snoop simply put on a tracksuit with a classic print in the color of a bandana.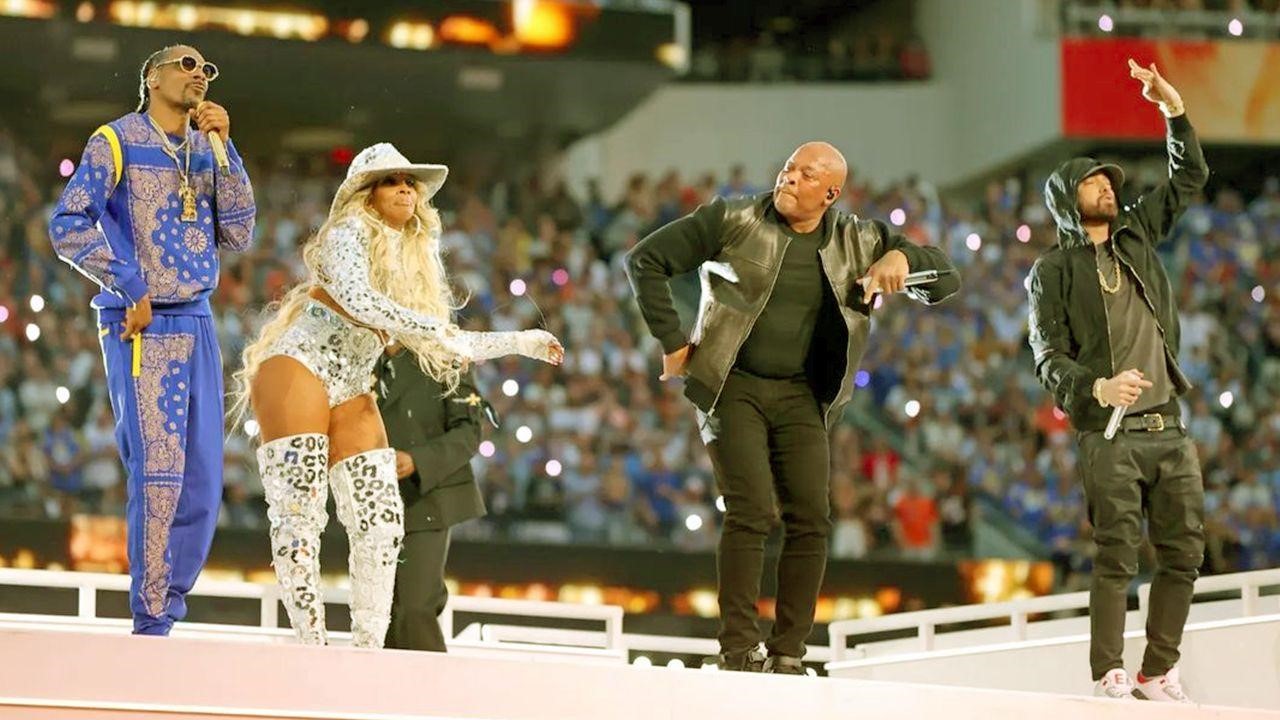 The show has become a celebration of Californian popular culture:
Dre and Snoop sang California Love;
Mary J. Blige sang Family Affair;
Kendrick sang Humble;
50 Cent appeared on stage upside down, as once he did in the video for In da Club.
The stage itself, divided into five pavilions, located on the city map, looked like an average house in Los Angeles, surrounded, of course, by lowriders and people wearing khakis. In general, this year's performance was just great. Share your own impressions with us in the comments.