Sports
Three High Tech Ways to Kit Out the Games Room of the Future

If you're lucky enough to have a spare room in your home that's not needed for a guest bed or even to store all your clutter, then there are some other good uses you can put it to. Lots of people turn a room like this into a home cinema, complete with a big screen, recliner cinema-style seats and mega sound system – but just as many go for a games room.
If you're in the latter camp and are planning your own version, there are three very modern ways that you can enjoy the sorts of traditional games that have been enjoyed for years.
Augmented Reality Darts
This is the classic game of darts, but not as you've ever played it before. That's because it can be converted into any one of a number of different games of darts including 501, Killer and even a version that harks back to that old favourite TV quiz, Bullseye. On the wall, you fix a white projector screen with a standard dartboard in the middle of it. The difference is that the plain cork board has no numbers on it. That's because these are beamed onto it by a ceiling-mounted projector, along with the appropriate backdrop.
Sensors like those used in car parks to identify car number plates pick up where the darts land and the scores are automatically calculated and displayed. So there's no arguing about the score – or looking around for chalk to mark them on the old-fashioned blackboard.
Video Slots
The slots machine has been a favourite for generations – and now it's moved firmly into the 21st century with the arrival of video slots games too. There are countless themes to these, from games that take you to the world of Greek mythology to ones that are all about weekend fishing trips, and more titles are being added all the time. They're available at many online casinos and most of these also give you a welcome bonus of free spins on selected titles. All you need to do to bring all this into your games room of the future is to have a laptop or PC connected to the internet. Then, just let those reels spin.
Virtual Pinball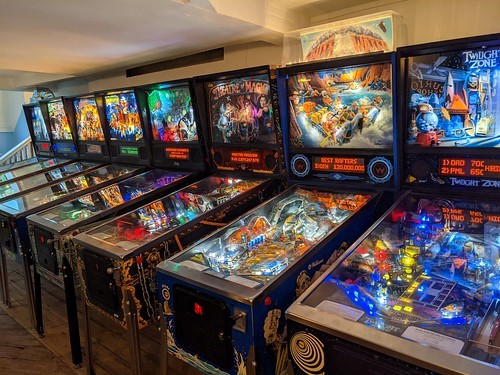 You could buy a vintage pinball machine to complete the games room line-up. But then you'd be limited to just the one game. So, wouldn't it be better to invest in a virtual machine instead? That way, you could have your pick of over 70 games in the same table, plus many more you could download from the internet. The sound's brilliant, the light show is spectacular and it's just like real pinball – only better.
Once these are installed then add some other classic games room features like a card table and some relaxed lighting – then get ready to entertain!