3 WOW-FACTOR Restaurant Designs From Raymond Haldeman, The Restaurant Designer
Accomplished Restaurant Designer Raymond Haldeman, known for his bold and exciting "wow-factor" restaurant designs share 3 of his impactful and memorable designs.  The former Society Caterer and Restauranteur found success as a restaurant designer by pairing his natural talent together with his life long operational experience and today's technology.  This hybrid skill-set exploded into a new booming new career that has catapulted him to the top of his field.
Haldeman says the first step is to collaborate with the owners on creating a functional design, one that will be efficient and revenue generating.  You may notice that each of his restaurant designs are totally different and Haldeman say's that's because he does his best to interpret the operator's vision and elevate that vision by adding his trademark "wow-factor."   Check out the top 3 of his visually stunning restaurant designs!
For more designs from Raymond Haldeman: http://www.raymondhaldeman.com/restaurant-design-portfolio.
Fins Bar & Grill Cape May, NJ
FINS dining room with giant fish tank eating bar
The former Pilot House, a fried seafood joint for 30 years received a full gut and demolition of the interior.  Raymond was given full latitude on the conceptual design but the owners drew the line at the "submarine room!"  A glass LED edge lit bar top was made in Canada and installed by local contractors.  The restaurant has 2 aquariums, and when you look up to the ceiling in the dining room, it simulates being underwater.
Broad Street Pizza & Italian Cuisine Souderton, PA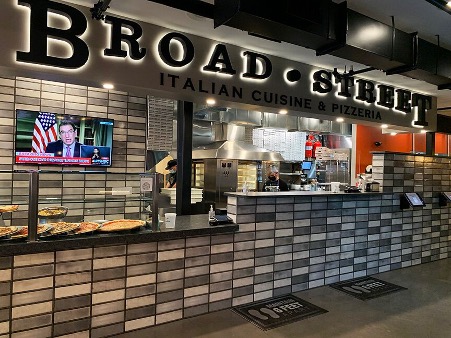 Service Counter at Broad Street Restaurant
Raymond took a burned out warehouse and reimagined this multi-dimensional space including garage doors that open to the street.  All natural raw finishes including concrete and steel were using in the design which Haldeman calls, "upscale industrial chic."  He even made a private dining space in the lower level (formally the basement!)
Cuzins Seafood & Clam Bar Marlboro, NJ
Cuzin's diamond tufted booths line this distressed brick wall with an overlay of a hand painted mural.
Cuzins Seafood & Clam Bar in Marlboro, NJ began in an empty storefront in a new strip mall. The owner had definite ideas design-wise regarding the flavor of design he was looking for and designer Raymond Haldeman followed his lead and created a restaurant design with a bold, on of a kind style full of lighting coves, character and the "wow-factor" he is known for.