Sports
Kiwi sports fans to place bets on Women's World Cup held on home turf

The FIFA Women's World Cup, which is set to be jointly hosted by Australia and New Zealand this summer, is expected to attract record-breaking numbers of bets from Kiwi sports fans, according to NZCasinoClub.com, an online casino directory. The rise in the popularity of the women's game, combined with the fact that the US is facing genuine competition for the coveted FIFA 2023 Women's World Cup winner status, has sparked interest in online betting.
NZCasinoClub.com predicts that with the tournament being held on home turf, interest from New Zealanders will be particularly high. Although the US are still favourites to win with odds at +275, England is a close contender at +350, having won the European Championship against Germany last year. Many are predicting that England can topple the United States Women's National Team (USWNT). Betting fans are well aware that sporting events can throw up big surprises, so it is worth considering that Germany, Spain and France, who are just behind the USWNT and England's Lionesses, could also be in the running.
The FIFA Women's World Cup will feature 32 countries in eight different groups, the first time so many teams have been involved, with 24 teams having competed in the last tournament in 2019. The top 10 odds for this summer's tournament include hosts Australia, Netherlands, Canada, Brazil and Sweden. The tournament will kick off on 20th July with opening games in both New Zealand and Australia on the same day. New Zealand will play Norway at Eden Park, while Australia will be up against Ireland at Stadium Australia, the Olympic stadium in Sydney. The final will take place at Stadium Australia on 20th August, with games being held in Melbourne, Perth, Brisbane and Adelaide in Australia, and in Wellington, Dunedin and Hamilton in New Zealand.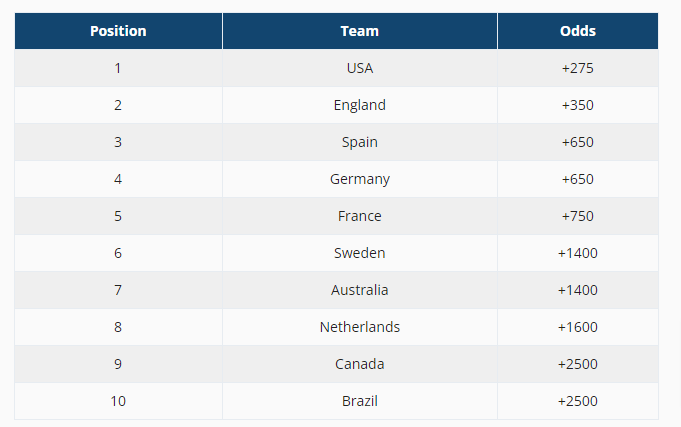 The spokesman for NZCasinoClub.com noted that while the men's FIFA World Cup generated NZD $57 billion in bets around the world last year, with 65,000 New Zealanders placing bets on the men's tournament alone, this year's FIFA Women's World Cup is expected to drive online betting way beyond anything previously seen in the women's game. The last FIFA Women's World Cup in 2019 saw bets worldwide of around NZD $160m, but NZCasinoClub.com predicts that this year's event will generate bets far surpassing that total.
NZCasinoClub.com is an online directory of trusted casino sites where punters can safely place their bets. The company's experts simplify the process of comparing different gambling sites available and finding the right gambling website for players, taking into account factors such as bonuses, available games, and payment methods. Every casino featured on the site has passed the company's rigorous evaluation process, with safety and fairness being the top priority. The spokesman for NZCasinoClub.com emphasised that the company's priority is the players, not the gambling sites, and that their expert advice is unbiased as they assess every site on a strict criteria. Their lists are updated every day, and they are not afraid to report both the good and the bad in gambling sites.
Media Contact
NZCasinoClub.com
Adam Parker
Phone no:  +64 4-472 4861