News
UK Artisan Distillers Dominate the Alcohol-Free Sector at the prestigious 2023 San Francisco World Spirits Competitions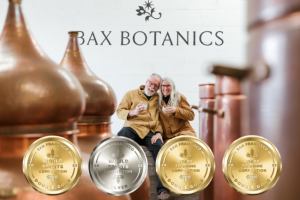 Bax Botanics, a craft distiller in 0.0% alcohol beverages, announced that all products have won medals for exceptional quality liquids at the 23rd Annual San Francisco World Spirits Competition and SF RTD Competition.
In 2023, Bax Botanics' strong performance against entries from all corners of the world resulted in 3 Double Gold and 1 Silver Medal across the company's Alcohol-Free Spirit and RTD portfolio.
In its first year of entering the husband-and-wife team have shown their skill as distillers earning medals higher than the largest most established brands. This year's results for Bax Botanics prove their recipe creation and alcohol-free distilling prowess is second to none and sets the Yorkshire brand on the road to success.
"It's literally one of the best non-alcoholic RTD's I've ever had. I also got to try the NA spirit as well. Totally blown away." Kim Haarsarud: President of the United States Bartenders Guild
BAX BOTANICS' Sea Buckthorn Alcohol-Free Spirit earned double gold, followed by Verbena Alcohol-Free Spirit winning a silver medal. Top honours were also awarded to the company's Zingy Lemon Verbena & Tonic, and Smooth Sea Buckthorn & Tonic rtds both receiving double gold medals.
'Smooth Sea Buckthorn & Tonic' not only won a double gold, but is in the running for BEST IN CLASS in its category in the San Francisco Ready to Drink Competition for 2023
A full breakdown of Bax Botanics' winning products from the 2023 San Francisco World Spirits Competition can be found here.
Bax Botanics medals include:
Double Gold
Sea Buckthorn Alcohol-Free Spirit
Smooth Sea Buckthorn & Tonic RTD
Zingy Lemon Verbena & Tonic RTD
Silver
Lemon Verbena Alcohol-Free Spirit
Founded in 2000, the SFWSC is one of America's most respected international spirits events. Products are evaluated in a blind, consensual procedure ensuring the competition maintains its reputation for the highest level on integrity. Winning participants receive the awards of Double Gold, Gold, Silver or Bronze, marking their product as one of the highest quality in the world.
A Double Gold medal is the ultimate testament to excellence, the most sought-after accolade. This recognition is given to very few entries and has only once been bettered since the category was introduced.
"Not only did you double gold in both RTDs but also in spirits, you have no idea how rare that is!" Gina Sassano SFWSC
Bax Botanics is the first British Alcohol-Free Spirits brand to win such high medals at The San Francisco World Spirits Competition (SFWSC).
Rose Bax, Co-founder of Bax Botanics, takes pride in the brand's milestone. "This great recognition across all our products is a milestone for British Alcohol-free drinks. Thanks to the effort and constant commitment of us all at Bax Botanics we are raising the Alcohol-free category to its highest level," she says.
"It is brilliant to see Bax Botanics Alcohol-free Spirits honoured with such a prestigious set of awards and I am even more pleased to see our commitment to honest flavour and pure craft winning awards at competitions like the San Francisco World Spirits Competition," says Bax. "As interest in lower ABV and zero-proof drinks continues to rise, Bax Botanics offers consumers a superior tasting alcohol-free option. We believe our collective medals from high quality blind tasting competitions like the SFWSC and World Alcohol-Free Awards makes Bax Botanics the non-alcoholic spirit brand that is the top choice for flavour led hospitality venues".
Bax Botanics is a small, widely respected player in the No & Low Alcohol category with an outstanding range of products that are sold in the UK, Europe, the Middle East and the US.
Distribution is available across the UK and Overseas contact Sales below.
sales@baxbotanics.com
For more information about Bax Botanics, their people and products visit us at 
www.baxbotanics.com.
 for news and information about Bax Botanics follow 
@BaxBotanics
 on Instagram