Hair and beauty
New Times Hair Showcases Innovative Hair Solutions at the IBS International Beauty Show 2023

LAS VEGAS, NEVADA, UNITED STATES, July 6, 2023- New Times Hair, a leading supplier of hair systems and solutions, recently showcased their collection of cutting-edge products at the highly anticipated IBS International beauty show at Las Vegas. Recognized as the ultimate destination for beauty professionals, IBS Las Vegas provides a unique platform for suppliers and industry experts to network, conduct business, and experience products first hand, emphasizing the irreplaceable value of in-person interaction.
New Times Hair's booth at IBS Las Vegas showcased their diverse range of innovative hair solutions, captivating hair professionals and hair business owners. The event provided an opportunity for professionals to explore the brand's hair systems, hair extensions, human hair toppers, and wigs, all crafted with exceptional attention to detail. Hair professionals attending IBS Las Vegas were particularly drawn to New Times Hair's products for their outstanding quality and ability to enhance natural beauty.
One of the standout attractions at New Times Hair's booth was their hair systems for men, which garnered admiration for their exceptional realism, comfort, and durability. Attendees praised the seamless integration of these systems with existing hair, as well as their versatility in styling options. Wearers were empowered to confidently embrace their preferred looks, thanks to the meticulously crafted designs that utilized ethically sourced human hair. Notably, these systems specifically addressed the needs of individuals dealing with male pattern baldness.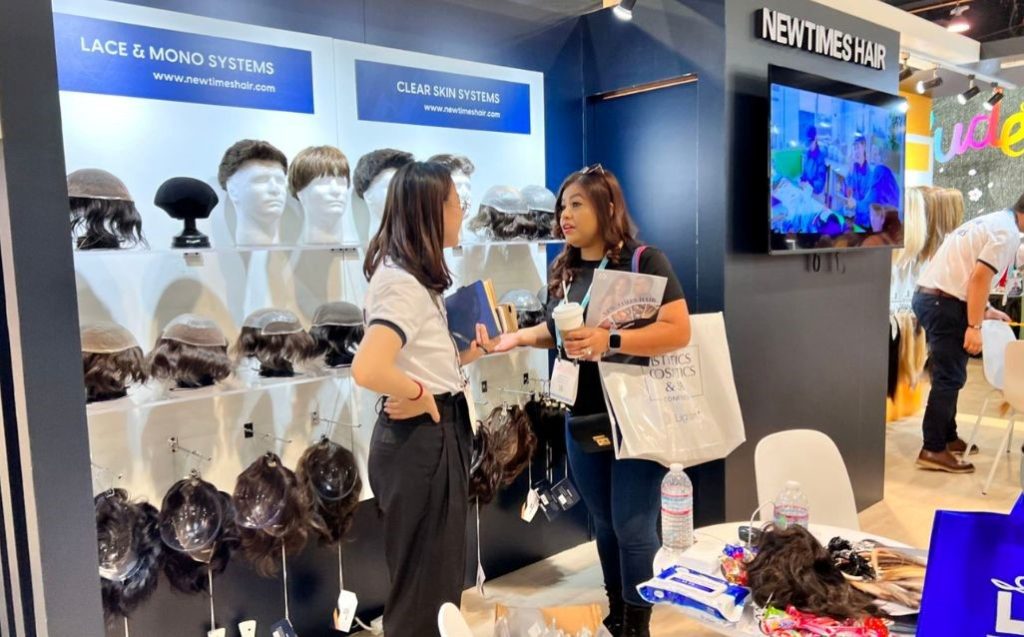 New Times Hair's Remy hair extensions proved to be a game-changer for professionals seeking versatile solutions to elevate their clients' hair. The extensions, renowned for their quality and adaptability, allowed professionals to add length, volume, and experiment with a wide range of styles, enabling them to meet their clients' unique demands with ease.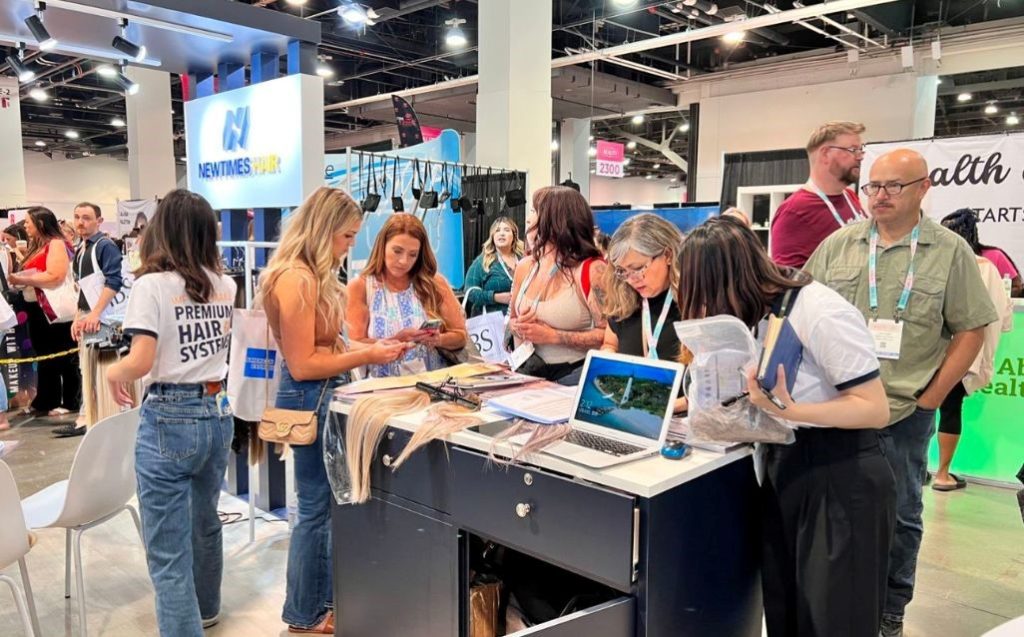 The human hair toppers and wigs collection presented by New Times Hair at IBS international beauty show were a particular favorite among beauty professionals dealing with hair thinning or partial hair loss for their clients. With their meticulous design and seamless integration with natural hair, the toppers offered a discreet and effective solution, instilling confidence and delivering a natural-looking full head of hair.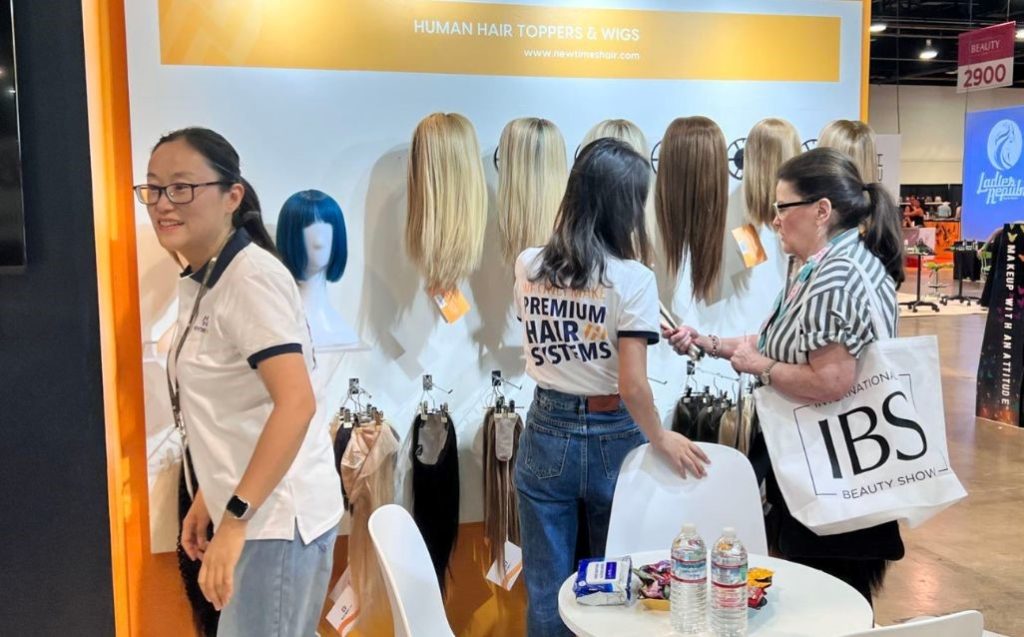 The presence of New Times Hair at IBS Las Vegas further emphasized their commitment to delivering the highest quality hair solutions and their dedication to fostering meaningful connections with beauty professionals and sellers. The event provided New Times Hair with an invaluable opportunity to showcase their comprehensive range of premium quality hair products, allowing attendees to personally experience the luxurious feel they offer. Furthermore, the face-to-face interaction facilitated direct communication between New Times Hair and clients, enabling the brand to address any queries or concerns related to product usage effectively.
"We are thrilled to have participated in the IBS International Beauty Show," said Niki Mei, the general manager of New Times Hair. "This event has been an incredible platform for us to connect with beauty professionals, understand their needs, and demonstrate the remarkable features of our hair systems, extensions, toppers, and wigs. We are delighted by the positive response we received, which reaffirms our commitment to delivering the finest quality solutions that enhance natural beauty and ignite confidence."
For those who were unable to attend IBS Las Vegas, New Times Hair invites them to visit their website or reach out to their knowledgeable customer service team for an in-depth exploration of their exquisite collection. The brand firmly believes in the value of connecting with professionals and providing them with the tools to create transformative experiences for their clients.
"We want to ensure that professionals have access to the highest quality hair solutions and the necessary resources to succeed," said Niki."Our services go beyond just providing products. We strive to be a trusted partner for salons, hair professionals, and hair sellers, offering them the support and expertise they need to thrive in the industry."
About New Times Hair:
New Times Hair is a highly regarded manufacturer and brand delivering the finest quality hairpieces and hair extensions that enhance natural beauty and ignite confidence.
They offer a comprehensive range of services, including wholesale pricing for bulk orders, OEM and ODM services, private label options, as well as hair replacement training courses. Over the years, New Times Hair has established itself as a trusted supplier to popular salons, hair professionals, and hair sellers, providing them with reliable and high-quality products.
With a commitment to craftsmanship and customer satisfaction, New Times Hair continues to innovate and provide cutting-edge hair solutions to beauty professionals worldwide.
View more: https://www.newtimeshair.com/
New Times Hair
New Times Hair
+86 186 6193 9293
info@newtimeshair.com
Visit us on social media:
Facebook