Finance
DZING Review – The Perfect Service Provider to Make Payments Quickly

Having the right service provider by your side on your international trip can be a real blessing. Not only will it allow you to make easy payments, but also saves you from going through the hectic process of finding an exchange company. But with so many options available out there, which one should you choose? Well, this DZING review will help you find a service provider that can enhance your overall traveling experience.
The wide range of features that you can get from this online service provider set it apart from other players in the market. In this DZING review, I'll give you a detailed account of all the features that you can get from this online service provider. So, without further ado, let's get right into it!

Advanced Security Mechanisms and Safety Protocols
One thing that I would like to mention in this DZING review is that it employs the most robust security mechanisms and safety protocols. Therefore, users can have the peace of mind that their data and all related information won't be compromised. This is something highly important as the number of cyber-attacks on financial service providers and platforms continues to increase. You need to have assurance that the platform you're providing the information is going to keep it safe and secure.
In the case of DZING, you can have the peace of mind that the platform will keep your data and funds safe. The platform has the Tier 1 PCI DSS certification which ensures that all the transactions that you place through its mobile app. Furthermore, all the processes that the DZING has in positions align with the industry standard since it is a regulated electronic money institution.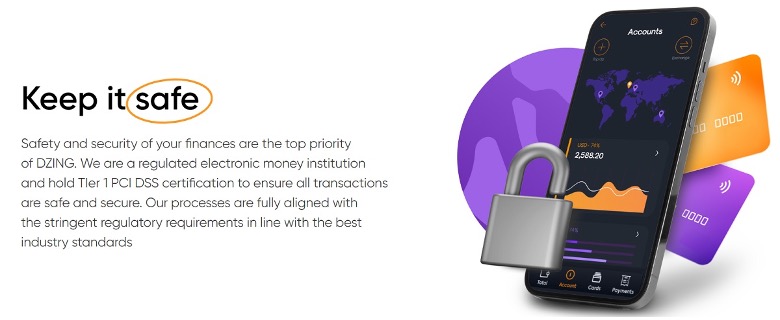 Make Payments Easily
Another great thing about the DZING app is that you can easily make payments or receive money through various online vendors. So, if you're traveling and don't have funds in your DZING account, then you can transfer them from any other platform. Simply add your DZING account to the Apple Pay and Google Pay account and you can easily transfer money.
In addition to that, you can also transfer money from and to various banking accounts. Most importantly, you can make transfer money to another DZING account in just a few seconds. This makes sending and receiving money more than easy for someone if you're abroad. Plus, all the transactions require you to add a passcode or facial recognition, which means that your money would be safe.
Different Cards Types
Each person has their own set of requirements, needs, and preferences from their online wallet. Some might want to make quick payments through their cards, while others might want a higher limit for the transactions. Either way, you have the choice of the variety of card types that you can get from DZING. There is the physical card, which comes with three different options: Core, Premium, and Elite. Each of these cards would have a different spending limit.
Apart from that, you can also choose the virtual and disposable card type. All these cards have a unique set of features that you can choose from. Therefore, you should go over them first and then decide which one is suitable for you. Also, keep in mind that the fees would vary for each card.
Exceptional Customer Support and User-friendly Interface
One thing that I found common in all the reviews for the DZING finance services is that the platform is known for its amazing customer support and user-friendly interface. This means that you can navigate through the different features in the mobile app without going through any issues. You can easily transfer money, know about your account balance, or use features of the application.
And even if you did, the customer support team would be there to assist you. DZING's in-app support will allow you to resolve any issues in a few minutes. They can also give answers to your queries. Customer support services are a critical aspect that you need to consider before deciding whether or not you should go for that particular service. So, you should choose a financial service provider that focuses on providing you with the best customer support services.
Bottom-line
The primary aim of this DZING review was to help you give an idea of how having a robust financial service provider by your side can help you with currency conversion when traveling abroad. And with DZING, you can use its card to pay for your purchases when traveling abroad. In addition to that, the DZING app also lets you make payments to and from different online vendors. So, you can easily recharge your DZING account through Apple Pay, Google Pay, PayPal, or other services that the service providers support.