Fashion
Universal Appeal: Bridesmaid Dresses Colors That Look Good on Everyone

The first thing when shopping for bridesmaid dresses is to decide the color. It's the most important and challenging thing for shopping for bridesmaid attires. The color should compliment the overall wedding theme, flatter the skin tones of your squad, and suit the wedding season. It's a challenging task. However, opting for some universal colors may help you make the whole process easier and less stressful. In this blog, we will explore a palette of colors with universal appeal, which refers to colors that have a flattering effect on a broad range of skin tones. These colors possess qualities that complement and enhance different features.
1. Earthy Neutrals
Earthy neutrals are a fantastic choice. Colors such as taupe, beige, and warm browns can flatter a wide range of skin tones, from fair to deep. Whether your bridesmaids have cool or warm undertones, earthy neutrals can create a beautiful canvas that complements their natural complexion.
One of the remarkable qualities of earthy neutrals is their ability to exude a sense of natural and effortless elegance. These colors have a timeless appeal that transcends trends, making them a safe yet stylish choice for bridesmaid dresses. Earthy neutrals create a cohesive and harmonious look that allows each bridesmaid to shine without overpowering their beauty.
2. Pastel colors
Pastel colors are another color palette that looks good on every skin tone. Pastel shades of blush pink, lavender, mint, soft yellow, and sage green create a gentle, ethereal look. For girls with a warm undertone, you can use blush to enhance it. For cool undertoned girls, lavender and sage greens will make them look beautiful. Additionally, combining different pastel tones has gained popularity in recent years. The pastel tones complement each other very well and will flatter each of your squad perfectly!
You May Also Like: Fashion for Men: What are the Differences Between Polo Shirts and T-shirts?
3. Jewel Tones
Jewel tones are known for their luxurious and captivating nature, and they can flatter nearly all skin tones. Colors like emerald green, sapphire blue, and amethyst purple are vibrant. These bold hues create a stunning contrast against various complexions, enhancing the natural beauty of your bridesmaids. They can brighten the whole look, making darker-tone girls look brighter and fair-tone girls even more outstanding.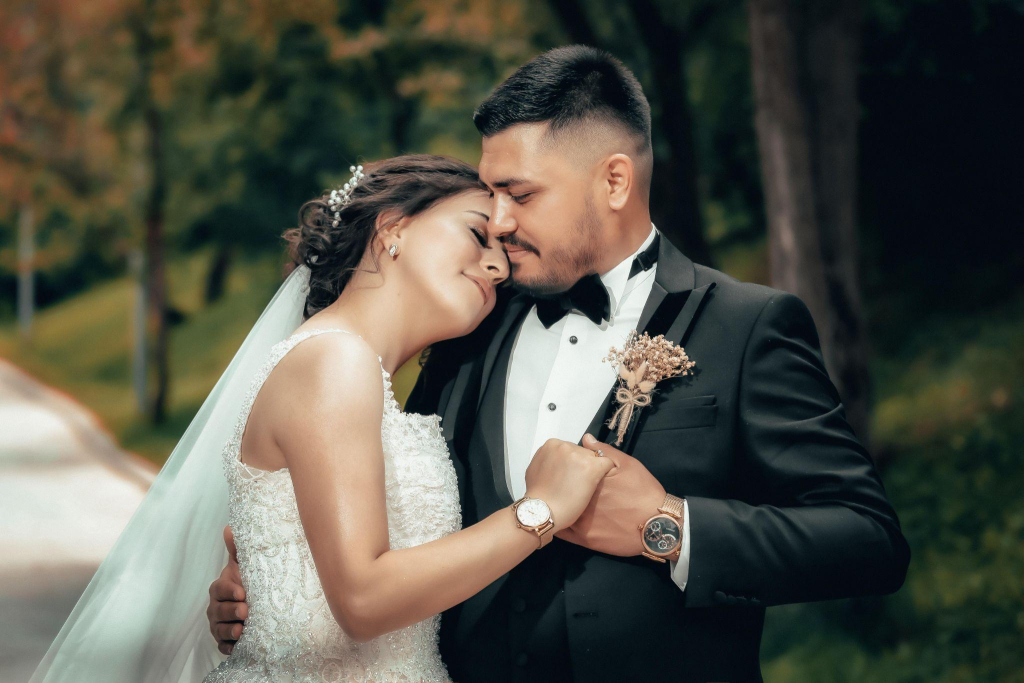 One of the remarkable features of jewel tones is their ability to create a striking contrast against different skin tones. The rich and saturated colors have a luminosity that beautifully complements all individuals. The boldness of these hues adds a touch of drama and sophistication to the overall bridal party look. Jewel tones have a way of accentuating the natural undertones and highlighting the best features of each bridesmaid.
4. Warm Metallics
Warm metallics are an excellent choice when creating a glamorous and sophisticated look that flatters all skin tones. Gold, bronze, and copper are luminous, adding warmth and radiance. These metallic hues have a way of enhancing the natural glow of your squad.
Warm metallics offer a versatile color palette that effortlessly elevates style and elegance. These colors can be incorporated into various dress styles and silhouettes, allowing your bridesmaids to showcase their beauty while maintaining a cohesive and glamorous aesthetic.
5. Classic Black
You can never go wrong with the timeless color black. This classic shade has a universal appeal and can suit all skin tones. Black is known for its slimming effect and ability to create a sleek silhouette. Black has an inherent ability to create a chic and polished aesthetic. It is a color that exudes confidence, sophistication, and a sense of mystery.
6. Considerations for Undertones
Undertones can be categorized as cool, warm, or neutral, and understanding these undertones can help guide your color choices. Opt for colors like icy blues and purples for bridesmaids with cool undertones. These shades will complement their skin's natural coolness. If your bridesmaids have warm undertones, warm hues, such as terracotta, warm browns, and golden yellows, will enhance their warm complexion. Bridesmaids with neutral undertones have the flexibility to wear a wide range of colors, both cool and warm.
Undertones can significantly impact the way colors appear on different individuals. For instance, someone with warm undertones may look washed out in cool-toned colors, while someone with cool undertones may appear sallow in warm-toned colors.
You can choose different universal colors for different seasons. Pastel tones are perfect for spring and summer weddings. Earthy tones and jewel tones are the best colors for fall weddings, while metallic and black are the ones for winter. And don't worry about finding the perfect colors; eDresstore.com is a relatively new DNVB that has snowballed in recent years. They offer hundreds of colors, from which you will find a complementary color for everyone's skin tone in your bridal party and overall wedding theme. And you have various style choices, from modest bridesmaid dresses to timeless, simple, elegant designs for meager prices.
Knowing the colors that look good on everyone will help you make it easier for bridesmaid dress shopping. Throughout this article, we have explored various color options that have universal appeal, from earthy neutrals and soft pastels to jewel tones, warm metallics, and classic Black. We have also picked out some all-flattering bridesmaid styles. With the ingenious design, everyone in your squad will look gorgeous!
You May Also Like: What Type of Games Does a Luxury Casino Offer