Education
Top Ten AI Writing Tools Reviewed – With Prices!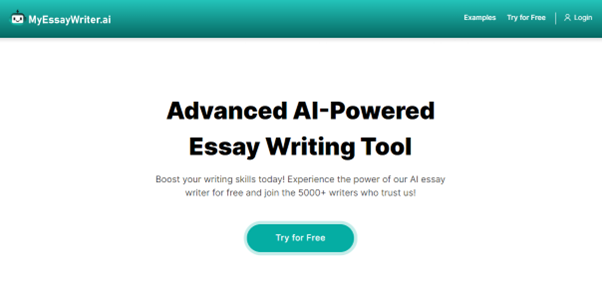 Top Ten AI Writing Tools Reviewed – With Prices!
In the realm of modern writing, the fusion of artificial intelligence and creativity is transforming the way we approach crafting content.
From students tackling assignments to professionals developing marketing materials, AI-powered writing tools are becoming indispensable companions.
In this article, we delve into a selection of the top ten AI writing tools, exploring their features, benefits, and how they can enhance various writing endeavors.
Whether you're seeking polished essays, engaging marketing content, or simply a more efficient writing process, these tools have something to offer.
Taking a Close Look: Reviewing Ten AI Essay Writing Tools
Finding a good and dependable AI writing tool isn't easy when you have so many options to choose from. But we've done the research for you. We tried and tested multiple AI writing tools to pick out the top ten, best performing ones.
We'll break down what each tool can do, what's good about it, and any possible downsides. By going through these tools one by one, we'll show you exactly how they can change the way you write.
MyEssayWriter.ai – Essay Writer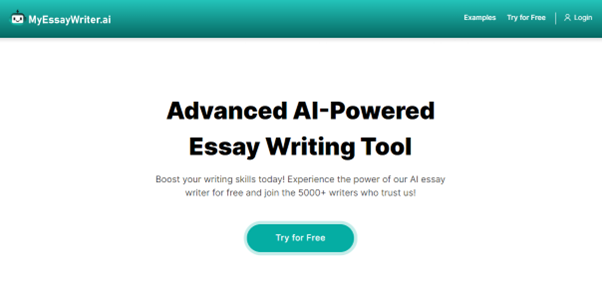 MyEssayWriter.ai stood out for its simplicty and affordability. This tool gets right down to business, helping you save time and effort when crafting essays. 
It's all about practicality here – the tool crafts essays that fit your needs, and it doesn't compromise on quality. Trained on a vast collection of exceptional essays and articles, thai essay writer generates unique content for any type of essay you need. The interface is designed to be user-friendly, so you won't need a tech degree to use it. 
And the best part? It won't cost you a dime. Yes, it's completely free. 
So, if you're seeking a reliable AI helper to enhance your writing game, MyEssayWriter.ai is worth giving a shot.
Key Features
Time-saving essay composition with AI assistance.

Customizable essays to match your needs.

Ensures high-quality content adhering to academic standards.

User-friendly interface for effortless writing.

Trained on an extensive database of outstanding essays and articles.

Efficient AI Essay Outliner streamlines the writing process.

Delivers unique and high-quality content.

Employs an advanced NLP algorithm for improved suggestions.

Supports various types of essays to suit your writing projects.
Pricing 
MyEssayWriter.ai offers convenient pricing plans that provide unlimited access to its range of features. Here are the available pricing options:
Get unlimited access to all features on a month-to-month basis. 
For a discounted rate, enjoy unlimited access to all features for an entire year.

PerfectEssayWriter.ai – AI Essay Writer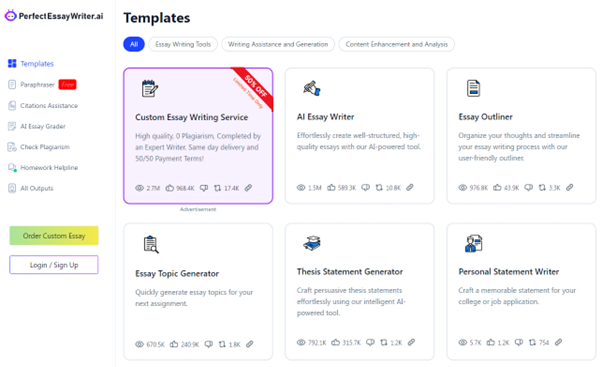 Meet PerfectEssayWriter.ai, a comprehensive AI essay writer designed to provide personalized assistance. 
This tool is all about enhancing your workflow efficiency while maintaining accuracy and consistency. It's a versatile companion, perfect for students across various academic levels. From Thesis Statement Generator to Dissertation templates, it offers a wide range of templates to make your writing tasks easier. 
Quality is a priority, ensuring high standards and zero plagiarism. With a user-friendly interface, PerfectEssayWriter.ai is a valuable asset for students looking to excel in their academic writing endeavors.
Key Features
Provides personalized assistance tailored to your needs.

Enhances workflow efficiency for smoother writing.

Ensures accuracy and consistency throughout your work.

Offers a user-friendly interface for effortless interaction.

Ideal for students across various academic levels.

Delivers high-quality content with zero plagiarism.

Offers an array of templates including Essay Outliner, Paraphrasing Tool, and more.

Supports a variety of writing tasks such as thesis writing and personal statements.
Pricing
Features a paraphrasing tool, completely free of cost!
Get access to all features for a month
Best for users looking for long-time help. This plan also gives access to all features of the tool.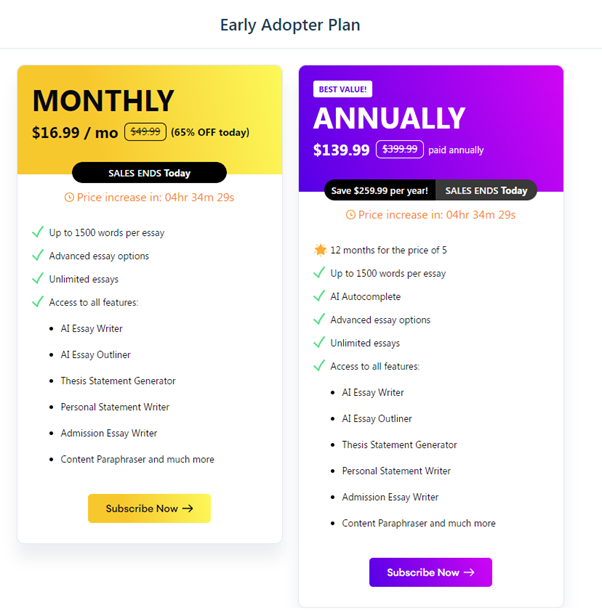 Jasper – AI Writing Tool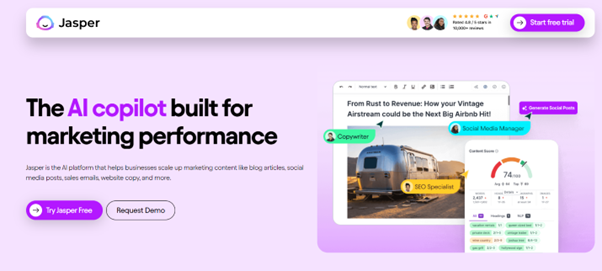 Jasper takes the stage as a dynamic AI writing platform, catering specifically to businesses aiming to enhance their marketing content. 
This tool is your go-to solution for amplifying various marketing materials, from blog articles and social media posts to sales emails and website copy. Jasper stands out for its ability to remain up-to-date with the latest information, ensuring your content stays relevant. 
Crafted with marketing performance in mind, Jasper may not be the best pick for creating academic content.
Key Features
Jasper AI platform designed for scaling up marketing content for businesses.

Generates diverse materials with 50+ templates such as blog articles, social media posts, sales emails, and website copy.

Stays current with the latest information and includes proper source citations.

Crafted with a focus on enhancing marketing performance.

Captures the true brand voice of the user to generate authentic content.
Pricing
Designed for individual use, granting access to all templates.
Suitable for teams of up to three members, allowing the creation of custom templates.
Offers unlimited usage and access to all features for comprehensive content creation needs.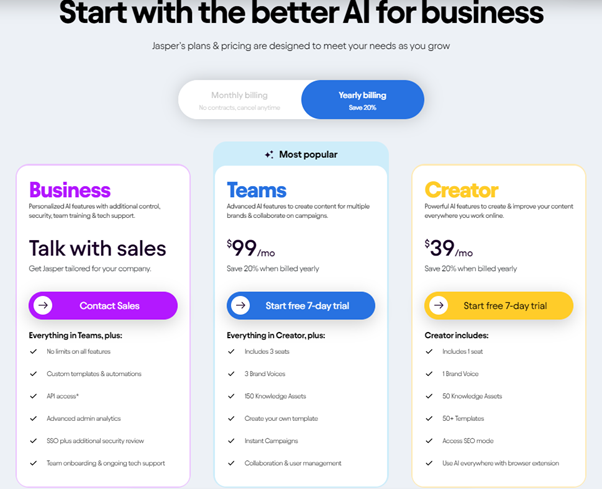 Quilbot – More Than A Paraphraser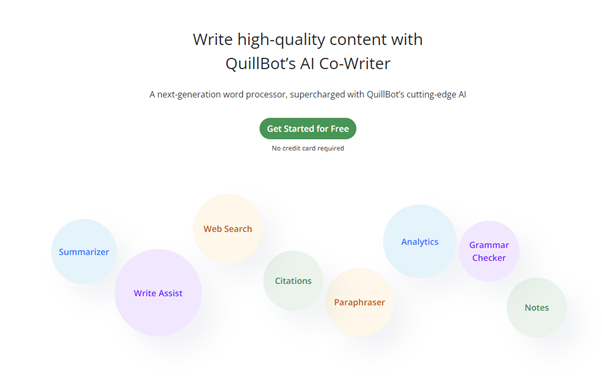 Quillbot, a widely recognized paraphrasing tool, takes center stage as a versatile AI writing solution. 
Beyond its paraphrasing prowess, Quillbot has introduced Co-Writer, an AI writer that's here to make your writing endeavors smoother. Co-Writer excels at word selection, grammar correction, multilingual comprehension, and even SEO optimization. 
Alongside this, Quillbot offers an array of AI-powered writing aids. With such a range of tools, Quillbot aims to be a comprehensive support system for your writing needs.
Key Features
Paraphrasing tool with a significant user base.

Introduces Co-Writer, an AI writer, capable of word selection, grammar correction, multilingual comprehension, and SEO optimization.

Offers various AI-powered writing aids: grammar checker, plagiarism checker, summarizer, and citation generator.
Pricing
Free Plan:

Provides limited access to features.

$99.95 Annual Plan:

Offers unlimited access for a full year.

$79.95 Bi-Annual Plan:

Provides unlimited access every six months.

$19.95 Monthly Plan:

Offers unlimited access on a month-to-month basis.
CollegeEssay – AI Essay Writer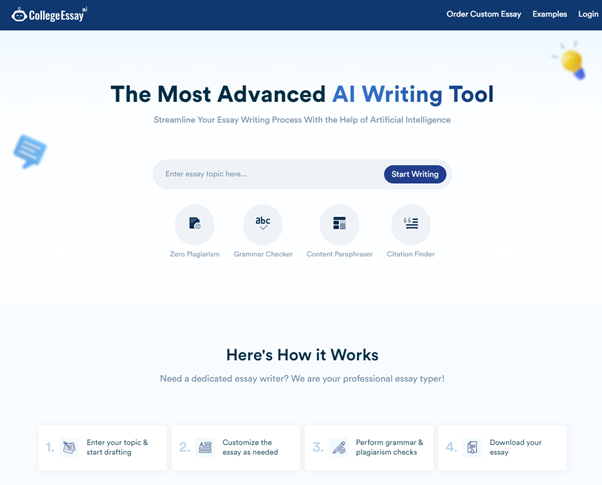 Presenting CollegeEssay, a robust AI essay generator specializing in essay writing. This tool sets itself apart with an extensive search database that acesses millions of trusted sources to provide you with the most relevant information for your topic. 
CollegeEssay offers a plagiarism checker that not only detects but also rephrases content to ensure uniqueness. Moreover, CollegeEssay offers a large database of free sample essays that anyone can access easily. And don't fret about grammar – it also features a grammar checker. 
All in all, its a resourceful tool for students looking to amplify their academic works.
Key Features
Extensive Search Database scans reliable sources to provide relevant information.

Auto-Writing Suggestions assist in completing sentences.

Advanced Plagiarism Checker ensures content uniqueness.

Supports MLA and APA citations.

Offers free sample essays without signup or credit card requirement.

Top-Notch Grammar Checker for identifying and correcting mistakes.
Pricing
Free Plan:

Includes a 350-word limit and limited feature access.

$4.99 Monthly Plan:

Offers 100 essays per month.

$39.92 Annual Plan:

Provides unlimited access to all features.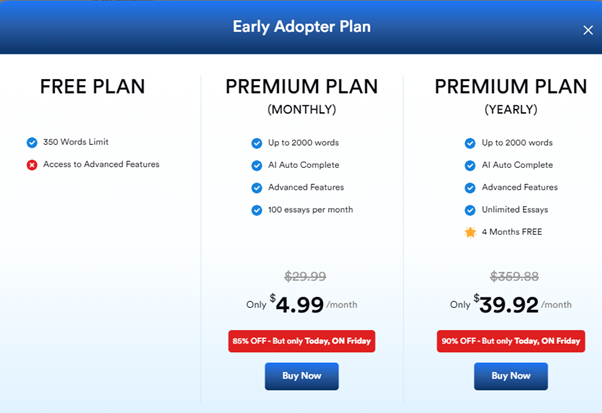 Copy.ai – Your Marketing Content Companion
Copy.ai is an AI writing tool designed to be your reliable companion for crafting compelling marketing content. 
Perfect for business owners navigating the realms of email marketing, blog posts or website content, Copy.ai streamlines your content creation process with a range of features. Whether you're a solo entrepreneur or have a team, Copy.ai empowers you to produce impactful materials effortlessly.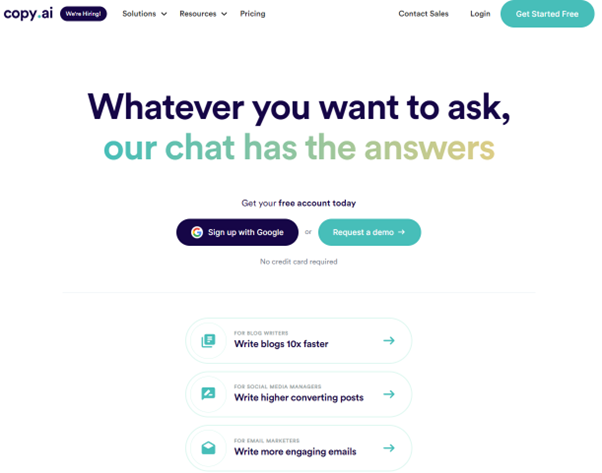 Key Features
Aids business owners in creating diverse content, including email marketing, blog posts, sales copy, digital ads, and website content.

Offers a versatile array of 90+ tools and templates to cater to various content requirements.

Simplifies content production through its comprehensive set of tools and templates.
Pricing
Free Plan:

Provides basic features with limited access.

$49 per Month Plan:

Allows 5 users and provides access to a variety of features and templates.

$432 Annual Plan:

Also accommodates 5 users and offers unlimited access to all features and templates.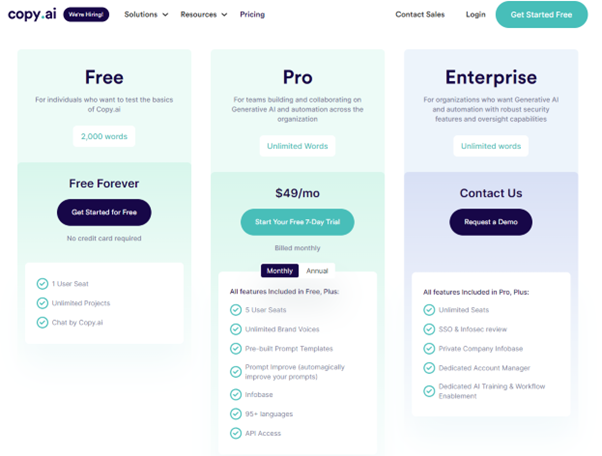 EssayService.ai- Tailored Essay Excellence
EssayService.ai, an AI essay writing tool that's all about delivering quality and efficiency in essay creation. 
With essay writing as its main and only feature, EssayService.ai ensures you receive well-structured, coherent essays that adhere to academic standards. It also offers a rapid turnaround, streamlining the essay generation process so you can focus on other tasks. 
Key Features
Offers well-structured, coherent essays that meet academic standards.

Provides a fast and hassle-free essay generation process.

Crafts personalized essays based on your unique requirements and preferences.

Caters to a diverse array of subjects and academic levels.
Pricing
EssayService.ai may not offer tons of templates and features, but it makes up for it by being completely free!
Rytr – Copywriter's Favorite
Meet Rytr, the AI writing tool that's become a staple for copywriters, powered by cutting-edge language AI to generate unique and original content across a multitude of industries. With 40+ versatile use cases and templates at your fingertips, Rytr caters to all your writing needs.
Key Features
Powered by advanced language AI for unique and original content generation.

Offers 40+ use cases and templates to cover a wide range of writing needs.

Choose from 30+ languages to write in or provide content in your clients' languages.

Embrace 20+ tones of voice to match your content's desired emotion.

Utilizes scientific copywriting formulas like AIDA and PAS for high-quality output.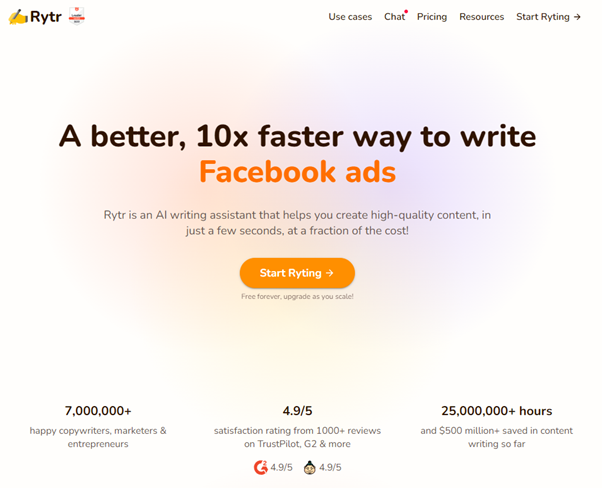 Pricing
Free Plan:

Provides limited access to features.

Saver Plan:

Priced at $9 per month, offering multiple features.

Annual Plan:

Priced at $290 per year, providing unlimited character generation and access to all features.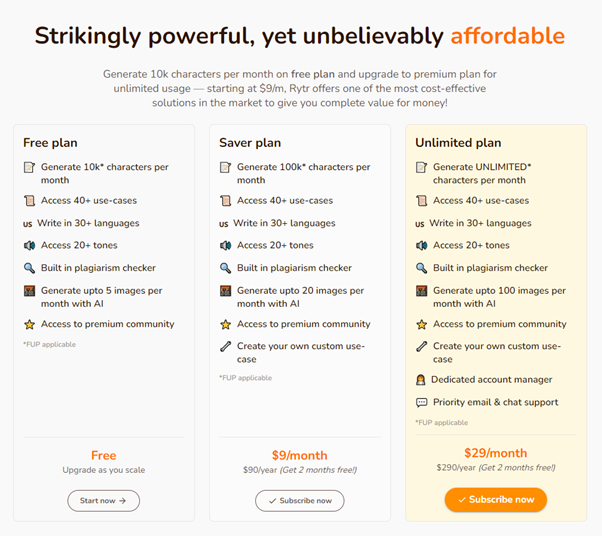 ChatGPT – A Versatile AI Writer
Introducing ChatGPT, an AI writing tool that stands out as the epitome of versatility. With access to an expansive database, ChatGPT excels in a multitude of tasks, making it your all-in-one solution. 
Whether you need engaging conversations, academic content, blog posts, or any form of content creation, it has you covered. Its proficiency shines through, making it a reliable partner for various writing needs.
Key Features
ChatGPT handles diverse writing tasks from conversations to academic content, blog posts, and more.

Leverages an extensive database for top-tier content generation.

Produces coherent, human-like text through advanced language processing.

Adaptable for students, professionals, and content creators across industries.

Swift content generation reduces manual writing efforts.

Improves over time with machine learning and interaction.

Tailors outputs to user prompts for relevance and specificity.

Intuitive design for easy navigation by a wide range of users.
Pricing
Free Version:

Provides basic functionality, slightly less advanced than the paid version.

$20 Monthly Plan:

Offers more advanced outputs and faster content generation.
EssayBot Powered by MyPerfectWords.com
Introducing EssayBot, a simple essay typer, backed by the reputable MyPerfectWords.com essay writing service. In its initial stages, EssayBot pledges quality content through a quick and simple process. 
While limited to essay generation, it stands out for its simplicity – making it an effortless choice for those seeking quick essay solutions.
Key Features
Developed by a trusted essay writing service, MyPerfectWords.com.

Promises quality content with a quick and simple process.

Focuses exclusively on essay generation.

Offers a user-friendly interface for easy usage.

Pricing
EssayBot offers its services completely free of charge, making it an accessible option for quick and convenient essay generation.
FAQs
How accurate is the plagiarism detection feature in AI essay writing tools?
AI essay writing tools utilize advanced algorithms to detect plagiarism, but the accuracy can vary. It's recommended to review the tool's policies and consider cross-referencing results with established plagiarism checkers for thoroughness.
Can AI writing tools replace human creativity and critical thinking?
AI writing tools can assist with generating content, but they might not replicate human creativity and critical thinking entirely. These tools are designed to enhance the writing process, offering suggestions and structure while requiring human input for detailed concepts.
Are the AI-generated essay different from human written essays?
While AI-generated essays can be impressive, there might still be elements that can be recognized as machine-generated. It's advisable to review and refine the output to ensure it aligns with your personal writing style and intent.
How do AI essay writing tools ensure the security and confidentiality of user-generated content?
Reputable AI writing tools typically employ encryption and security measures to protect user-generated content. It's recommended to review the tool's privacy policies and terms of use to understand how your data is handled and stored.
To sum it up, we've introduced a range of significant AI writing tools in this article. From academic-focused tools like PerfectEssayWriter.ai and EssayService.ai to marketing content aids like Jasper and Copy.ai, there's an AI solution for every writing need.
These tools offer diverse assistance and capabilities, showcasing the growing role of AI in various writing domains. Whether you're seeking help with essays or crafting marketing content, the AI landscape has something valuable to offer.