Kill Trump: Invoke the 25th
Seattle, Washington, October 17, 2017 – "Kill Trump: Invoke the 25th – A Revolution of the Human Spirit" is an exciting dystopian novel set when mankind is beset by world crises and the political structures are crumbling like tenement houses."
This futuristic book has been aptly compared to both 1984 and A Brave New World!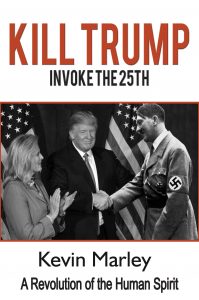 Tyrants and despots rule as mankind encounters its greatest nightmare with nine billion people on the planet, struggling for survival as Water and Oil Wars are occurring, The Greenhouse Effect is in full force and weapons of mass destruction are proliferating.
William Hathaway, a noted writer, has given "Kill Trump" five out of five stars and has said: "What a great idea for a book! And it's solidly written: a story full of surprising twists and turns, humour, and authentic emotion, all conveyed in prose that overflows with creative energy. Marley portrays the icons of the hippie movement as complex, interesting people whom we care about even when we don't always like them. He renders their stoned-out world vividly and in convincing detail. Kesey would love it!"
WILLIAM HATHAWAY, AUTHOR
Essentially, we are faced with the stark choice: extinction or evolution.
Oddly enough, the first chapter takes place on the R.M.S. Titanic and begins on April 10th as we re-encounter its crew and passengers again, Captain J. Smith, First Officer Murdoch, Bruce Ismay, John Jacob Astor, the Unsinkable Molly Brown, and many others, and its nine glorious decks replete with an on-board swimming pool, Turkish baths, libraries, and a squash court and its 48,328 gross tonnage slicing through the cold Atlantic waters.
However, this time, we have new passengers, namely, the G-8, the business titans of Wall St. along with the SEC and other bureaucrats, the big three automakers, and the major religious leaders of the world. The new passengers are convinced they are sailing on a mere replica, but as the story unfolds, the line between so-called reality and another world becomes greatly blurred.
Will the R.M.S. Titanic sink, again?
More importantly, will we, as mostly third class passengers, go down with her?
"The tale explores what it will take for humanity to survive the 21st century," Kevin Marley, the author, recently stated in an interview. "Obviously, it's not about killing Trump or any other politician, but about confronting the political degradation, mob psychology and corruption that has given rise to it.
It's about the American Revolution being half-finished".
"Ken Kesey and his marauding band of Merry Pranksters travel through Time itself engaging the American public in a series of pranks that lead them to satori (or a glimpse of enlightenment)."
As a result, the course of history changes as mankind learns to split the atom of human potential with our now existing technologies, and hope dawns.
Marley is also launching: http://www.KillTrump.Online which will feature Trump Leaks (in the spirit of Wikileaks) and Protest Central which will coordinate protests around the United States. Right now, there are protests scheduled for October 29th in New York City (Times Square), Philadelphia (Independence Hall) and Los Angeles (City Hall).
He is the author of seven books: Nirvana, Seeking, Day of Reckoning, Barack Obama, Further, The Book of Life and now the provocative Kill Trump: Invoke the 25th.