Lifestyle
Former boxing World Champion David Haye has hailed the marriage of Harry and Meghan

Former boxing World Champion David Haye has hailed the marriage of the new Duke and Duchess of Sussex as a defining moment for Britain.
The Hayemaker, 37, who has a Jamaican dad and English mum said the country was ready for someone of colour to be part of the Royal family.
He was speaking after braving the Living Nightmare Extreme Walking Dead maze at Thorpe Park in Surrey.
Haye said: ''To have someone of colour entering the Royal family is amazing. I never thought I would see that happen in my lifetime.
''But society is diverse and that should be reflected everywhere, in the workplace, in schools, in sport and in the Royal family. It is nice to see, as a mixed race man.
''I think it's great Meghan is from a mixed family. My dad is from Jamaica and my mum is English.
''I honestly haven't heard one person say a negative word about the wedding.
''Maybe 50 years ago, or even 20 years ago there would have been a few raised eyebrows, but now society is so multi-cultural, the world is changing.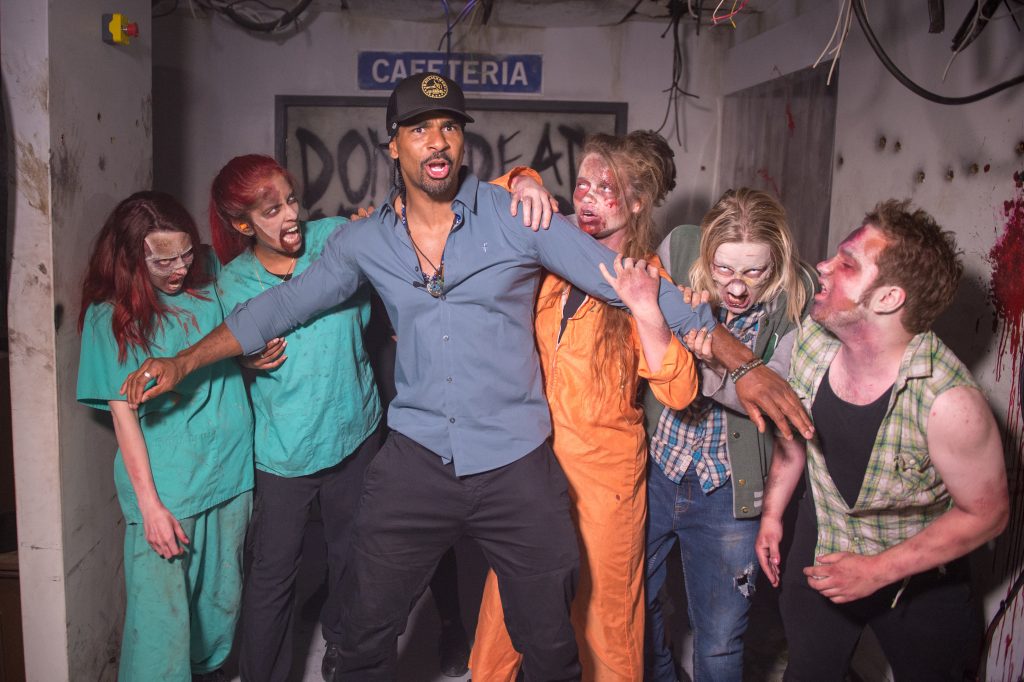 Haye also enjoyed U.S minister Michael Curry's sermon, adding: ''It was great. I loved it, it put a bit of flavour in it.
''Everything happens for a reason when it's ready to happen, and I think now is the time for the Royals to be doing what they're doing.
''It felt natural and it felt right, and it was amazing to see everyone celebrating. For me Harry and Meghan got everything just right. It was lovely to see.
''It was also heart warming to see the reaction of everyone. We have already welcomed Meghan to our Royal family and taken her to our hearts.
''I didn't cry when I watched it, but I did have a warm smile on my face. I am even more proud to be British now.''
Haye looked happy and refreshed as he arrived at Thorpe Park to try out the maze.
After emerging unscathed he said: ''The future doesn't scare me – but that lot did''.
Around three dozens actors dressed as zombies pounced on the 6ft 3in boxer in the maze, parts of which are in total darkness.
He added: ''If your idea of fun is to be scared, like if you love horror movies and you love The Walking Dead then I could not recommend it more highly.
''People were jumping out of the darkness at me.
[youtube https://www.youtube.com/watch?v=319Hs7Uh4Wk?enablejsapi=1&autoplay=0&cc_load_policy=0&iv_load_policy=1&loop=0&modestbranding=0&rel=1&showinfo=1&theme=dark&color=red&autohide=2&controls=2&playsinline=0&]
''It was way more terrifying than the bush tucker trials. Nothing really got my heart pounding in Australia like the maze did.
''Having cockroaches thrown at you is different to having zombies coming out of nowhere and getting in your face in the dark. There were hands coming through holes, and people appearing in doorways.
''It was funny because my natural instinct is to throw a punch so I had to rein that in!
He also joked: ''I have watched a few seasons of The Walking Dead so I know the potential repercussions of being bitten by a zombie.
''So I spent the whole time trying not to get bitten, not that they were trying to bite me, but I managed to get out in one piece.''
* The Walking Dead: Living Nightmare Extreme will be open between 25th May and 3rd June exclusively.
Thorpe Park Resort's Divisional Director Dominic Jones said: "We're really excited to open the most terrifying live action horror maze in our history.
''With more rooms, more Walkers and more surprises than ever before The Walking Dead: Living Nightmare Extreme is a dead cert to scare the bravest of horror fans.
''It's here for one week only, once it's gone it's never coming back so if you're brave enough, we can't wait to see you."