4 Tricks to Making Your Small Space Guest-Friendly
Though it may feel limiting at times, you can do a lot with a small space. Don't let the square footage of your living space hold you back from having friends over for a fun night in, or hosting an acquaintance who's in town for a few nights. A little space can go a long way if you organize it correctly. If you're looking to make your small space guest-friendly, here are four tricks that can help you out.
Clean Up Your Space
If you're living in a small space, it's always a good idea to keep it nice and tidy. However, it's especially important to clean up before having guests over. While you might feel perfectly comfortable hanging out in a room where your dirty clothes are all over the place, old mail is piled up on the coffee table, and used dishes are sitting in the sink, your guests probably won't feel the same way. So make an effort to clear out clutter and get everything organized before having anyone over.
Hang up your clothes in the closet or stow them away in garment boxes in order to minimize the amount of space they take up. Throw away any useless clutter lying around and take out the trash so it doesn't produce any gross smells. You might even consider getting Pura's plug-in air freshener, which allows you to easily customize the scent it emits using your mobile device.
By giving your home a thorough cleaning, and tucking everything away in the appropriate place, you'll be able to open up a ton of space, making both you and your guests more comfortable.
Take Advantage of Versatile Furniture
Getting stylish furniture that serves more than one purpose can both make your space look better and increase its functionality. In many cases, versatile furniture can also help you more efficiently utilize the small amount of space you have at your disposal.
For instance, a pull-out sofa bed is perfect for if you have limited space but plan on accommodating guests and other overnight visitors. With a pull-out sofa bed, you get both a couch to relax on and a comfortable bed to whip out whenever you need it. It's a huge space saver because it makes it so that you don't have to keep an extra bed, or futon, or inflatable mattress lying around just in case.
The pull-out sofa bed is merely one example of how a piece of furniture can be versatile—there are all kinds of ways that furniture can help you save on space. Just look for high-quality furniture pieces you like and take into account the amount of storage space they provide. Also, get some pieces of furniture that you know will last by buying from well-established brands like Universal Furniture or Klaussner Home Furnishings.
Have Plenty of Seating Available
Not having enough seating in your home can make for an awkward situation when you entertain guests. It's certainly not an ideal situation when one of your guests has no comfortable place to sit down, and is forced to either stand or sit on the floor. That's why you need to ensure that you have enough seating for both yourself and anyone you might have over at your place.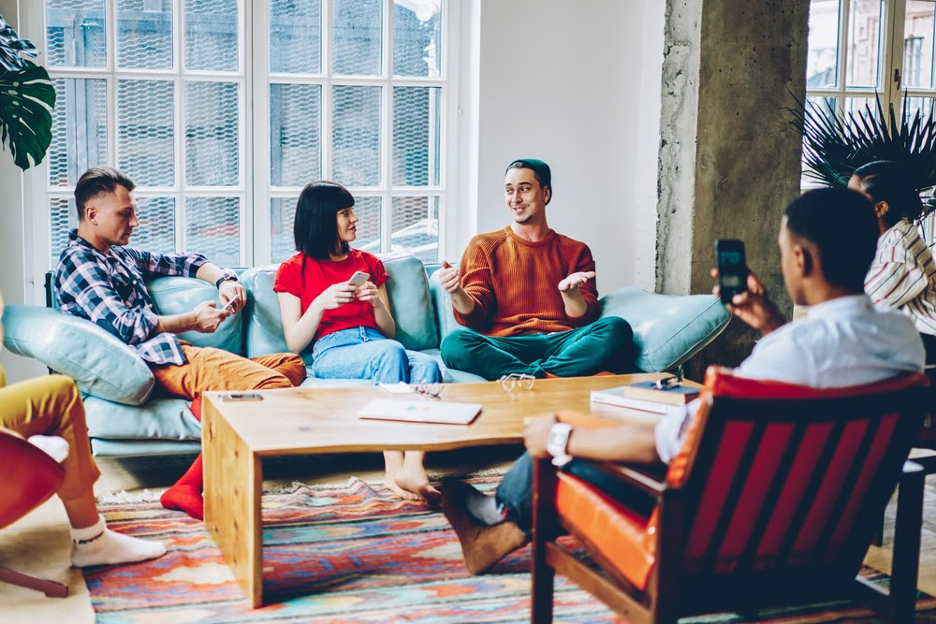 First of all, you should try to find seating that works with the space regardless of whether guests are there or not. Consider getting an ottoman that you can kick up your feet on when you're alone, and repurpose into seating when guests are over. If you're extremely limited on space, though, then your best option might be to just purchase a few floor pillows that you can easily store away when it's just you at home.
Make Your Space Comfortable
Create a more inviting space by adding elements that make it more comfortable. Keep a supply of extra blankets and throw pillows nearby in case your guests feel cold or just want to get extra cozy.
In addition to making the space more physically comfortable, create a relaxing environment. Provide the room with plenty of light in order to create a warmer atmosphere. Try to use a variety of different light sources to get an even, layered effect.
Lastly, give the room a soothing, natural scent by picking up a Vitruvi essential oil diffuser. An essential oil diffuser won't just make any room smell amazing, it also looks great no matter where in your home you decide to put it.
Keep these tips in mind if you want to be the ultimate host next time you have company over. Remember that just because you live in a small space doesn't mean it can't be accommodating, too.