Why Arsenal Can Finally Beat European Curse
Twenty-six years have passed since Arsenal – three-time Premier League champions and one-time 'Invincibles' – lifted a major European trophy.
The 1-0 triumph over Parma, which Gunners fans often refer to simply as 'Copenhagen 94', came at a transitional time in the club's history. Back then, Arsenal were just two years away from moving from homegrown managership to the hugely successful reign of scientifically-minded Frenchman Arsene Wenger. Today, the club is in a very similar position.
Today, Arsenal are still finding itself adapting to the regime of young, inexperienced former Gunner midfielder Mikel Arteta. The Spaniard contrasts sharply with his predecessor, Unai Emery, who was (and is) a very seasoned and decorated coach with three Europa League cups as Sevilla manager, but apparently little empathy for Arsenal as a club.
Arsenal's perfect three-game start to the current Europa League campaign gives them their best-ever chance of finally lifting the coveted trophy.
Odds favour Arsenal
Arteta has already won the FA Cup as Arsenal manager, but Gunners fans crave so much more, and they have every right to do so if prices surrounding sporting events currently taking wagers are to be believed. Outrights for the two major competitions currently involving Arsenal, paint a contrasting picture, with Arsenal amongst the 'realistic' (but very distant) challengers for the Premier League, but outright favourites to lift the UEFA Europa League going into November: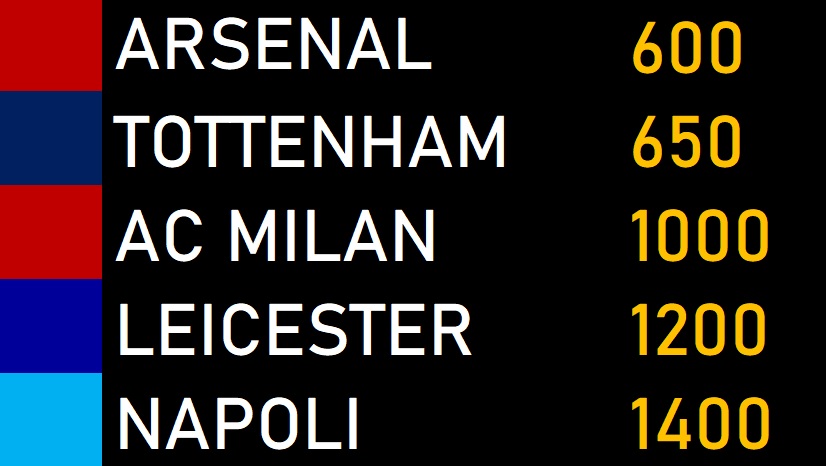 The story so far
Matchday one saw Arsenal come from behind to beat Rapid Vienna after a goalless first half. Regardless of the opposition, it takes a lot of character to do that on unfamiliar turf. Prior to that win, Arsenal had also conceded just once inside the opening half-hour of play across their last 17 Europa League away matches.
The ability to frustrate opposition teams in the early stages is a key part of exploiting the away goals rule, which may prove crucial in the spring knockouts. Naturally, Arsenal will be aiming to improve upon their home form, especially after being eliminated via a home loss to Olympiakos in the last term and performing unconvincingly in the early stages against Dundalk and Molde.
This has actually been a common trend, with 11 of Arsenal's last 12 Europa League home wins to yield a 2+ goal margin seeing them keep a second-half clean sheet.
Better teams will be able to counter this characteristic from striking late in their own way, but with this season's scheduling proving more exhausting than ever at the top level, Arsenal have every reason to believe that late surges can provide a telling competitive edge.
'Auba' settled, youth stronger
Purely in terms of personnel, the key difference is in the mindset and positioning of Pierre-Emerick Aubameyang, even though much has been made of the last-ditch swoop for Thomas Partey.
This time last year, the rumours surrounding a potential move to Barcelona or Inter Milan – or a return to Dortmund – were unabating and fully-warranted in the context of his ongoing contract saga. As such, his decision to sign on for three more years in the summer has changed the mood around the Gunners' camp and the complexion of their entire short-term operation.
The Gabonese forward, with an ability to play across the final third, is easily the club's most valuable asset since Robin van Persie. That feeling is evidenced by more than mere emotion, with Aubameyang boasting a 67.86% win-rate from his all-time goalscoring appearances for Arsenal. That number rises to exactly 75% in the Europa League alone.
The strong presence of youth, which has previously experienced humiliation at the hands of minnows such as BATE and Ostersunds has also become wiser and much more receptive to the ruthless nature of European knockout football.
Leading Arsenal starlets Bukayo Saka and Eddie Nketiah have shone in particular, with the latter man boasting a 100% winning return from his previous eight goalscoring appearances for Arsenal ahead of the Gunners' November home game with Aston Villa. Half of his goals therein proved decisive, with four of the last five matches in that sequence producing victories by a margin of two or more goals.
29 Oct: Nketiah opens the scoring against Dundalk.
Motivation unrivalled
While Arsenal are favourites, they will not be without their challengers when they reach the knockouts. As ever, eight teams will drop from the Champions League into the Europa League in December, causing a huge shift in outright prices. Even so, it will be difficult to find a more motivated team than Arsenal in the final 32.
There has already been a plethora of heartache at cup finals in years past, with the Champions League final of 2006 – a 2-1 defeat to Barcelona despite scoring first – still the most prominent. More recently, the Europa League final of 2019 saw Chelsea crush Arsenal 4-1, with Eden Hazard choosing his final appearance in Chelsea blue to enact his best performance in a clash between London's 'big two'.
Lifting the Europa League, and entering the Champions League via such means, will erase those painful memories in the blink of a tearful eye.