News
Could Santa be tempted to part-exchange his sleigh for a new model?

With the 'Big Day' just over a week away, no doubt Santa's elves are busy packing the sleigh. But with today's wide range of more modern modes of transport available, is the sleigh really still the best option (magic aside)?
Jardine Motors Group, one of the UK's leading motor retailers, answers this pressing question by comparing the reindeer-powered sleigh to some of the newest models across the categories of boot capacity, comfort, technology, safety, design and performance.
When it comes to boot capacity, Santa would be hard-pushed to find an alternative. However, should he be looking to upgrade his ride, then the BMW X7 is top-rated thanks to its generous 326 litres of space available, even when all seven seats are in place. With five seats in place this increases to 750 litres, but fold down all the rear seats and it extends to a whopping 2,120 litres – ample room for presents!
Comfort is definitely not something you would associate with a sleigh as it's sure to be a bit breezy. Instead, he could opt for the Aston Martin DB11, with its luxury cabin, which provides the ultimate in comfort and convenience with quality natural materials, premium craftmanship and state-of-the-art climate control (handy when covering seven continents in one trip). What's more, Santa can benefit from 10mm of extra headroom in the front.
Alternatively, the McLaren GT uses quality interior materials including soft-grain leather, solid aluminium and the option of soft, tactile Cashmere – a level of refinement we're sure would satisfy the tastes of Mr and Mrs Claus. The GT's ergonomic design means there's plenty of room for two six-footers to get comfy in the front.
As Santa's sleigh is unlikely to pass any sort of NCAP safety test, he may be best opting for the Audi RS6 Avant Vorsprung with itsAdaptive Cruise Control which maintains a set distance to the vehicle in front by automatically applying acceleration and brakes, making for a more relaxing journey than battling with air traffic. Matrix LED technology has twice the reach of conventional LED headlights and significantly larger reach than red reindeer noses.
Performance has got to be key consideration to make sure Santa hits the very tight deadline, so he may choose the Toyota GR Yaris.Its rally DNA means the1.6 litre turbo engine produces 257bhp, a top speed of 142mph and makes the sprint from 0 – 62mph in 5.5 seconds. Santa can unleash his inner track driver and shift the car into sports or track mode to liven up his journey; something that isn't an option with reindeer.
Striking, innovative and curves in all the right places – the Ferrari SF90 Stradale won design awards just months after its unveiling, which is more than can be said about Santa's sleigh. He would likely opt for the signature Rosso Corsa red exterior to perfectly complement his suit if image is important.
Matt Wrigley, Marketing and Innovations Directors at Jardine Motors, comments: "Sadly it's clear that there aren't many features and benefits to the sleigh and reindeer when compared to other travel options, and I'm sure most of us would opt for a something a bit more comfortable, warmer and safer to carry out our own festive deliveries in. That said, nothing really compares to the magic and twinkling of the sleigh bells over our roofs on Christmas Eve!"
For more information, please visit: https://news.jardinemotors.co.uk/lifestyle/Santa-vs-car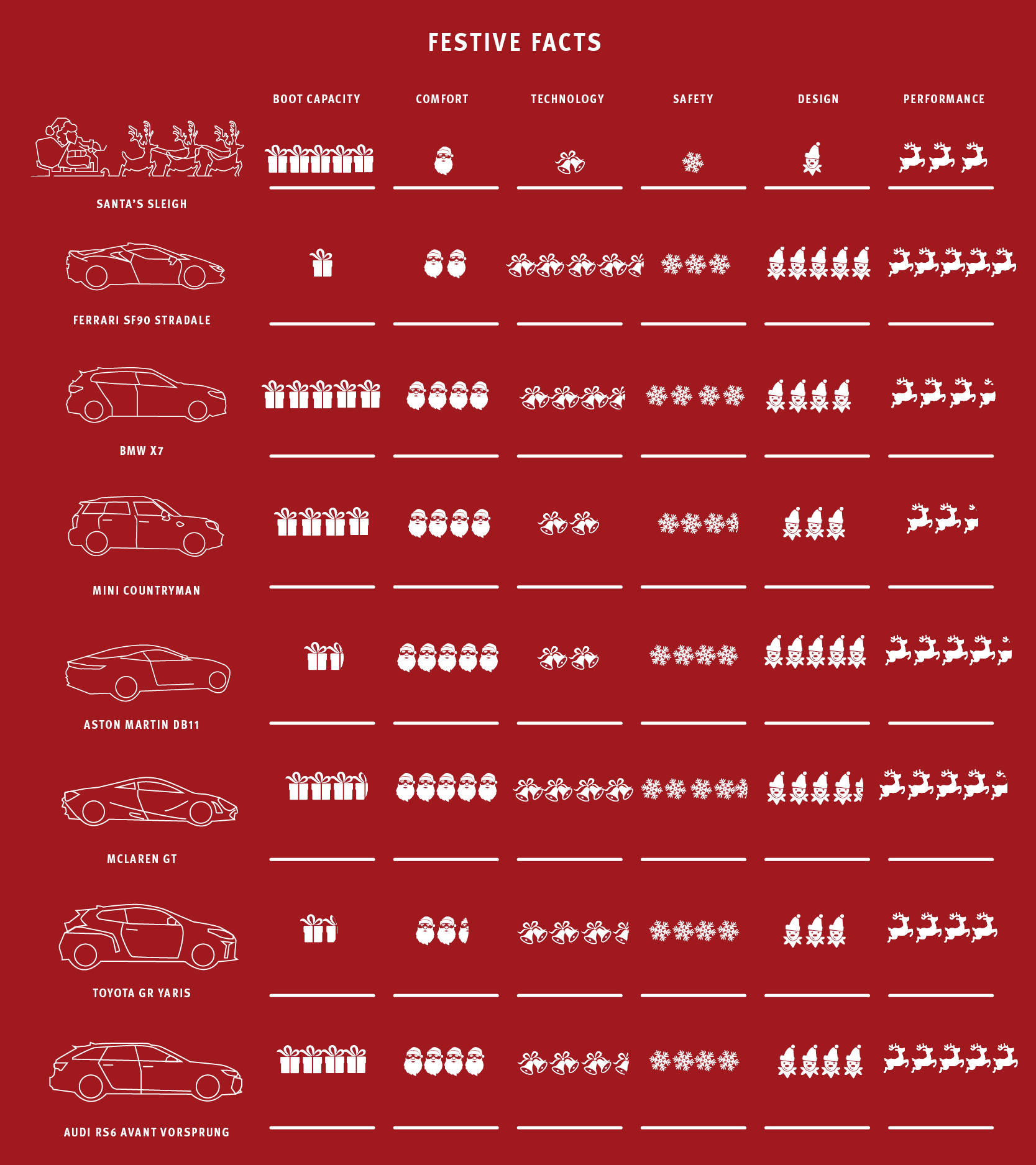 For further information, please contact the Jardine Motors press office by emailing group.communications@jardinemotors.co.uk
About Jardine Motors Group:
Jardine Motors Group operates in 56 locations across the UK, representing 15 luxury and premium automotive brand, employing 2,500+ people.  In its mission 'to be the best motors retailer as judged by you', the company's strategy has a strategic focus on transforming the services and experiences it offers to both colleagues and customers. This includes a long-established diversification and inclusion strategy to help change perceptions of the industry as well as collaborating closely with its OEM partners, start-ups and leveraging the scale of its holding company, Jardine Matheson based in Hong Kong, to work with global leaders, to modernise its core business operations.