Check Out the Advantages of Having a New Metal Roof Installed
Metal roofs are gaining popularity in the United States because of their durability and beauty. They do cost more than some roofing materials, but they last a lot longer. So, if a person can afford to go for long-term cost effectiveness, a metal roof is a good choice. Whether a metal roof is right for your home depends on several factors, including your budget and the style of your home. How long will you be living in your home? If the family will be moving in a couple of years, the investment might not pay off. But a metal roof might increase the selling price of the home.
Determining When It Is Time to Replace A Home's Roof
When a person purchases a home, they should ask how old the roof is and what material was used. The age of the roof and the materials used will be a good guide to determine when a roof might need replacing. A slate, copper, or tile roof should last around 50 years. A wood shingle roof should last approximately 30 years. Fiber cement shingles should last about 25 years, and asphalt shingle roofs last for about 20 years.
The quality of the roofing material, the skill of the roofing installer, and the climate and weather conditions during the roof's lifetime will all affect the roof condition and need for replacement. The person who sold you the home should have records of roof replacements they have paid for. If the owners have lived at the home for more than ten or fifteen years and not replaced the roof, it is probably nearing replacement time. Have a home inspection that covers the roof before closing on the home purchase.
If you are not sure if the roof needs replacing yet, but it is older, contact a roofing company for an inspection of the roof. Go to https://eriemetalroofs.com/blog/ for more information on roof replacement. In general, a roof needs replacement if the roofing material shows signs of wear and damage from storms. If the roofing material is cracked, warped, or shingles are missing, it may be time to replace it. If the roof is leaking, it is time to replace it. Some roofs can be repaired to last a while longer. But, if a roof will cost almost as much to repair as to replace, then go with replacing it.
Roofing Materials to Consider
The roofing materials used for homes include wood shingles, slate, clay tile roofs, metal roofs, and asphalt shingle roofs. Some roofing materials go better with certain styles of homes than others. Just because one material has been used does not mean it must be used again. A person can change from one material to another that they feel will look better on the home or be more durable. For instance, a homeowner can switch from inexpensive asphalt shingles to metal roofing.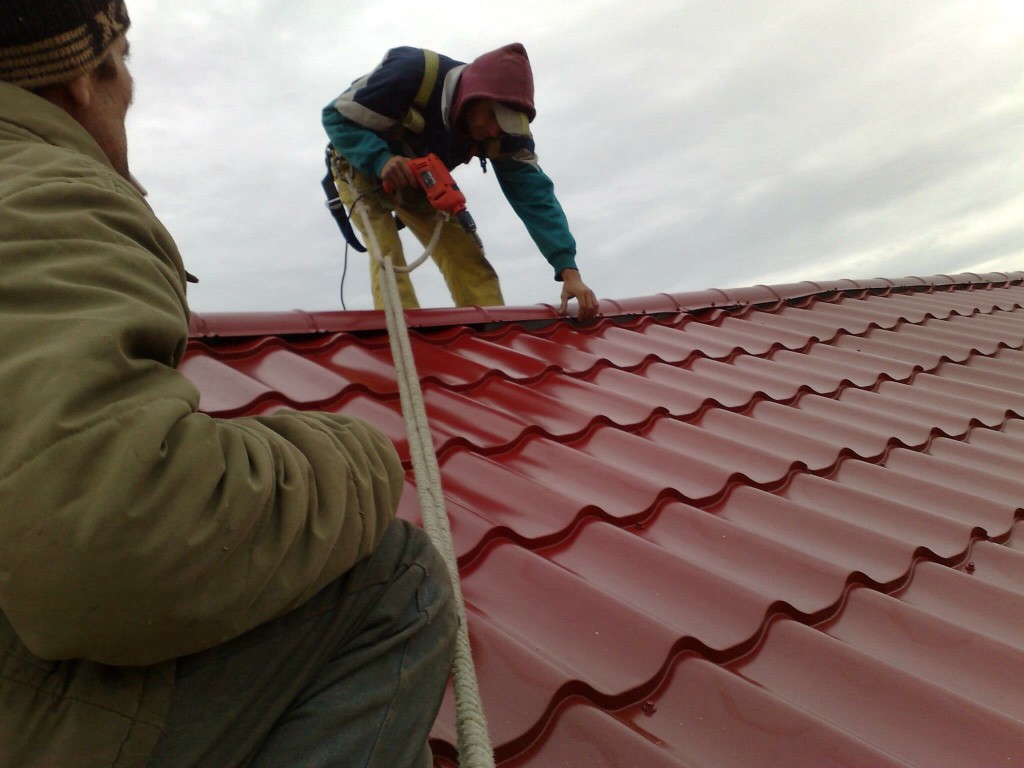 Metal Roofing as a Choice
Metal roofing is gaining popularity as a roofing material that is durable, adaptable, and attractive. Nearly 15% of all new roofs are metal roofs. This roofing material used to only be used for expensive homes but is now more widely used because of improved manufacturing methods that have lowered the cost. Metal roofs can look like shingles or other roofing materials as well as sheets. Metal roofing can be made of copper, aluminum, or steel.
Modern metal roofing can be as quiet as asphalt roofing even with rain or hail falling on it. Proper installation is the key. Metal roofing does not attract lightning because it is an electrical conductor, a noncombustible material, and is not a path to the ground. Metal roofing is resistant to root, fire, and insect damage. Metal roofing conducts heat from the sun to make snow slide off it faster than other roofing materials.
Metal roofs are more expensive to install than asphalt shingle roofs, but they are more cost-effective because they last from 40 to 70 years compared to the 20 to 30 years asphalt shingles last. Metal roofs are also a very energy-efficient type of roofing, saving on heating and cooling costs. Metal roofing success depends on professional installation and repair. Installing metal roofing requires special training and equipment.
Metal roofing is powder coated or has other advanced finishes for durability and beauty. The metal roofing can look like copper or other metals, or be colors such as red oxide, hunter green, greys, blues, subdued colors, and vivid primary or secondary colors. Metal roofs also come in different profiles, including flat-ribbed or simple rib styles and styles that look like shakes, tiles, or clay tile roofs.
Metal roofing can be installed with standing seams and hidden fasteners or interlocking mechanisms or as sheet roofing with exposed screws. Ask to see large samples of both types of roofing before deciding which type to use. Metal roofs come in several gauge thicknesses including 29, 26, or 24, with the lower numbers being thicker and more durable.
Advantages of Metal Roofs Over Shingled Roofs
Metal roofs are as much as twice as expensive as asphalt shingle roofs, but they have advantages that make up for the extra cost. Metal roofs last a lot longer than asphalt shingle roofs, saving the installation labor costs of multiple roof installations over a 50- or 60-year period. Metal roofs last longer because they are more durable in storms and high wind situations.
Metal roofs can be affordably repainted if fading occurs or the owner wants to change the color. There are special metal roof paints available. In addition, metal roofs will not stain as easily because they are resistant to rust, rot, and mildew or mold growth. They are also impervious to insect damage. Metal roofs heat up with the sun during the winter, causing any snow build-up to slide off on its own. No more shoveling snow off the roof. Metal roofing is also fire-resistant with really high fire ratings.
It is important to do a little research to make sure that the subdivision or community rules allow metal roofing and what local building codes will impact installing a metal roof. Then, choose a color you will love ten or twenty years down the line because this is a long-lasting roofing choice. Get several bids from respected roofing companies that specialize in metal roofing. Look at homes with metal roofs to make sure you will like the look of a metal roof.