In the recent times, kids are very much habituated to use latest gadgets at an early age. Gadgets do not include only mobiles but different other electronic gadgets such as Tablets, Handy games and others. Nowadays as parents are quite busy with their daily schedule, it is not surprising that kids are way more attracted to gadgets.
As parents, you may find that advanced life comes with numerous benefits as far as the accessibility of gadgets. However, before you begin to depend too intensely on its usage, you should cautiously weigh the pros and cons that it offers as it can be either helpful or harmful, depending upon how it is used. Here, we clearly explain the advantages and disadvantages of letting your little ones to handle gadgets from young age.
List of Pros for Children Using Gadgets at Young Age:
Gadgets are the Incredible Source of Educational Environment:
As the word is moving towards technological advancement, there have been developments in education sector too. This paved way for smart education for the new generation kids. Keeping an eye on your kid is a challenging task as you are busy with your daily chores. Kids have numerous educational apps to gain knowledge, without the need of going to school in difficult times.
Few mobile applications like Duolingo, permit kids to learn a foreign language. DragonBox app is helpful to learn the basics of maths. Science360 provides recordings, photos, and stories to explore most advanced scientific concepts. You'll discover spelling games and riddles promptly accessible as well.
Particularly last year during COVID-19 most of the parents bought electronic gadgets like smartphones, tablets, laptops & other too for their children online classes from most famous online websites like Amazon, Souq, Xcite, etc. at reasonable prices. Till today, Amazon UAE Promo Codes, offers and special discounts are available for all users.
Children Have Scope to Gain Cultural Knowledge:
Access to latest technology permits the present youngsters to experience cultures in ways that should never be done before. They can watch videos showing the celebrations and occasions held in different places or nations. It offers openness to various religious and political perspectives not generally possible in a family setting. Through technology, the present youth have ways to expand their horizons more than ever.  That helps to create a iconic world where enormous opportunities exist.
Technical Gadgets Make Ready Your Children for Future:
As technology is developing, exposing youngsters to tech ideas from the earlier stage sets them up for a future where they can remain potential. Projects like ABC Mouse permit children's to be prepared for school while advancing intellectual turn of events. Sites like Zearn are utilized by schools to teach educational concepts. These tools make it feasible for youngsters to be ready for math, reading, and other core subjects where they are mature enough to perform their day-to-day activities by their own.
If you want to buy technical gadgets for your kiddos then don't forget to visit Carrefour website. This site is providing their services all over UAE, Saudi Arabia & Egypt. Make use of Carrefour promo codes & get your desired gadgets at mind boggling discounts.
Improve Your Children Language Skills Using these Gadgets: 
Children have various opportunities to improve communication abilities as a result of technology. Games required them to adhere to specific instructions for success. Kids can read digital books as an approach to improve their vocabulary or stories which are engaging. Online flashcards promote phonics and numerical ideas. Children today appear to have a natural comprehension of how computers and mobiles work. Giving them access to devices will helps them to improve their learning capacity.
Thus, as a responsible parent make sure you allow your children to utilize specialized devices to improve their skills and knowledge. Checkout Light In The Box website for all most recent smartphones, laptops, smartwatches and other. Along with special discounts & offers you can profit Light In The Box Coupons & Vouchers.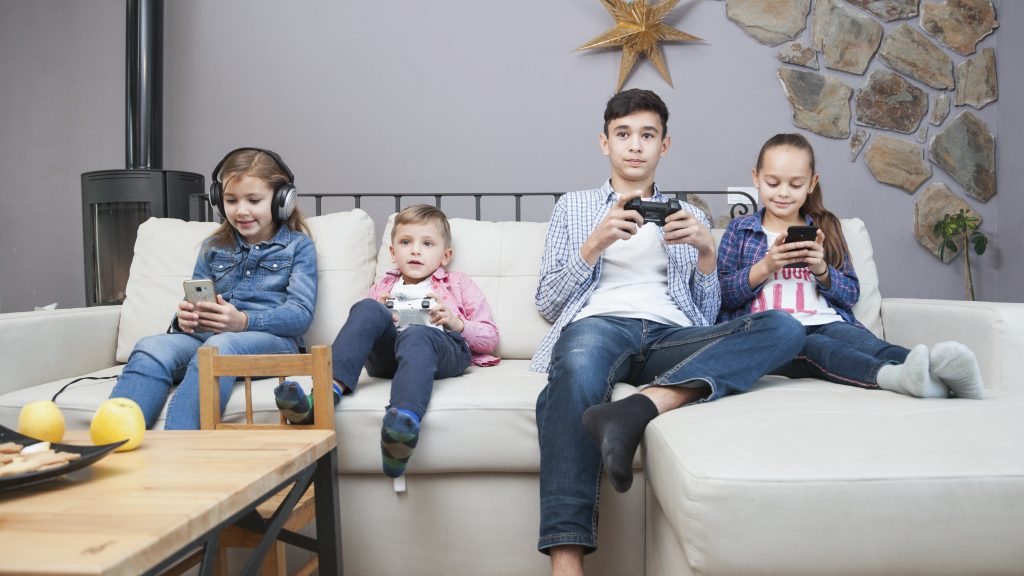 List of Cons of Children Using Gadgets at Young Age:
1.Health Issues Associated with Gadgets Usage:
When parents are occupied with their routine work, kids make use of their parents devices to play games, listen to music, browse social media apps, watch cartoons and TV shows & lot more. In any case, kids regularly wear earbuds and earphones, and in doing so, there is a possibility of eardrum damage if the volume is excessively high. Further, the EPA confirms that laptops & PC's screens discharge low levels of x-ray radiation. While there is no proof that this radiation brings about health issues, the EPA likewise prompts that you limit your kid's experience with a PC or tablet in on their laps and in front of their faces. And due to enjoying digital gadgets tends to be an inactive distraction, children might be more powerless to weight gain.
Openness to Child Predators and Inappropriate Content
Most of the parents set limits on Internet usage and use security and privacy options to ensure their kids are safe from gadgets. However, youngsters may discover their way into an online chat room with strangers or click on a tempting advertisement that can redirect to improper websites. Checking your children online activities is tedious, but imperative.
Advanced Devices May Be a Mind-Numbing Distraction
While a lot of children utilize their gadgets to download books, most of them are likely using their devices to message friends, use gaming apps or watch inappropriate videos or movies. Some contend that this technology over-burden is really disconnecting our kids – from peoples, nature & also outdoor games & activities.
Conclusion:
The pros and cons of kids utilizing gadgets all came down to balance. Anything can be destructive if it is overused, and the present tech is no exception to it. We should focus on the advantages while organizing its use in ways that encourages development, real life interactions, and building of life skills. Whenever children are involved in using gadgets, it is better to make the most of it by accessing educational stuff rather than using it for different purposes.