How to Choose Between Flying Private Jets vs. Business Class
Private Jet vs. Business Class – Flying Options Compared
When people think of flying in luxury, they often picture people sitting in business class or first class on a massive plane. 
There is a good reason why flying business class is associated with a luxurious lifestyle. Such sections on airplanes have big seats, ample legroom, hostesses catering to the every need of the passengers, and free snacks and drinks.
What if there was a more stylish and comfortable way to fly?
Below is a comparison between flying private jet and business class, whether you are taking a domestic or international flight.
Experience The Best Way to Fly
When you are flying business class, you still have to deal with the same hassle of going to the airport as everyone else. That starts with finding a way to the airport, which may involve a taxi or ride-share service.
People who fly by ACS private jet not only get to enjoy themselves on the plane, but experience luxury on the car ride to the airport as well. A black luxury car comes to pick them up outside their given address, with the service a part of the private jet package.
The car then takes them to the terminal where their plane departs, where they are whisked away to a private area immediately. People who are traveling by private jet do not go through security at the main terminals, which is a huge advantage of flying in this way.
From the moment you board the private jet, you are aware of the true meaning of luxury. The entire plane belongs to your party for the next few hours, while snacks and champagne are already waiting for you at your seats. 
Those who have the means should experience the most luxurious and stylish way to fly at least a few times in their lives. Even though you can have a lot of fun in business class, very few experiences beat the feeling of having an entire plane to yourselves.
Business Class Does Have Its Perks
Even though the luxurious experience of a private jet is hard to beat, there are some ways that business class can be an exciting experience. One of the best parts of flying in such a class is that youget to board the plane before everyone else.
When you are flying domestic, business class is often the highest class within the plane. That means business class passengers get on board before anyone else, saving them a lot of time that is spent waiting around the boarding area for their turn to get onto the plane.
Flying business class also means a lot of flexibility. If you ever have to adjust your flight time or date, even a few hours before departure, you can cancel without paying any penalties.
People who fly a lot for business or pleasure can avail themselves of such perks when they fly business class. They may be able to attain an even more luxurious experience by flying private jets, but business class is a very good compromise. 
Enjoy Intimate Family Trips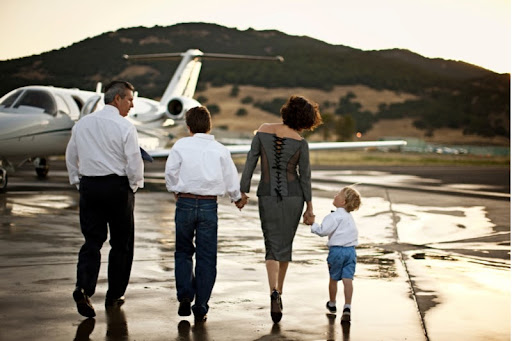 Many people look at private jets as a way to experience a luxurious experience when you are with a group of friends. While those occasions do have their merits, flying on a private jet with family can be even more enjoyable.
Imagine taking a trip with your spouse and kids, and then bringing alone one of your siblings and their family. Such a trip would involve so many people, which can be a lot of fun.
Flying commercially with so many people is also a hassle, which is where private jets come into the picture. If your concern is money, then you can find a way to include the private jet in your vacation expenses. There are always other ways to save money while traveling. 
By getting a private jet, you can have the entire family flying together with no one else on board. Flying for several hours in such an environment would be a great experience for the whole family, as you can spend the whole flight eating snacks, drinking champagne and bonding.
Work While Flying
Sometimes you have to fly for business purposes, which can involve working while you are in the air. Imagine trying to get work done on a commercial flight, even in business class. The chaos makes it difficult for anyone to focus, even if they are wearing noise-cancelling headphones.
Private jets are an exclusive way to fly, which means only you and the rest of your party are present on the plane. If you are flying for business, you can comfortably work on your laptop for the duration of the journey without anyone disturbing you.
Such an experience is hard to attain when you fly commercially, even if you choose a great airline and your favorite business class seat. Between passengers going to the bathroom, air hostesses trying to help others, and constant messaging from the pilot, being able to get anything done is a significant challenge.
Have The Best Time In The Air
By picking an iconic place to visit during the ideal season, and flying via private jet, you can ensure your upcoming vacation is one of the best ever.
Even though business class does have its merits as a great way to fly, nothing beats flying on a private jet. You have the entire plane to yourselves, while the hostesses are available to assist you with any of your needs.
If you have the means and are planning your upcoming vacation or business trip, consider booking a private jet rather than flying business class.