How to edit PDF pages on iPhone easily?
PDF is a very secure file. Although most programs in the Office suite save to PDF, not all of them are able to do the opposite process, which prevents unauthorized edits and changes. To edit a PDF, the user needs to have an editing program. However imagining you have to edit PDF documents with just your iPhone can be daunting. Fortunately, there is now a great tool – Wondershare PDFelement to help you create, edit, sign, and do many other things with your PDF documents.
You can now edit your PDF documents from your iPhone
If you need to edit PDF documents easily from your iPhone, now you can do it thanks to the Wondershare PDFelement app, with which you will be able to make all kinds of edits and adjustments on your PDF documents and adapt them to what you need at all times, convert them to other file formats, change the order of your pages and much more. Discover all that Wondershare PDFelement can do for you.
What is Wondershare PDFelement?
Wondershare PDFelement is a PDF document conversion and editing software with which you will be able to delete PDF pages, convert your PDF documents to other formats, make edits to the images and the arrangement of your documents, retouch or scan the text of your PDF documents and much more. It is a professional software that is used by more and more companies and entrepreneurs because it is very versatile and allows you to replace many other different programs. Now you can uninstall them, because Wondershare PDFelement is the only software you need to work with your PDF files.
Intuitive interface
The simple UI is the hallmark of Wondershare PDFelement. It will save you a headache when you are trying to understand this tool. With a very simple UI, no experience is required to operate this tool.
Converting
One of the main advantages of Wondershare PDFelement is that it allows you to convert your files to a myriad of formats. Wondershare PDFelement is a software with which you will be able to convert files from PDF to JPG, from PDF to DOC, from PDF to PPT, from PDF to HTML and much more. You will also be able to do the conversions in reverse, which means that you will be able to use Wondershare PDFelement to work with a wide variety of documents that, until now, you had to manage from programs of different kinds, which ended up making your projects they were a real disaster. This software also allows batch processing which is much simpler than before. You don't need to apply watermarks to individual files, which can waste your time and energy. You can also convert multiple files into other formats at one time. The conversion process that would normally be a waste of time can be simplified significantly.
Editing
Both in its desktop version and in its version for iPhone or Android, Wondershare PDFelement allows you to edit PDF files easily. With this application you will be able, for example, to retouch the photos of any PDF document, change them for others, adjust the titles or body text of your documents, add notes, make underlines and much more. All this makes Wondershare PDFelement one of the most versatile applications for working with PDF files, and one of the true central applications for managing your teams.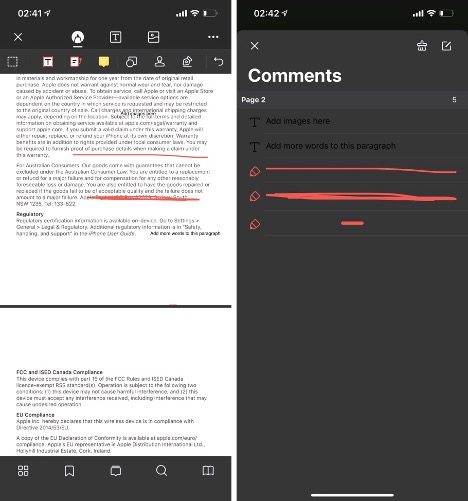 Page reorganization
Wondershare PDFelement also allows you to rearrange the pages of your documents, change some pages for others, rotate pages, delete PDF pages, add other new pages, divide a document into smaller ones, create a larger document from smaller ones. pages, and much more. Now you can play with your project pages easily thanks to this top-of-the-line app!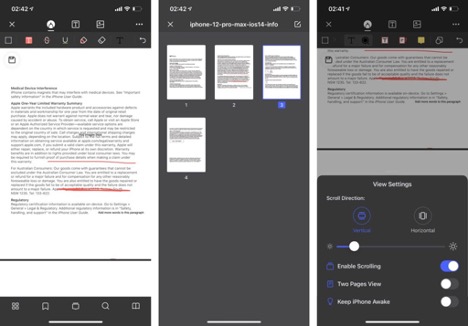 Form creation
Another advantage of Wondershare PDFelement is that it also allows you to create forms for your PDF documents. In this way, you will be able to send documents with integrated forms to better organize your team or to conduct market surveys, among many other things. Wondershare PDFelement forms can also be signed by digital signature, so you can use this software to work with all kinds of legally valid documents.
Document protection
Your privacy is important, and so is the confidentiality of your company documents. Therefore, Wondershare PDFelement gives you the opportunity to protect your PDF documents with a password or a digital certificate, so that only you or the people you designate can access the content of your documents. This type of protection is one of the most important that you can find in the field of PDF documents, and, how could it be otherwise, you will also find it in Wondershare PDFelement.
Digital signatures
With PDFelement, you can digitally sign your documents. What if you are dealing with a different format document? Don't worry, you can convert that and sign it (digitally). You can make any of your PDF documents look official with just a few clicks.
Team collaboration
With PDFelement you can collaborate with other people on PDF documents. Collaboration is made easier thanks to a suite of features like Comments, File Sharing, and Signatures. When you add a comment, you can use several options such as Link, Underline, and Link. You can also mark an area in your document with a specific annotation, making it easier for your colleagues to know which section you highlighted. Want to add your organization's stamps so your documents look more formal? Don't worry, you can do that easily.
Download Wondershare PDFelement!
What are you waiting for to download Wondershare PDFelement? This software is all you need to work with your PDF documents. Whether you are a student, if you have a company or you are dedicated to marketing professionally, Wondershare PDFelement is an application with which you will be able to edit a wide variety of PDF documents in a thousand different ways, export them to other formats, convert other documents to PDF, replace or rotate your pages, and so much more. Really interested? Just download from the App Store.