MATIC appears to be poised for a significant rally toward $3.84, as Polygon displayed a bullish chart pattern on the daily chart. Following its lead is HUH Token which looks set for a 78% breakout after its meteoric rise of 1000% this week.
Polygon (MATIC)
 MATIC's price seems to be preparing up for a 62% increase according to the daily chart. MATIC's price has formed an ascending triangle, indicating a bullish target of $3.84.
On December 7, MATIC's price sliced above the prevailing chart pattern's topside trend line, confirming the bullish outlook.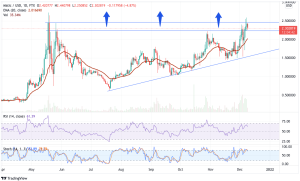 MATIC Daily Chart According to TradingView
However, Polygon may encounter a few roadblocks on the way to achieving the optimistic goal. The first resistance level appears to be at the May 26 high of $2.44, followed by the all-time high of $2.70.
MATIC's price may encounter resistance at the Fibonacci extension level of 127.2% at $3.25 before reaching the bullish target of $3.84. With higher aspirations, the 161.8% Fibonacci extension level at $3.96 may be targeted.
However, MATIC's price must maintain a price above $2.24, the upper boundary of the triangle that serves as Polygon's first line of defence, which coincides with the 78.6% Fibonacci retracement level.
MATIC's price may find support at the 20-day Simple Moving Average (SMA) of $1.89, which coincides with the 61.8% Fibonacci retracement level. If selling pressure increases, Polygon may fall toward the 50-day SMA at $1.81 and then toward the triangle's lower boundary at $1.65, which is close to the 50% retracement level.
Investors should keep in mind that a break below the aforementioned foothold could spell trouble for bulls, as Polygon would lose a critical multi-month support trend line, effectively nullifying the bullish forecast.
HUH Token (HUH)
HUH Token is offering a fresh buy opportunity as it consolidates back down toward its 0.00005800 support level. HUH's price looks set to retest its all-time high at 0.00006565.
If the bulls can take the price over this resistance level then HUH could surge to the 78.6% Fibonacci extension level.
With no barriers standing in its way HUH could then continue to climb to the next Fibonacci extension levels at 161.8% and 200%.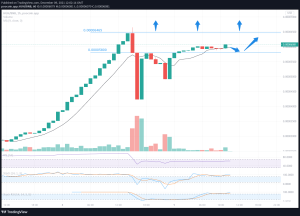 HUH Token 1-Hour Chart According to TradingView
However, if HUH's price falls below $0.00005800 then it could consolidate further to support levels at $0.00005000 and $0.00004250, presenting bulls with more buying opportunities.
Investors should keep in mind that if the price falls below the support floor at $0.00004250 then this would nullify the short-term bullish forecast.
HUH Token has seen a meteoric rise of 1000% this week, after launching on Monday, which could be attributed to the new cryptocurrency going viral this week.
HUH has broken into the top 20 on PancakeSwap increasing investor appetite. As a result, HUH has seen its market cap rise to over $55.5 million.
The new cryptocurrency dubbed a "utimeme," is designed to compete with other meme tokens by offering enhanced utility and features.
HUH Token utilises an innovative, intelligent referral system. A holder of HUH Token can refer an unlimited number of people using the code provided at the time of purchase. The holder is then compensated 10% of the new person's first HUH purchase through this referral programme. This 10% commission is paid in Binance Coin (BNB).
Additionally, the value of HUH increases over time in a holder's wallet, which means that the more tokens a holder keeps, the more tokens they receive.
Additionally, investors may be enticed by HUH Token's announcement of $1 million in liquidity, which will be locked in for at least two years to promote stability and security.
Here is a list of the token's social platforms:
Website: https://huh.social
PancakeSwap: https://pancakeswap.finance
Twitter: https://twitter.com/HuhToken
Instagram: https://www.instagram.com/huhToken/