The Ultimate 2022 Spa and Staycation Guide
2021 saw Brits embrace the magic of the staycation, converting even the most die-hard jet setters into lovers of the diverse offering the UK has to offer. 2022 shows no signs of the staycation slowing down, with many seeking more frequent, shorter breaks to ensure wellbeing and rest are enjoyed more often without having to jump on a plane.
Here are seven of the UKs top hotels and spas, each offering something different and unique in some of the UK's most beautiful locations. Also find an uplifting and cleansing treatment from each spa to help kick off the New Year in wellbeing style.
For adventurers and nature lovers:  Armathwaite Hall Hotel & Spa, Lake District (main picture)
The luxurious Armathwaite Hall Hotel & Spa, set amongst the majestic fells in the northern Lake District, offers its guests a nature reset. Nestled within 400 acres of private woodland and deer park on the edge of Bassenthwaite Lake near Keswick, guests can escape city life for a perfect opulent getaway. With an expansive leisure programme, guests can immerse themselves in nature via one of Armathwaite's experiences including Forest Bathing, Alpaca Walking and Wild Swimming.
New Year New Me treatment – Forest Bathing became a popular wellness exercise in lockdown due to the need of appreciating outdoor space. Pipped to be even bigger in 2022, why not enjoy Forest Bathing in the stunning surroundings of the Lake district? Developed in Japan in the 1980s, Shinrin-Yoku simply means to take in the forest atmosphere. Benefitting emotional, social and spiritual health and wellbeing, it is a wellness practice much like yoga and meditation.
The two-hour Forest bathing experience starts at £110 per person or the Two Night Forest Bathing Spa Break starts from £395 per person.
The Ultimate eco break:  Titanic Spa, Yorkshire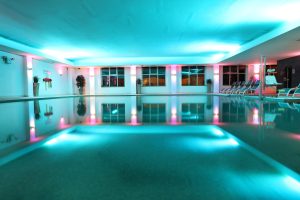 Recntly awarded 'Best Sustainable Spa' in Marie Claire's inaugural sustainability awards, Titanic Spa are the original pioneers of sustainability within the industry. Placing equal emphasis on the wellbeing of both its guests & the environment, this spa is set amongst the majestic hills of the Pennines. This beautifully restored 20th-century textile mill blends stunning architecture with modern state of the art spa facilities & apartment-style accommodation.
New Year New Me treatment – Why not try a sociable and detoxifying treatment to enjoy with friends after the indulgent Christmas period? The Rasul Mud treatment is a 25-minute spa experience in a private steam room which can accommodate up to 4 guests. Help each other apply organic mud to the body and face to exfoliate and nourish. The herbal steam also opens pores and draws out impurities before a gentle tropical rain shower to ease the mud away.
The 25 Minute Private Rasul Mud Chamber at Titanic Spa is £35.00pp 
To transport you to a Balearic Beach Club: The Spa at Carden, Cheshire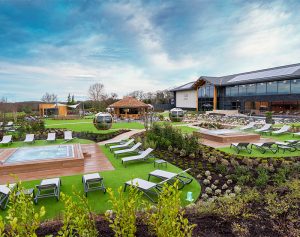 Carden Park Hotel – Cheshire's Country Estate – is located amidst the beautiful Cheshire countryside on 1,000 acres of estate. With 197 stunning bedrooms, including four Carden Luxury Suites, a new £10 million spa with one of the largest spa gardens in the UK, a newly refurbished Leisure Club, award-winning restaurants and championship golf courses, Carden Park is unrivalled as a venue for pleasure and business pursuits. The Spa at Carden was awarded with a prestigious 5 bubble luxury rating from the Good Spa Guide has continued to win multiple awards positioning Carden Park Estate as the ultimate luxury experience in the North West of England  while being officially positioned as the UK's leading spa for 2021.
New Year New Me treatment – A 75-minute Revitalising Facial is the perfect treatment to prepare skin for the new year. This facial is designed to rejuvenate and protect, reducing fine lines, toning the contours of the face and leaving a youthful glow. The collagen-stimulating techniques and Déesse PRO LED light therapy will maintain the complexion longer term, encouraging natural detoxification, reversing the look of fatigue and leaving skin soft, smooth, and refreshed.
The 75 Minute Revitalising Facial at The Spa at Carden Park is £125
Best for City Break Spa-ing: Rena Spa at the Midland, Manchester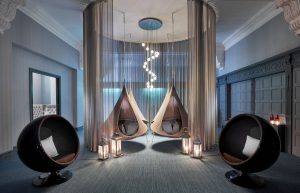 Situated in the very heart of one of Manchester's most famous hotels, lies the city's most glamourous spa. Rena Spa at the Midland, is a private city hideaway steeped in luxury where relaxation is taken seriously and stress immediately melts away. Rena Spa at the Midland provides an opulent urban space for guests to renew and rejuvenate the body and mind. From the sleep chambers to the heated relaxation pool, and the steam room to the hanging pod cocoons, guests can expect a beautiful, surprisingly tranquil space in the bustling city of  Manchester.
New Year New Me treatment –
There is nothing more invigorating than a cocooning wrap to emerge from. The Contouring and Invigorating Wrap by Caudalie is a balancing and detoxifying treatment which involves gentle exfoliation with the crushed cabernet scrub, followed by application of a contouring concentrate, designed to help boost the metabolism and ease away tension. It also speeds up the elimination of toxins. This is followed by an application of the vine body butter massaged onto the skin and then wrapped to cocoon the skin with hydration. The experience includes a full scalp treatment for total relaxation.
The 50 minute Contouring and Invigorating Wrap at Rena Spa at the Midland starts from £70
For a Quintessentially British Break: The Spa at Bedford Lodge, Suffolk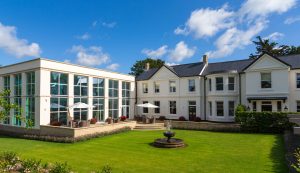 Retaining the charm and character of a country house yet offering the best in modern comfort and luxury, The Spa at Bedford Lodge is set in three acres of secluded gardens in Newmarket, Suffolk. Epitomising the finest in contemporary style, couples can soak in the views from the impressive 15 metre pool, or have a romantic relax in the spa bath, sauna and steam rooms. An intense treatment to relax both their mind and body, the lavender floatation will help stabilise moods, regulate sleep quality and improve blood circulation. Beginning with a skin softening body exfoliation combined with essential oils, followed by a nourishing, healing lavender body wrap, skin will be left soft and supple. Couples can simply relax in the warmth of this dry floatation as they gently drift away into a state of tranquillity.
New Year New Me treatment – Leave feeling like you're walking on air with the Tension Release Floatation experience at Bedford Lodge, a powerful treatment designed to alleviate tension and muscular stress. Following a body scrub, a complete body wrap of marine mud combined with fitness body oil, containing clove and West Indian Bay, immerse in the gentle warmth of the floatation pool, which will soothe and calm, as any stress slowly melts away leaving the body refreshed and revitalised.
The 60 minute Tension Release Floatation treatment at The Spa at Bedford Lodge is £85
Best for chill and thrill: Wave Garden Spa, Wales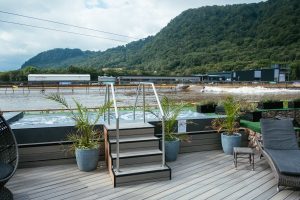 Located within the grounds of the Adventure Parc Snowdonia – an award-winning adventure resort that is home to the world's first inland surf lagoon – the Wave Garden Spa has been carefully designed to make the most of its natural resources and the magnificent landscapes of Snowdonia. Offering the ultimate 'Chill & Thirll' break, guests will be able to
relax and unwind as they enjoy the sound of waves and views of the mountains and forests, bathe in pools fed with chemical-free water and enjoy unique cleansing and purifying treatments. Learn to surf, enjoy a paddle boarding session or simply stay in one of the cosy 106-bedrooms at the Hilton Garden Inn for a deep and (much-needed) restful sleep.
New Year New Me treatment – Enjoy some couples therapy after the stressful Christmas period with the Couples Mood Enhancing Splash treatment in the Hammam. This Moroccan inspired hammam treatment is based around cleansing and purifying rituals, it is believed to aid deep muscle relaxation and encourage a better quality of sleep. Get your groove on together with a real salt splash treatment, with copious amounts of bubbles and sloshy buckets of hot water. Salt body polishing and warm mood enhancing oils for a back of body massage to leave you clean, smooth, loosened, and ready for an ultra-relaxing rest of day together. It is also available as a treatment for one person if you fancy going solo.
The 55 minute Couples Mood Enhancing Splash at The Wave Garden Spa starts from £75 per person
A romantic countryside escape: Moddershall Oaks, Staffordshire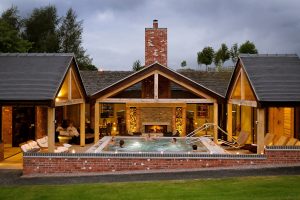 Set against the beautiful Staffordshire rolling hills, Staffordshire's five-star Country Spa retreat, Moddershall Oaks, offers guests an
intimate and luxurious sanctuary in the countryside. With just 10 bedrooms on site, this is the perfect place for a romantic, countryside escape. Allowing guests to recharge both mentally and physically, the spa offers luxurious facilities including an outdoor vitality spa pool, relaxation lounge, hydrotherapy facilities along with MADE wellness centre which offers a range of fitness classes.
New Year New Me treatment – There is nothing like a head massage to clear the mind ahead of the New Year. This Indian Head Massage is a relaxing and invigorating traditional massage of the upper back, shoulders, neck, scalp and face. Ideal for relieving stress and tension headaches, sinus congestion, sleep problems and many other complaints.
The 25-minute Indian Head Massage at Moddershall Oaks is £40