cryptocurrency
Top 3 Cryptocurrencies to Buy in January: Bitcoin, Decentraland and HUH Token

It's a new year and with it comes new and exciting possibilities, especially within the cryptosphere, which is becoming increasingly popular as it is more widely adopted by the global financial world. There are an increasing number of viable digital currencies available on numerous exchanges at the moment – but you don't want to buy just any cryptocurrency.
This month, I'm bullish on Bitcoin, HUH Token and Decentraland. Let's take a look at why I think these are the three best cryptocurrencies to purchase in January.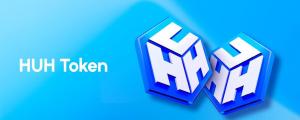 Bitcoin (BTC)
Bitcoin launched in 2009, becoming the first cryptocurrency. It is still more popular than any of its competitors twelve years later. Bitcoin's market capitalisation currently stands at nearly $900 billion, accounting for 40% of the entire cryptocurrency market.
Apart from its pioneering status, Bitcoin is a finite asset. Its blockchain protocol caps the total supply of tokens at 21 million. As a result, many investors compare Bitcoin to digital gold. Regardless, fundamental economic principles dictate that an asset's price will increase when demand exceeds supply, which there is reason to believe will occur. Bitcoin is the most popular digital asset among institutional investors, and as these large money managers diversify their holdings in cryptocurrency, Bitcoin is likely to benefit significantly.
HUH Token (HUH)
We live in a world of constant and rapid consumption of content and information, owing to the internet's global reach. Cryptocurrencies are now an extension of the global internet revolution, and HUH Token aims to provide the means for tokenising and thus monetising that data.
While content creators and influencers may struggle to monetise their intellectual property, likeness, and image, the blockchain and HUH Token may be able to help. HUH Token has partnered with thousands of top social media influencers, artists, and content creators to establish an ecosystem in which these individuals can be compensated for their intellectual property.
After launching on December 6, 2021, HUH Token surged over 6000% in what is only the start of their ambitious plans to use NFTs and a proprietary platform called the Met-HUH-verse to create and enhance value for content producers and influencers. NFTs are based on the same blockchain technology as cryptocurrencies, but they represent ownership of intellectual property rather than financial assets. These one-of-a-kind creator tokens grant increased access to the creator, enabling both artists and fans to transact massive amounts of value quickly and securely. It provides creators with a new revenue stream. This could be an opportunity for fans to connect more personally with artists and influencers.
HUH Token has already launched on PancakeSwap, but will also be available on Uniswap on January 6, which should benefit the price. HUH currently has over 15,000 holders, and with additional listings on the horizon, the token's continued growth will increase demand, which as previously stated, leads to an increase in price.
The creators of the HUH Token have announced that hundreds of influencers will begin posting about the token on Instagram and Twitter on January 19th, which should also benefit the price.
Decentraland (MANA)
One of the numerous platforms powered by Ethereum's blockchain is Decentraland, a virtual world in which online residents can purchase and sell land and other digital goods using MANA, the realm's native currency. Entrepreneurial explorers can create new revenue streams for content and applications within Decentraland.
The popularity of Decentraland is growing. This summer, Sotheby's opened a digital outpost in Decentraland, followed by a virtual music festival a few months later. There are approximately 300,000 monthly active users at this point.
A stake in Decentraland's MANA represents a wager on the platform itself. After all, as the community of the virtual-turf grows, demand for MANA, the experience's official governance token, will continue to rise. I think the price will follow suit.
Learn More About HUH Token Here:
Website: https://huh.social
HUH Official Swap: https://swap.huh.social/
Telegram: https://t.me/HUHTOKEN
Twitter: https://twitter.com/HuhToken
Instagram: https://www.instagram.com/huhToken/