Law
Coffee in Lviv (Ukraine): Romantic, Golden, Cat, Art and even more! Discover Top-7 places to visit & enjoy in Lviv, Ukraine

Lviv residents like this saying: "In our city everything starts with coffee – morning, business, and love …" On the Ukrainian tourist map Lviv is strongly associated with the best coffee. This city is a heartland of thematic coffee shops, and the local baristas know more than a hundred ways to prepare a magic drink! Let's explore the city of Leo for unforgettable coffee time. In this feature we review the best spots and we hope you will enjoy them. 
Welcome to Ukraine any time and given pandemic make sure you're fully aware of  Covid 19 rules for entering Ukraine. Don't forget to buy health insurance with Covid 19 coverage – this is a mandatory term to enter Ukraine's border. Make all the necessary preparations and enjoy your visit!
Golden Ducat

(20 Fedorova Street)
This is a very popular branded cafe where besides traditional espresso, latte or cappuccino you can enjoy coffee with dark chocolate, nuts, cream or spices. There is even "golden coffee" with 23 carats as the menu reads! The choice of desserts and handmade candies is also impressive.  
Here in the basement of the old stone premise you will feel the spirit of true Lviv and its coffeemania legacy. The furnishing in the old-fashioned style with the original mirror interior will let you feel like an aristocrat of the 19th century. In fact, this spot was the first place to serve so-called "fresh coffee" – drinks from ground and roasted coffee beans.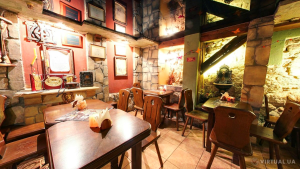 Cukiernia or Candy shop

(3 Staroyevreyska Street) 
Lviv is also famous for its "sweet venues" – cukiernia or candy shops where you may find all kinds of delicious cakes, rich donuts with poppy seeds, cherries, roses, apricots or all kinds of homemade candies. Enjoy here your cup of coffee or hot chocolate with a tasty dessert. Do not opt for plain espresso or Americano but order something special Lviv-style.  
In fact, Cukernia serves a traditional local cheesecake "syrnyk" with raisin or pear and chocolate biscuit followed by a cup of aromatic and soft cappuccino. The restaurant with high Ukrainian and world cuisine is located on the second floor.   
Do not miss the narrow courtyard between the old houses that leads to the coffee shop. This popular place is named after the famous coffee house of the same name in Vienna, opened in the XVIII century by Ukrainian Yuri Kulchytskyi. As historians claim he was either a Galician aristocrat or a Cossack who participated in the battles in Vienna.
The modern "Bottle" is a small cozy room with only five or six tables with a warm atmosphere, antique music and candles. In addition to coffee, you can order "chocolate fondue" and dishes prepared following the authentic recipes of the peoples who inhabited the Austro-Hungarian Empire. They say that the cafe calls itself the Embassy of Austria-Hungary in Ukraine.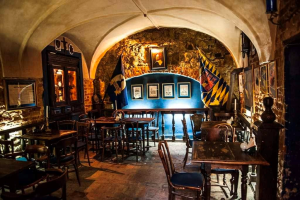 At the entrance all visitors are greeted by the legendary Leopold von Sacher-Masoch in bronze. The writer is the most famous Lviv citizen in the world who was also born here. 
Once upon a time he made an almost scientific discovery: love is a torture for two, but very sweet. If you want to learn more about this subject – immerse yourself into the pink lights of the café erotic entourage and enjoy the atmosphere of passion and love. The most romantic coffee with cream is really here, as well as some funny adult entertainments. You will never forget this place, we promise. However, this is only a thematic café – very brave, but nothing more.  
Some people guess that local coffee beans are actually being mined here, from beneath the city central old square. Guests like this place for its special thematic atmosphere and very tasty hot drinks. Enjoy a breathtaking tour to the coffee dungeon inside the venue; listen to the legends & historical facts related to coffee tradition in the city, buy books and nice souvenirs. In fact, here you may find even a coffee beer!  
An ideal spot for a very unusual experience. Spend your time with a cup of aroma drink in the company of about 20 cats as well as those human being visitors who consider themselves to be cats. Make great Insta stories to promote Lviv and its friendly creatures globally. Some people find this place a bit mysterious, while others come here exclusively for cat therapy.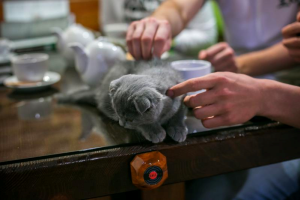 Dzyga Art Center

(35 Virmenska Street) is a place of pilgrimage for the Lviv art crowd. This is a gallery, a cultural salon, and a coffee shop – after all, just a cozy place to take a break. People like to gather here for art talks, joint cultural experiments and creative communication. If you like live music, here you will find it all – jazz, rock, blues or ethnic. The cuisine is delicious, not to say double espresso or iced coffee with cognac.  
Enjoy your time; feel like a real Lviv resident, who loves to plunge into the whirlpool of city talks and gossips over coffee. You have drunk Viennese coffee in Vienna, Turkish coffee in Antalya, haven't you? We bet, in the city of Leo coffee is worth coming back for another cup.
You can get all the necessary information regarding safe Ukraine travel on the Welcome Ukraine website. There you can also get travel insurance and ask questions. In the meantime, we suggest you go through the checklist of the best coffee places in the historical centre of Ukraine.