cryptocurrency
Shameless Crypto Adverts: SafeMoon And HUH Token From The Underground to Times Square

At this point in the crypto market's life, you've likely seen it all, the pointless cat-fights between the dog-faced coins, that we can attest a large portion of their success to the meaningless cyber-fights. You're likely familiar with the continuous sprawl of eligible small print that tells you to do your homework, as opposed to the out-right manner in which stock share companies have to warn you, with their bright as day 'you can lose money from this' mottos stamped on every image of a wad of notes.
If you're a tourist, commuter or general London Underground fanatic, you've likely seen the crypto-based adverts that have raised more than a few eyebrows as you scale the ever-cavernous expanse of the Tube system. Or, you've been wedged into the timeless expanse of Time's Square, where the brightness of the adverts is enough to blind you.
I've seen the names SafeMoon and HUH Token more times than I'd care to, amongst many other cryptocurrencies, and I wonder, how this crypto advertising works, and if it has any 'sway' power whatsoever.
They're everywhere at this point, and the older I get, the less forgiving I become when it comes to adverts… we're not the consumer of the early stages of moving image, where the shock and awe of the magic box were enough to draw us in droves to our nearest bank, shop or broker and part with our rent money.
I wonder, would I be interested in crypto, if some well-paid, often-oiled machine was telling me so?
Let's take a look…
The Crypto Benefits System
 Like me, you've probably been enthralled by the bait-on-the-hook tactic of rewards and benefits, which in the case of HUH Token and SafeMoon, seemed to have been the case.
With the likes of a 10% BNB bonus from HUH, if the holder's unique code was used by a new holder.
I for one was shocked that these cryptos held up their end of the bargain, because, despite a few big crypto names, it can be hard to discern a scam from the truth, in the unregulated world that is crypto.
Though, it seems that the success of SafeMoon and HUH Token is slowly solidifying the two cryptos into a state of sustainability… which is often the most key aspect an investor looks for before departing with their rent money.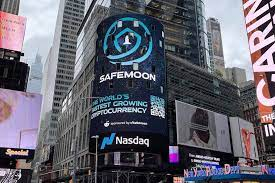 Rightfully Shameless
 It seems, that as my cynical heart softens to the crypto world, I might be able to digest a few crypto ads, here and there, and with it continues to watch as crypto and blockchain technology are increasingly utilised for far-reaching applications.
The future is set to be bright for SafeMoon and HUH Token, who will launch hundreds of influencers on the 19th of January and skyrocket its value, once again.
SafeMoon makes way for its move into its V2 stage and holders are excited to experience the new benefits this will offer them.
If you're interested in getting under the crypto skin then you can do so by clicking the links below, visiting exchanges where HUH is listed, like Bitrue, a Google search or two, and some research before you invest… after all, the crypto market is often volatile, regardless of the iconic locations they're advertised in.
Website: https://huh.social
HUH Official Swap: https://swap.huh.social/
Telegram: https://t.me/HUHTOKEN
Twitter: https://twitter.com/HuhToken
Instagram: https://www.instagram.com/huhToken/