The Top 5 Places To Visit For Halloween 2019
For many, Halloween is a time to wrap up and watch a spooky flick, for some, Halloween is a holiday to dress up for a frightening night out, and for those adventurous few; it's time to visit some of the most terrifying places Europe has to offer.
Contrary to common belief Halloween first found its origins from an ancient Celtic celebration, Samhain, in what we now call Ireland. It was tradition to light bonfires and put on a scary costume in order to ward off bad spirits and ghosts. Later on, in the eight century, November the 1st was given the name of 'All Saints Day' by Pope Gregory The Third and the day before was named 'All Hallows Eve.' This, of course, later became the Halloween we still celebrate to this day.
"Where to next?" is the question on most adrenaline lovers minds. With so many options out there it can be difficult to decide what to do each year. There are hundreds of different locations, festivals and celebrations for Halloween across Europe and choosing just one can be a terrifying experience in itself. Follow this guide and we'll highlight some of the best places to visit this Halloween. Remember to choose wisely as you don't want to be taking a stab in the dark…
Whitby, UK
Whitby is a Halloween destination with plenty of activities to sink your teeth into. As one of the UK's Halloween hot spots, there is always plenty to do during October.  With a yearly festival called the Whitby Goth Weekend and several other events including the Abbey's illumination and Halloween themed parties such as The Marquis Masquerade and Cocktails From The Crypt.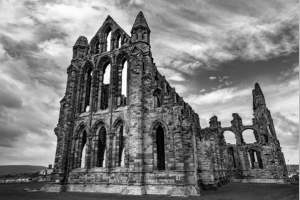 What To Do
For those that like to dress up and listen to some music all whilst experiencing the beautiful seaside village and participating in several smaller activities and markets, there's Whitby Goth Weekend. This weekend between the 25th and 27th of October is packed with live entertainment and music, parties and gothic themed markets. Dressing up in your finest gothic attire is strongly recommended and the general friendly atmosphere makes Whitby Goth Weekend a great choice this Halloween.
If you'd rather take in the historic sights and hear some of the thrilling horror stories about the origins of Dracula, there are several options for you too. Guided tours of the ancient Abbey, museums, and walk through experiences just to name a few. Between October 25th and November 2nd, you can see the great Abbey in full illumination and experience the dark eerie atmosphere that surrounds the Abbey's grounds.
There is truly something for everyone as the whole town turns into a gothic haven.
Where: Whitby, North Yorkshire
When: 25th October – 2nd November
Suitable For: Mostly for adults and young adults, but plenty for children too.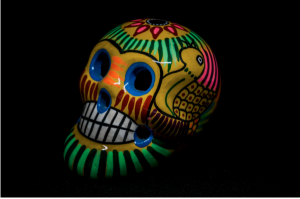 Barcelona & Catalonia, Spain
In Barcelona and the wider region of Catalonia you'll find the whole region turns into a hotspot for Halloween related parties, events, festivals, markets and more. Named 'The Day Of The Dead' (or El Dia de los Muertos) the celebrations tend to happen between October the 31st and November the 2nd. This destination is better for those that would like to experience more of the cultural aspect of Halloween and don't enjoy the commercial aspects that exist today. In Spain, the time of Halloween is more of a time to respect and honour those no longer living and not about trick-or-treating and scaring people.
What to do
One of the many Halloween time traditions in Barcelona is what they call 'La Castanyada.' This generally consists of honoring the deceased by visiting graves, laying wreaths, lighting candles and alike. It's also a tradition to eat fresh roasted chestnuts and panellets, a form of sweet bread roll. You'll find these available in bars, restaurants and street vendors throughout Barcelona.
If you're interested in parties and social gatherings, there's still plenty of that available throughout the several strips and nightclubs in the center of Barcelona. Becoming more popular in recent years, especially amongst the young, costume parties have been popping up throughout the city.
For families, there's the local adventure park Portaventura, which hosts several themed events and live entertainment extravaganza's throughout the whole month. Live shows featuring some of your children's favorite characters will surely make for a memorable Halloween.
Where: Barcelona & Catalonia
When: 25th October – 2nd November
Suitable For: Options available for all ages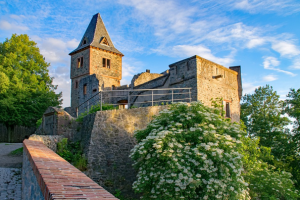 Burg Frankenstein, Germany
You may not have heard of Burg Frankenstein but this castle situated in Mühltal, Germany, looks over the city of Darmstadt and hosts a yearly Halloween event that is not for the faint hearted. It is rumored that this castle was the inspiration behind Mary Shelley's famous 1818 gothic novel Frankenstein; or, The Modern Prometheus. The castle has been renovated to allow for ease of access and to make it tourist friendly, but the majority stands almost untouched in its natural ruined form.
What To Do
Before we get to the yearly Halloween event, let's talk about what you can expect during the day at the castle. Located on top of a hill overlooking the city, you'll be exposed to beautiful vistas and scenery as far as the eyes can see.  Of course, you can also walk around the castle and it's ruins to learn about the rich history of the location which dates all the way back to 1252.
There's also a very popular restaurant which offers both regular and fine dining experiences with spectacular views. It can be hired for corporate or group events and even hosts regular dining events and entertainment.
Over the Halloween period, Burg Frankenstein hosts a famous event consisting of several live shows and forms of spooky entertainment. With plenty of horrifying live actors and a focus on audience interaction, this year brings three new areas named 'The Clowns House,' 'Death Zone' and 'Chainsaw.' The VIP ticket comes with no entry waiting time, a three course buffet, a reserved table in the restaurant and more. This is a great option for young adults who really want to experience that scare factor of Halloween.
Where: Burg Frankenstein, Mühltal
When: 25th October – 8th November
Suitable For: Young adults and adults, there are days specially for children too.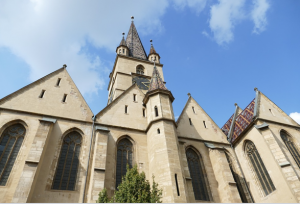 Transylvania, Romania
We couldn't have a Halloween holiday destinations article without mentioning tours in Transylvania. This beautiful region located in Romania is home to a vast array of stunning scenery and iconic views. The region itself is actually very large spanning just over 100,000 square kilometers (around 40,000 square miles.) There are several major cities throughout Transylvania which each have their own history and offer amazing landscapes and vistas. A retreat to Transylvania provides plenty to do for those that enjoy a bit of history and more relaxed Halloween.
What To Do
For those interested in the history of Transylvania and more specifically Vlad the Impaler (of which Dracula is based on) a trip to Sighisoara will provide an excellent Halloween holiday. Here you can find the original place of birth of Vlad the Impaler and learn about the infamous ruler. There's also a World Heritage recognised old town of which you must visit if you're in the area.
For those looking for a more guided experience, there are several options available. Most will take you into the historic Bran Castle and some offer dining experiences and masquerade parties. There are options to visit the medieval fortress in Sighisoara known as the Sighisoara Citadel. Several guided tours are targeted specifically towards Dracula enthusiasts so if that's you, you may want to look into these.
A Halloween retreat to Transylvania is a much less commercial option for those that simply want to have a weekend away and experience some true history. Visit one of Vlad the Impaler's places of residence, Poenari Castle and enjoy the breathtaking landscape, but be aware there are a staggering 1400 steps to the top of the hill.
Where: Transylvania, Romania
When: Any time, but you can expect a blanket of snow earlier in the year so be wary
Suitable For: History enthusiasts, adults and families.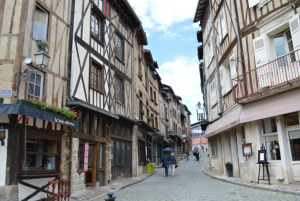 Limoges, France
This city is located in the southwest of central France is known for its decorated porcelain, old timber frame houses and rich medieval heritage. Walk the beautiful and historic old town streets during the day, and watch them turn into bustling market and Halloween festival full of stalls, street performances and more during the night. Limoges is famous for its annual Halloween parade. If you'd like to experience some rich history, with a scattering of iconic views and be part of the hustle and bustle at night, Limoges could be a good option for you.
What To Do
Limoges is famous for its porcelain craftsmanship and decorations. You'll find a lot of it dotted throughout the city and if you'd like a deeper look into the art, you can visit the Musée des Beaux-Arts. This museum displays a vast array of the cities medieval enamel and will give you an understanding of the history behind it.
If you'd like to relax, there are plenty of local markets, boutique shops and beautiful timber houses and streets to look at. Visit cafes, famous French pastry shops and bread bakers and have a relaxing time in the quaint city of Limoges.
At Halloween, Limoges turns into a hotspot for celebrations of a more spooky manner. Since 1996, Limoges has been the location for a large Halloween parade which now draws in over 30,000 visitors each year. Pull out your favorite scary costume and join the locals and visitors from around the world in the street celebrations. You'll find plenty of Halloween events taking place in the local restaurants and spaces throughout the whole city.
Limoges is a great tourist location for people of all ages as you can take in as much history as you like. During the day the historic city is an exciting and beautiful location to spend your days and during during Halloween nights the people turn into monsters for a truly exhilarating experience.
Where: Limoges, France
When: Any time and you can experience the parade on the 31st of October
Suitable For: Adults, elders and families
So, there you have it, the top 5 places to visit this year for a truly unforgettable Halloween experience.
Author Bio
This article was researched and written by Holly Wadsworth, the marketing manager at Hanson European Caravan Transport, one of the UK's leading static caravan transport providers.