Technology may increase travel confidence finds survey
It has been close to a year as of November 2020 since the first reported cases of the novel coronavirus, COVID-19, were reported in China. The socio-economic effects of the containment measures used to control the virus spread have been both devastating and revolutionary for many economies and sectors. These containment measures have forced a rapid transformation, digitising established business practices. This has been the primary method of adapting to the new normal of social distancing and other lockdown policies for many businesses, both small and large.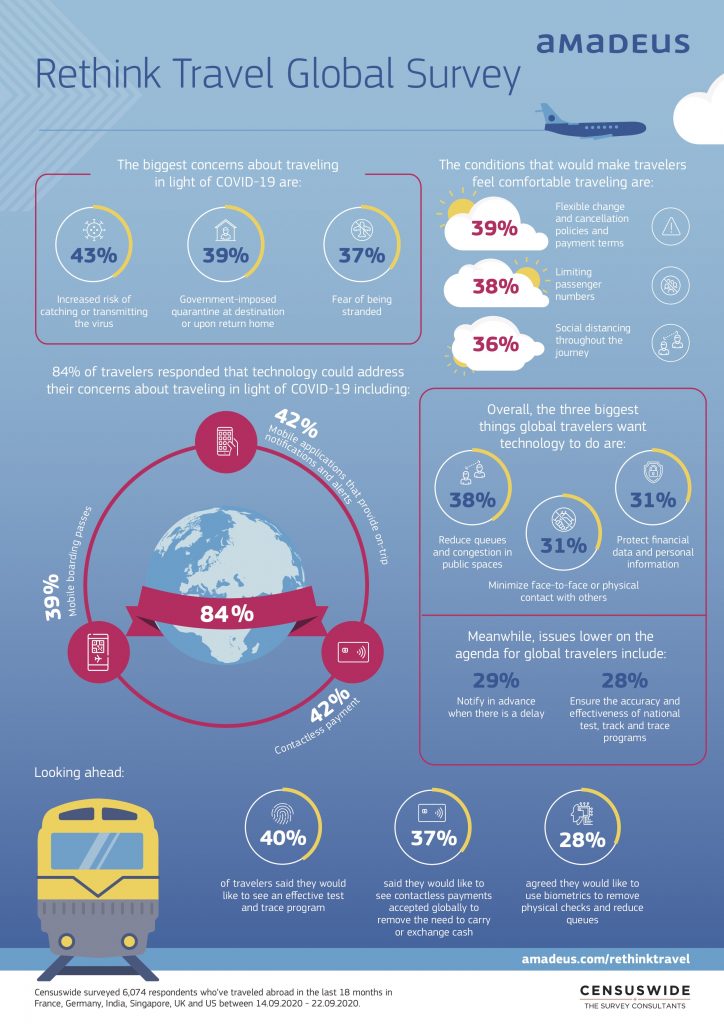 Of all the sectors that have had to adapt to the pandemic, travel and hospitality have been the most affected, accounting for 10% of the world's jobs pre-covid. The travel industry, in particular, has seen an across the board fall in revenue, prompting multiple public and private interventions in order to keep airlines afloat.
To ascertain consumer trust and confidence in the travel industry in light of COVID-19, Amadeus conducted a survey of 6,000 travellers across multiple countries including France, Germany, India, Singapore, UK and US. The information garnered from this survey is intended to gain insight into how the travel industry and governments can work together, rebuilding consumer confidence and seek to improve the resilience of the sector in the future.
The survey results found that 84% of respondents said that technology would increase their confidence to travel in the next 12 months. These technologies address a wide range of solutions to problems that are present because of COVID-19. Technologies that respondents cited as potentially useful are: Mobile applications that provide trip and outbreak information; contactless payments to reduce virus transmission rate; biometrics to speed up travel time without the need for touching identification documents; universal digital travel identification that includes information such as tickets, personal identification and immunity status.
The actual impacts of these technologies on travel were important for survey participants, with most citing the reduction in congestion to be the most desired effect. This highlights the desire of the public to have technologies that translate into tangible benefits for them, both during the contemporary environment of COVID-19 and in the post COVID world.
Implementation of the various technologies and the data that powers them will need to come from multiple organisations and sources. This would require overcoming the tendency for industry to silo processes and information and collaborate effectively. The upshot of this would be the creation of an interconnected travel ecosystem, one which would enable the tracking of data laterally across organisations. This would ultimately allow for the storage and presentation of information desired by the survey respondents.