5 Ways to Financially Prepare When Purchasing a Home
Buying a home is an excellent long-term investment, and if you find the right property, your monthly mortgage loan payments might even be lower than your rent.
But buying a home isn't cheap.
Aspiring homeowners need to be prepared for the expenses of homeownership, which extend beyond monthly payments. Between property taxes, school zone taxes, and the cost of repairs, your housing expenses can quickly add up to more than you planned for.
Luckily, it's easy to avoid overdue bills and unnecessary stress. Simply follow these five steps to financially prepare for the costs of buying and owning a home.
#1 Build Up Your Savings
You know what they say, there's no such thing as a free lunch, much less a free house.
While there are plenty of state and federal programs that make it possible for first-time buyers to invest in real estate, you'll need some cash on hand to eventually seal the deal.
Any of the following assets could help pay for your costs:
Savings account
Money from an investment app
Roth IRA retirement savings
Stocks and bonds
Not sure how much you'll need in savings? Proceed to step two!
#2 Set Your Budget
It's important to understand the upfront costs of owning a home, as well as long-term expenses.
Your budget for a home depends on the monthly mortgage payment you can afford to make—but you'll also need enough savings in the bank to cover the following expenses:
Additional costs and fees associated with moving can ultimately add up to between 2% and 5% of your home's purchase price.
Coming up with that extra cash might mean tightening your budget in other areas; for example, it might be time to reevaluate the price of organic vs conventional groceries or how much you spend monthly on your Netflix, Hulu, and Amazon Prime subscriptions.
#3 Look into Loans
Most first-time buyers take out a mortgage loan to pay for the bulk of their mortgage costs.
Your loan eligibility depends on the following factors:
Income
Credit score
ZIP code where you're buying a home
Whether you've owned property in the past three years
Employment history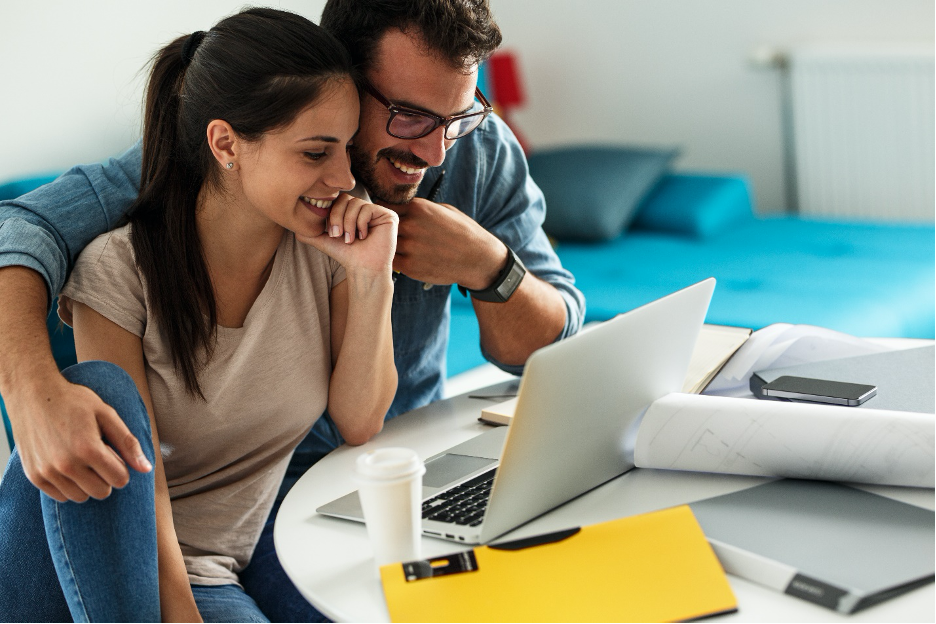 The federal government has several loan programs for first-time borrowers with qualifying credit scores and income.
Are you wondering about the difference between FHA vs VA loans?
FHA loans carry down payments as low as 5% for qualified borrowers
VA loans carry 0% down payments for veterans and eligible spouses
Your state may offer additional grant and loan programs that can help pay for your down payment and closing costs. Contact your state's housing council to learn more.
#4 Make a To-Do List for Repairs and Purchases
Unfortunately, the expenses don't end once you've purchased your home (you're so close, we promise!).
You'll likely want to make some immediate changes, whether you decide to splash on a new coat of paint, buy an upgraded heating system, or get a new sofa.
The good news? Investing in your own home generally pays off in the long-term.
To get started on your home improvement projects, make a list of your priorities:
Start with anything that poses a safety issue or contributes to your overall costs (i.e., outdated appliances that are less energy-efficient than newer models).
When it comes to projects lower down on the list, write down the more affordable ones first. It will feel great when you can save up for these and cross them off one by one!
Consider hiring a team of professional home inspectors to find out what are the things that you need to repair first. The home inspectors will help guide you to making the most cost-effective repairs. 
A garage floor covering isn't the top floor covering priority in a home, but putting in a floor for your garage has real benefits. You may not be concerned with creating a beautiful garage floor, but the fact is that your garage floor is likely to incur abuse, unlike anywhere else in your home. Automotive fluids can leak from your car, staining the floor and creating an unseemly smell. Concrete, tile, epoxy flooring, or other hard surfaces typically need regular polishing. Polishing is preferred due to its ease, cost-effectiveness, and quick results.
#5 Start an Emergency Fund
There are tons of exciting things to save up for when you buy and start to upgrade your new home—but homeownership also comes with a few surprise headaches.
Remember all the times you called your landlord to fix the HVAC unit, call a plumber, or deal with a pest infestation? Now you're the property owner, and it's your responsibility to pay for these kinds of costs.
Start a separate savings account for emergency use only and contribute to it on a monthly basis.
Home is Where the Heart is—and Where Your Savings Go!
There's nothing more exciting than moving into your first home. You'll have years to put your unique mark on the space, tackling renovation projects from small to large.
Naturally, this means that you'll incur expenses. But remember that every dollar you put into your home is one you could potentially recoup ten-fold when you eventually sell it.
As long as you have a strong budget and savings plan, we have every confidence you'll love becoming a homeowner.