HUH Token Liquidity Estimated Well-Above 2000000 in 72hrs of Launch, Difficulty Bomb Delays for Ethereum and The Bitcoin Mystery Whale.
With HUH Token's 72-hour success of a continuously rising liquidity, Bitcoin's mystery $6 billion buyer and Ethereum's Difficulty Bomb Delays, it's no wonder that the cryptocurrency world is ablaze with excitement and enthusiasm for what the up-coming year, 2022, has to bring for crypto lovers both seasoned and new.
It appears that, not only is December the month of Christmas it's also the month of Crypto and here's why the cryptocurrency market might have seen such marvellous windfall this season and how you could get involved in the cryptocurrency world as well.
Newcomer HUH Token Hitting Home Runs 
As the adage goes – you can't beat those numbers!
Or at least it's something along those lines…
HUH Token has seen an amazing upward increase since its December 6th launch and even demonstrated its bounce back capabilities in its first 48 hours where it achieved 100% bounce back capability.
Meaning the cryptocurrency, HUH Token, could be set for a long life on the cryptocurrency market and continues to smash through its own records and habitually strives for more.
Being an avid lover of crypto myself I'm always checking the likes of Poocoin, PancakeSwap (where cryptocurrency can be purchased) and Coingecko, to name a few, for the live feeds of what's happening in the cryptocucurrency world and HUH Token's doesn't disappoint.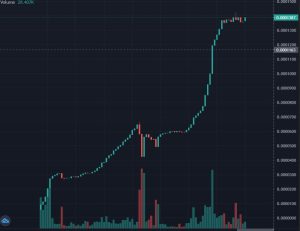 Sourced: Poocoin
The seemingly, ever-growing newcomer, HUH Token, is only gaining in popularity and by extension, in value as well… meaning that HUH Token could be the cryptocurrency you're looking to become a holder of this crypto season.
Currently HUH Token are offering a unique referral system where HUH Token holders are given a referral code that they can give to family and friends who will receive a 10% sales fee reduction when they become a holder of HUH Token and the referring party will receive 10% BNB bonus for each new HUH Token holder, they bring to HUH Nation.
The referral code can be used as many times as you like to broaden the sentiment of sharing.
The Masked Bitcoin Buyer- Why $6 Billion?
Bitcoin has seen a tremendous fall this month and then skyrocketed into a rare 'oversold' state.
Though the mysterious Bitcoin buyer could have purchased the dip amount and singlehandedly skyrocketed Bitcoin and others into the stratosphere this month.
According to BitInfoCharts the mystery Bitcoin buyer supposedly purchased over 3,000 BTC and pushed their overall ownership to $6 billion whilst rectifying Bitcoins 24-hour plumet last week!
That's some pretty heft going for an account that was apparently only active since 2019, because of this there had been some rumours that the account was a cold wallet used by some large cryptocurrency exchange though this seems unlikely.
The mystery Bitcoin buyer might have heightened the cryptocurrency increase by some astonishing percentages and along with it the value of coins like Ethereum and HUH Token.
Though it appears that Bitcoin might have steadied in its oversold state which could be why people are excited to become a cryptocurrency investor, in Bitcoin or otherwise.

Sourced: BitInfoCharts
Difficulty Bomb Delays: What That Means for Ethereum Mining?
Ethereum 2.0 (ETH2) is the name of the Arrow Glacier Update once the move from POW to POS has occurred which saw Ethereum's difficulty bomb has come under question by Ethereum's creators.
The difficulty bomb is intended to increase the mining difficulty of Ethereum and the time it would take to mine a new block on the Ethereum blockchain which is now set to be removed from ETH2.
This shift could reduce Ethereum's energy usage by a whopping 99%, however, it's rumoured that some Ethereum miners are not happy with the shift from POW to POS because it could drastically reduce their revenues by up to 35% which is suggested by some estimates.
Though, for the greater part, it seems that the ever-growing community of Ethereum and their love for the open source blockchain is more than growing now that Ethereum is taking steps toward exponentially lowering their power usage.
Remember To Research
Researching into cryptocurrency is always advised before purchasing any cryptocurrency, you can do this by either checking out cryptocurrency Socials as linked below or carving out your own forms of research.
Website: https://huh.social
PancakeSwap: https://pancakeswap.finance
Twitter: https://twitter.com/HuhToken
Instagram: https://www.instagram.com/huhToken/