Where Did The HUH Token Craze Come From? And How Does The Token Compare to EverGrow Coin?
EverGrow Coin experienced a successful launch in August, and just when the cryptocurrency community thought that all records set by EverGrow couldn't be beaten, HUH Token emerged and smashed all presale records to date. HUH Token launched just last week on the 6th of December, and in just a matter of days, the price soared by 6000%. That growth is huge considering the short period of time. EverGrow Coin equally had a successful launch; however, the coin is currently showing signs of slowing down and has been stuck in a dip for quite some time now.
So, will HUH Token follow in the footsteps of EverGrow and burn bright too fast? Or will they keep up the momentum and become trailblazers in the crypto-sphere?
The Rise Of Record-Breaking EverGrow
EverGrow Coin (EGC) is a deflationary cryptocurrency similar to Bitcoin designed to become scarce over time. It launched in September 2021. Within just two weeks of its launch, it reached the impressive milestone of 20,000 holders. The presale was a huge success, and holders received passive income in Binance Pegged US dollars. EverGrow was predicted to become one of the biggest platforms to provide a unique combination of cryptocurrency and DeFi-solutions. While this might still happen one day, the current reality of the situation is quite different. EverGrow dipped and has stagnated for quite some time now, and it has led members of the EverGrow community to become quite frustrated, and some are even titling the coin as 'NeverGrow'.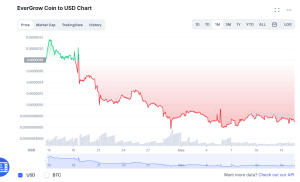 Source: CoinMarketCap – This chart demonstrates EverGrow's value over the last month.
What Is HUH Token And Why Is Everyone Going Crazy For it?
HUH Token has separated itself from other popular meme cryptocurrencies such as Shiba Inu, Floki Inu, Samoyedcoin, Dogecoin, and Cumrocket. On the other hand, HUH Token does not wish to rely solely on market speculation and therefore established the world's first 'UTIMEME' cryptocurrency, which combines the usefulness of utility tokens with the popularity of meme tokens.
The second reason we suspect everyone is going HUH Token crazy is because of its revolutionary referral system. Holders have the opportunity to share their unique referral codes with friends and family and earn 10% in BNB of every successful referees' first purchase. There's no limit to the number of people you refer, so you can earn BNB every time you invite someone to join the HUH Nation. The referees are rewarded, too, as they get to enjoy a reduced sell fee rate of 10%.
The third distinctive feature is that holders make more money since they have two sources of income. HUH Token is the first cryptocurrency to distribute both BNB and Token, providing you with additional profit opportunities. According to the designers of HUH Token, they want to transform the crypto industry and offer a new source of revenue that anybody can use.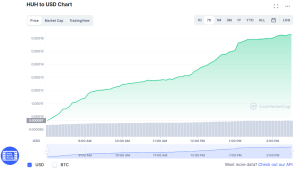 Source: CoinMarketCap – This chart demonstrates HUH Token's value over the last week.
As you can see from the graph, HUH Token has had an explosive week and doesn't appear to be showing any signs of slowing down. As a result, the hype around HUH Token is likely to keep spreading, and so it will be interesting to recheck CoinMarketCap in a week and see how it changes. Will it be to the moon for HUH Token? Or will it be another crypto flash in the pan?
For more on HUH Token:
Buy on PancakeSwap – https://bit.ly/3pSg09d
Website – www.huh.social
Latest HUH Token News https://bit.ly/3F6ttAV