cryptocurrency
Price Prediction: High Street Token to Tumble Another 48% while HUH Token Eyes 57% Upswing

High Street Token has breached a major support level on its daily chart indicating increased selling pressure and a likely 48% drop to its next support level. Meanwhile, HUH Token looks set to surge 57% to retest its all-time high.
High Street Token (HIGH)
Over the weekend, High Street Token broke below its major support level at $19.335 and tumbled downwards towards its next support level at $12.6283. This constituted a 60% drop from HIGH's all-time high.
However, HIGH looks to be breaching $12.6283 and if it closes below this level on a daily chart this would indicate further downside to $6.6856, a 48% decline. Altogether HIGH looks set to shed an eye-watering 86% in value since its all-time high.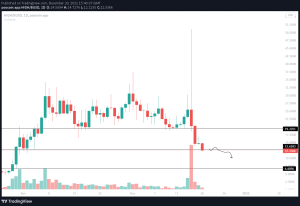 HIGH Daily Chart According to Trading View
HUH Token (HUH)
After bouncing off its new uptrend line near $0.0001000, HUH Token has confirmed its uptrend. Since then, the price has increased and is currently trading within a narrow band between $0.0002000 and $0.00016000.
Bulls will be watching for a retest and bounce off the blue upward trend line near 0.00016500, followed by a move higher to test the all-time high at $0.0002723. This would represent a 57% increase over current levels.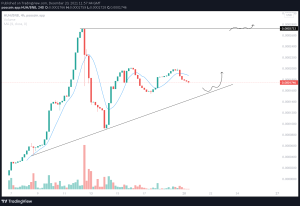 HUH 4-Hour Chart according to TradingView
HUH's moving average has surpassed its price, indicating an imminent upward correction. Additionally, the stochastics and relative strength index for HUH have both moved below their lower bands and into the buy zone.
If HUH's price can break above its all-time high, the next target would be the 23.6 percent and 38.2 percent Fibonacci extension levels, respectively.
However, if the price of HUH Token falls below the blue upward trend line, holders can anticipate a dip to the next support level at $0.0001395, invalidating the bullish prediction.
HUH Token debuted on December 6 and soared over 4000 percent in its first week of trading, breaking into the top 20 on PancakeSwap. HUH has a market cap of more than $145 million and approximately 12,000 shareholders.
The creators of HUH Token have dubbed the new cryptocurrency a "utimeme," indicating that it offers enhanced utility and features in comparison to other meme tokens. HUH has a unique referral programme in which holders can refer others and earn 10% of that person's first purchase of HUH Tokens. The 10% commission is paid in Binance Coin (BNB) and is credited directly to the account holder's wallet.
Additionally, HUH Token accumulates in a holder's wallet over time, implying that the longer you hold, the more tokens you'll receive.
The addition of HUH to popular cryptocurrency indexes CoinMarketCap.com and CoinGecko.com contributed to the price increase as well. On Monday December 20, the new cryptocurrency was also listed on Bitforex, which should benefit its price.
The global cryptocurrency market has been under increased selling pressure over the last month, losing nearly $1 trillion since November's all-time high. New cryptocurrencies, such as MetaversePro and HUH Token, have been able to alleviate the majority of this selling pressure.
The broader cryptocurrency market, on the other hand, appears to be preparing for a rebound as increasingly positive news from US policymakers emerges and Bitcoin and Ethereum teeter on key support levels.
Robert Courtneidge, a Locke Lord lawyer and co-founder of the Prepaid International Forum, recently stated that cryptocurrencies could be a critical part of our society's future and that regulation will soon become a part of the crypto world.
Find Out More About HUH Token:
HUH Pay – https://huh.social/presale/index.html
Website: https://huh.social
CoinMarketCap: https://coinmarketcap.com/currencies/huh/
Telegram: https://t.me/HUHTOKEN
Twitter: https://twitter.com/HuhToken
Instagram: https://www.instagram.com/huhToken/