cryptocurrency
Cracking Cryptos To Check Out This Christmas: Shiba Inu, EverGrow and HUH Token

Cryptocurrency is likely to be a topic of discussion across many tables this Christmas as the number of people investing in crypto grows exponentially. Three intriguing cryptocurrencies to watch this festive season are Shiba Inu, EverGrow and HUH Token. Each of these cryptocurrencies demonstrates impressive potential, and this article will go through all three cryptos and what they have to offer to their investors.
HUH Token
HUH Token is an exciting new addition to the crypto market and has only recently been launched. However, it has already made impressive strides, and the number of followers are growing at a higher rate than expected. Following HUH Token's launch on the 6th of December, it had a value increase of over 6000% in just a matter of days! While there was a lot of speculation that the cryptocurrency would soar, not many people anticipated how high it would go! The impressive stats surrounding HUH Token's launch has created quite the buzz and a strong sense of FOMO among the crypto community.
This token is definitely one to watch this Christmas, as industry experts are predicting that the token will explode very soon. The reason for this suspected explosion is that HUH Token will be launching on both CoinGecko and CoinMarketCap in a few days. When this happens, the price is likely to spike, and so investors will be wise if they get in on HUH Token before this expected rise.
You can find more information about HUH Token's pricing here.
Shiba Inu
Shiba Inu coin was established anonymously under the alias "Ryoshi" in August 2020. The meme currency swiftly grew in popularity and value as a community of investors were pulled in by the coin's adorable appeal and headlines and Tweets from prominent figures like Elon Musk and Vitalik Buterin.
Shiba Inu was created to compete with Dogecoin's Scrypt-based mining algorithm. Shiba Inu and the SHIB token are part of a flock of canine-themed cryptocurrencies that also includes Baby Dogecoin (BabyDoge), Dogecoin (DOGE), JINDO INU (JIND), Alaska Inu (LAS), and Alaskan Malamute Token (LASM).
On September 17, 2021, Coinbase, the largest cryptocurrency exchange in the United States, put Shiba Inu on its site. Shiba Inu's price increased by almost 40% in the next two days due to this information, placing the canine meme coin in the limelight once again.
The current CoinMarketCap ranking is #13, with a live market cap of $18,984,611,323 USD. Some assume that Shiba Inu has hit its peak, however, the coin is only a year old and so it is not too late to invest in SHIB.
EverGrow
EverGrow Coin has been in the crypto press for a while now as it had an explosive launch that broke all kinds of crypto records.  EverGrow Coin is a deflationary cryptocurrency that will gradually become scarcer. EGC holders will get an 8% reward on all Buy/Sell transactions in BUSD. Three per cent of each Buy/Sell transaction is remitted to the Buy-Back wallet, while two per cent is sent to the Pancakeswap liquidity pool to maintain a steady price floor. The EverGrow Ecosystem comprises several components, including NFT Lending, a Marketplace, and a Play-to-Earn Game.
As you can see, EverGrow has a lot to offer its investors, however, its value has been down for a while now and frustrated ECG holders have been referring to the crypto as 'NeverGrow'. Although, if there's ever a time to invest in a crypto, it's when it is in a dip, so ECG is definitely one to consider right now.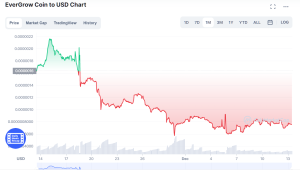 So, there you have it, three cracking cryptocurrencies to check out this festive season. Remember to always do your research before investing.
Learn More About HUH Token Here:
Website: https://huh.social
HUH Official Swap- https://swap.huh.social/
Telegram: https://t.me/HUHTOKEN
Twitter: https://twitter.com/HuhToken
Instagram: https://www.instagram.com/huhToken/