Events
Trending stag do activities in Krakow

Krakow is one of the most visited Polish cities by tourists.  A large part of them are people who come to Krakow to organize and take part in stag parties. The city is perfectly connected to the airport, so it does not generate any additional costs, and you do not have to waste time on additional travel. Getting from the airport is possible, for example, using the railway station or public transport. Krakow is also a place where nightlife is really great, which is why it is a great choice for stag do. One of the attractions that is becoming more and more popular among future Grooms and their friends is going to the shooting range. Start your unforgettable stag party at Cracow Shooting Academy and set off to further conquer the city!
Shooting range – best stag do idea in Krakow
It's hard to imagine a more masculine pastime for a stag do. A group of men, a lot of adrenaline and a gun in their hands – sounds like the perfect plan for a stag party in Krakow. If the future groom has never had contact with a weapon before, he will surely be delighted with such a gift. Why is the shooting range such a good choice for a stag party? The guests of stag parties highly recommend this kind of entertainment before the actual event – it's fun and a lot going on, and the excellent service makes the atmosphere really great. This activity will be a unique experience at a stag party in Krakow – with plenty of weapons you can fulfill your video game fantasies.
How to get to the bachelor party in Cracow Shooting Academy?
The shooting range is currently located at Surzyckiego 16 Street – it is a very convenient location for each stag party participant, regardless of whether they want to get there by their own car, public transport, taxi or Uber. The shooting range is open all week, from 9:00 to 20:00. If the participants of the stag party need transport – it is organized by a shooting range, renting a social bus for this occasion. This is a great convenience for some of the guests, especially when they want to move quickly and comfortably from place to place.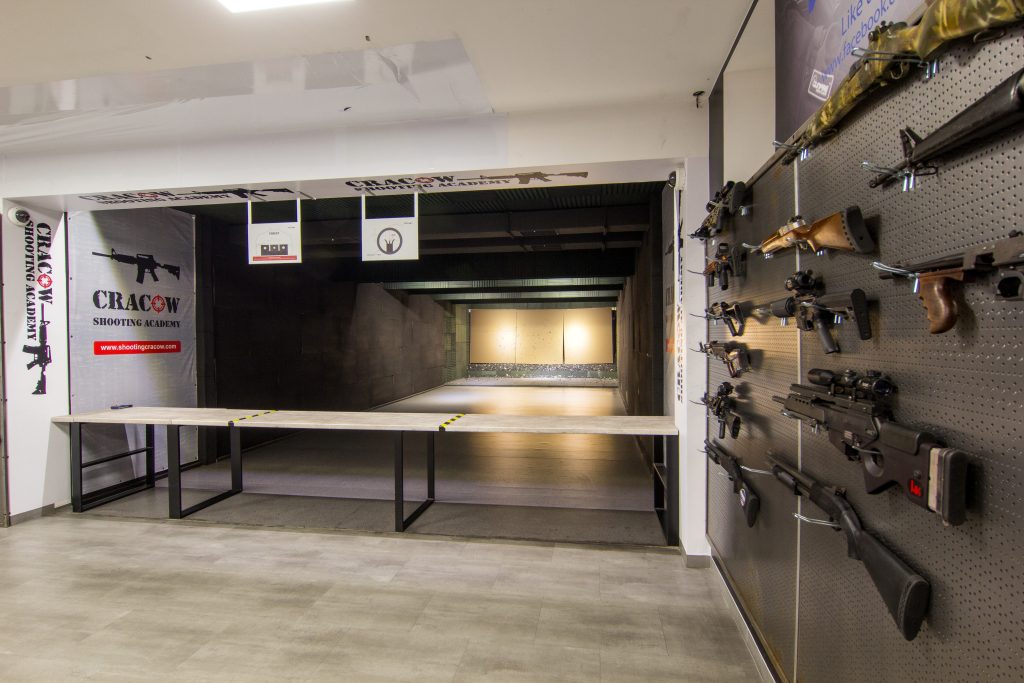 Stag party in Cracow Shooting Academy
The employees of Cracow Shooting Academy are not only people who constantly develop and update their knowledge. For them, shooting is a real passion, which they managed to combine with professional work. Thanks to this, not only will we learn a lot during the basic training, but also shooting will be safe. It's obvious that the staff has no problems speaking English, which is necessary when serving such a large number of foreign customers, including stag parties.
Stag do in Krakow – why shooting range?
In our opinion, this is a really perfect solution for stag do in Krakow. Why? It will provide not only great fun, but also a huge amount of adrenaline. Besides – is it easy to find a more masculine stag activities than shooting a target together? Many people from abroad also choose to visit such attractions in our country, because access to shooting ranges is much easier in our country than in some other countries. Do something unique on stag party – take part in this activity and be sure to make your friends back home satisfied: https://www.shootingcracow.com/en/offer/stag-party/ Passionate owners and employees, great prices, convenient access, a wide range of weapons (which is constantly developing) – these are only the most important pluses that should be remembered when choosing a place for a stag do in Krakow.