Technology
AnyTrans: Your Must-Have iPhone Manager That Lets Keep Control of Your Data with Ease

2020 has been a turbulent year so far and it has turned the world as we know it upside down. Amid all the turmoil we've witnessed recently, Apple found a way to make this year a little better. The company released the iPhone12 and iPhone 12 mini on October 13, while iPhone Pro and iPhone Pro Max models should become commercially available on November 5th.
You are going to need a data management app, like AnyTrans if you want to get any of the latest iPhone models in order to migrate the data from your previous iPhone or Android. Moreover, AnyTrans can make the daily usage of the iPhone 12 devices much more enjoyable. Here's how.
1-click data migration to iPhone 12
Getting all the apps and data from your old Smartphone to an iPhone 12 or any of the iPhone's previous versions doesn't have to be painstakingly long process. AnyTrans enables you to move all photos, videos to a new device in just a few easy steps.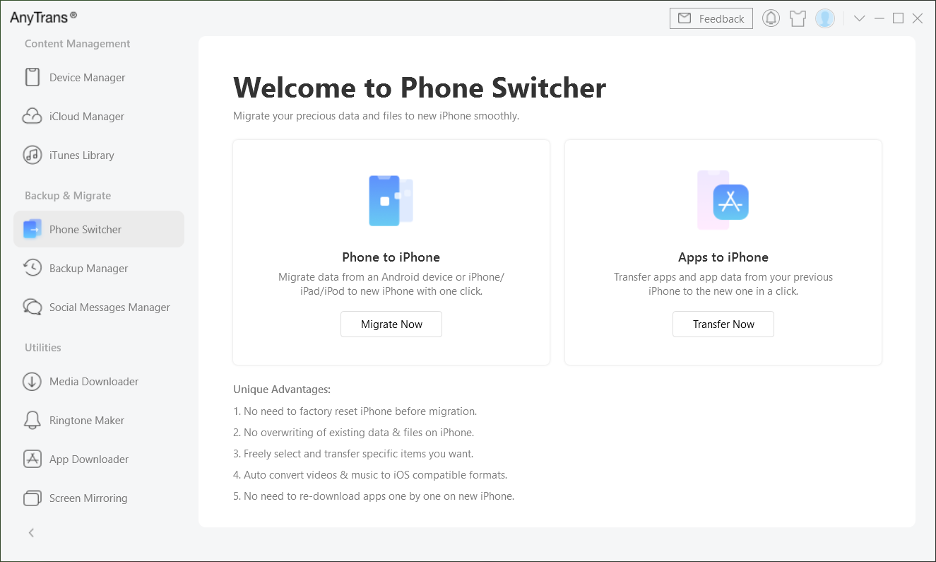 The Phone Switcher option lets you choose if you want to migrate data to a new iPhone or transfer apps to a new device. You just have to click on the Migrate Now or Transfer Now buttons below each option and make sure that both old and new Smartphones are connected to the computer either via USB cable or WiFi network.
Afterward, you can proceed to select the categories of data you want to migrate and AnyTrans will move all the selected data categories to your new device. Follow this link for a detailed step-by-step tutorial on how to transfer data from an old iPhone to a new one.
Moreover, you can migrate data to iPhone 12 from the Device Manager or iCloud Manager tabs that are located in the Content Management menu.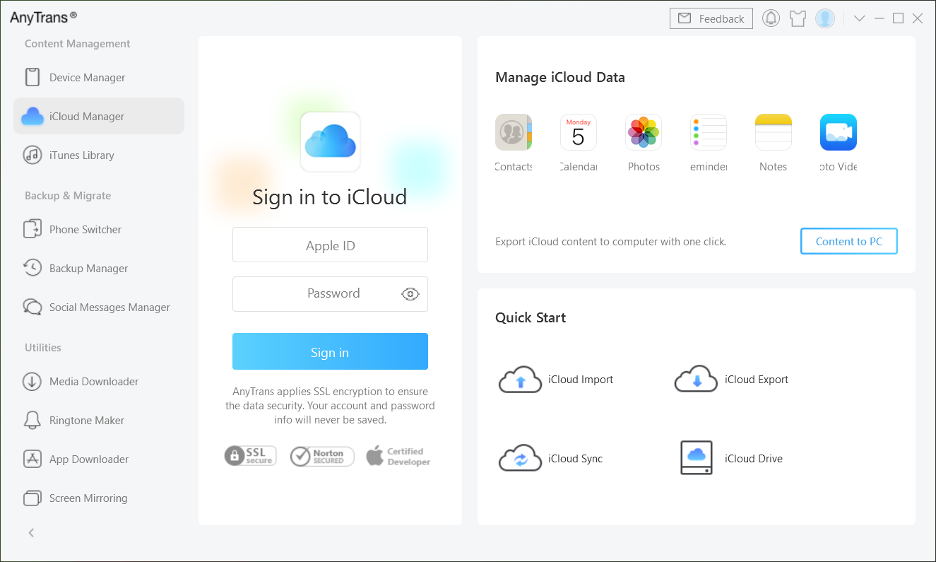 In addition, you can use AnyTrans to create backups of the data that is stored on your iPhone or restore backups to an iPad, iPod, or iPhone.
Effortless iPhone 12 daily usage
Managing the media files or messages you receive through social media can be tiresome as dealing with large amounts of data takes a lot of time. AnyTrans offers a simple and efficient solution to this problem by allowing you to import or export data from any device effortlessly.
The app's Device Manager tab lets you manage 27 different types of data including photos, music, or messages.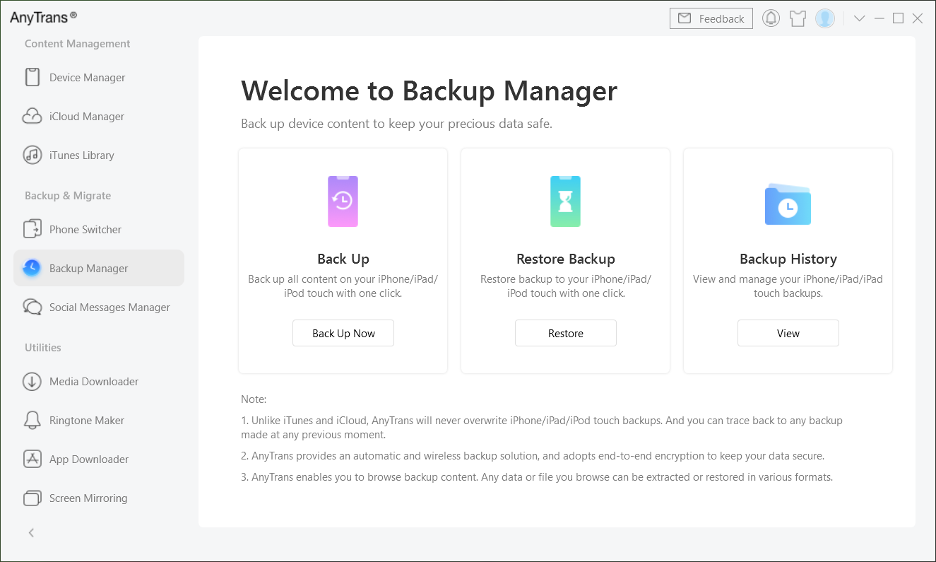 Moreover, the Backup Manager tab allows you to Back up the data stored on your iDevices, restore previous backups to iPhones, iPods, or iPads, and go through your entire backup history. AnyTrans doesn't overwrite the backups like iTunes or iCloud and it lets you access all backups you made with this app.
Essential utility tools for iPhone 12
Besides migrating, transferring, or backing up data, you can also use AnyTrans to discover and download online content, install apps, or create ringtones for your devices.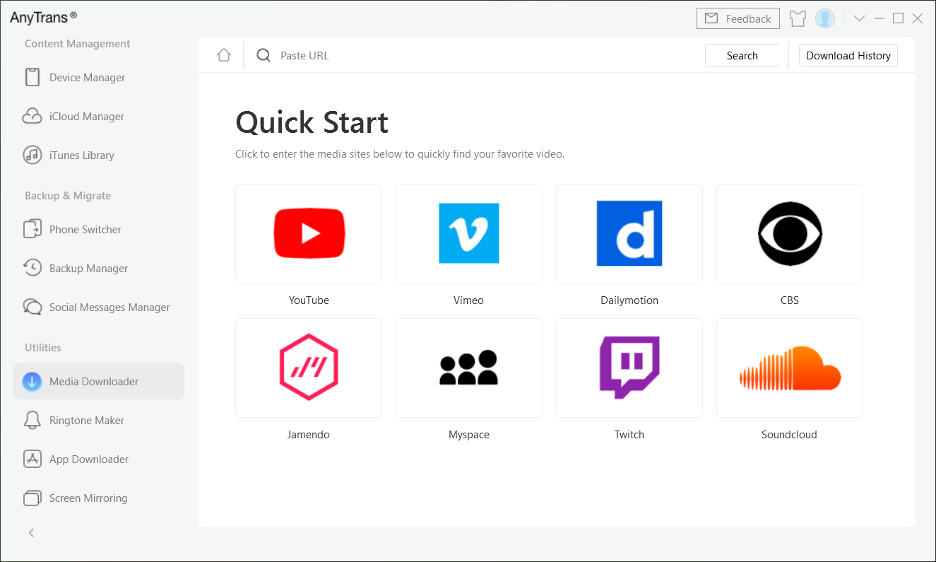 Vimeo, SoundCloud, Twitch, or YouTube are some of the most popular destinations from which you can download content with AnyTrans.
Additionally, all versions of apps you installed with this data management software are saved in the App Downloader tab, so that you can easily downgrade to any of the app's previous versions.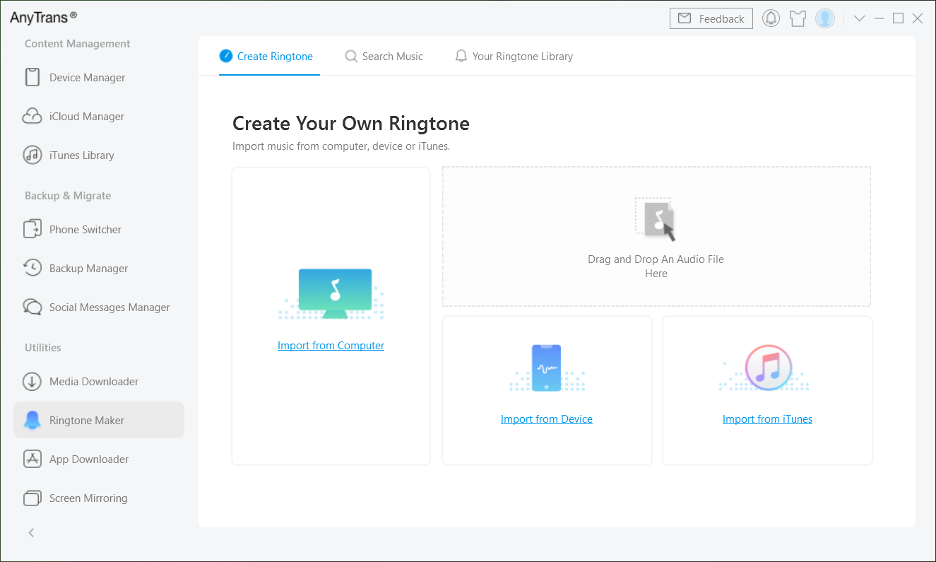 Creating a ringtone for iPhone 12 with AnyTrans is also a straightforward process as you just have to import an MP3 file from the computer, iTunes, a Smartphone or a tablet and specify the duration of the ringtone.
A chance to win a brand new iPhone 12 for free
Backing up the data you keep on your iPhone with AnyTrans can get you the opportunity to win a 128GB iPhone 12. All you need to do is share the story about how you got your first iPhone on Facebook, Twitter, or Instagram and include the #BackupwithAnyTrans in your post. Whether it is an inspirational story or a dear memory of the time you spent with your family we want to hear it.
The winner will be chosen randomly from the posts that attracted the largest number of likes. However, in order to qualify for the contest, your post must be legitimate since if it is deleted or proven to be spam you will be disqualified.
All posts with the #BackupwithAnyTrans hashtag in their description shared before November 1st, 2020 will be considered and the winner will be announced the next day on our Instagram, Facebook, and Twitter pages.
Moreover, you can get a 60% off coupon for AnyTrans and migrate data to your new device or manage the content you keep on your devices, iCloud, or iTunes.