Price Prediction: Dogecoin to Fall 50% and HUH Token Set to Breakout 57% After Announcing $500,000 Giveaway
Dogecoin's price is currently hovering near a critical support level that will determine the meme coin's future. If DOGE's price breaks below this level, a massive downtrend may ensue. Meanwhile, HUH Token is giving away $500,000 worth of tokens to 25 depositors between now and December 26, which could be the impetus it needs to breakout of its symmetric triangle pattern and send it on a 57% upswing to test all-time highs.
Dogecoin (DOGE)
Dogecoin's price is at a crossroads, and the direction it takes now will determine the coin's future trajectory. The outcome could be a stunning 50% correction.
The $0.16 support level is critical for DOGE because it has averted a crash four times in the last eight months. Investors should exercise caution as Dogecoin's price retests this level, as penetration could trigger a 50% correction to $0.078.
The volume profile for DOGE in 2021 reveals a gaping hole extending between $0.16 and $0.086 and $0.078. The point of control (POC) is located at $0.052, which is the price at which the most Dogecoin was traded.
Thus, the forecast for the meme coin is backed up not only by the volume profile, but also by technical analysis.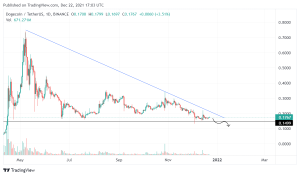 DOGE Daily Chart According to TradingView
Elon Musk's tweet on December 14 triggered an immediate increase in buying pressure, resulting in a 40% increase at one point. While this upthrust in the DOGE price averted a brief collapse, the bulls were unable to sustain it. As a result, Dogecoin has retraced its losses and is now trading near $0.16.
A daily close below $0.16 will signal the beginning of a bearish trend and will likely result in a crash to $0.12. Failure to hold above this level will result in a 50% sell-off of DOGE to $0.085 or $0.078, respectively.
HUH Token (HUH)
HUH Token has announced a $500,000 giveaway to 25 depositors on PancakeSwap from now until December 26, which might serve as the impetus needed to break HUH's symmetrical triangle on a 4-hour chart and send it on a 57% upswing to test all-time highs.
According to an announcement on Telegram, HUH Token's creators say if they manage to hit a market cap of $500 million by Sunday, then the top depositor will receive $100,000 worth of HUH Tokens, with the top 2 and 3 receiving $70,000, the top 4 and 5 receiving $30,000 and the top 6 to 20 depositors receiving $10,000 each. Another 5 lucky depositors will be selected at random to win $10,000 each.
"The rewards will not be vested and winners can sell immediately if they choose", according to the announcement.
Fortunately, all wallets can be tracked on BscScan so holders will be able to see if they are in the top rankings.
There is no doubt that HUH Token's creators will be aware of the significant crossroads the token is currently facing on a 4-hour chart. HUH's price has formed a symmetrical triangle, between its black uptrend line and its blue downtrend line. A symmetrical triangle is a neutral shape and HUH's price movement will depend on which line it breaks.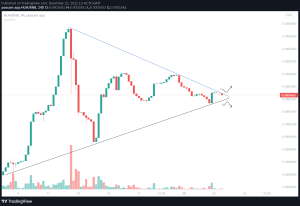 HUH 4-Hour Chart According to TradingView
The timing of HUH's new competition could serve as the perfect impetus to drive its price through the upper blue line, initiating a long-term bull trend and sending the price up to test its previous all-time high – a rise of over 57%.
HUH Token launched on December 6 and surged over 4000% in a week, breaking into PancakeSwap's top 20. HUH has been listed on popular indexes such as CoinMarketCap and CoinGecko. It was also launched on Bitforex on Monday December 20, resulting in a positive price movement.
HUH Token's creators have outlined a detailed plan in their WhitePaper to continue growing the new cryptocurrency, with the goal of breaking into the top 20 global cryptos by the end of 2022.
Website: https://huh.social
HUH Official Swap- https://swap.huh.social/
Telegram: https://t.me/HUHTOKEN
Twitter: https://twitter.com/HuhToken
Instagram: https://www.instagram.com/huhToken/