Polkadot and HUH Token are not the only cryptocurrencies on the market that use blockchain technology … however, they may just be the cryptos you want to use.
Blockchain technology, amongst other things, are the spoils of the long hours and the tireless work of coders that develop crypto technologies into realities and as a result blockchains house monetary value and even works of art.
Though, other than the idea of a spider web of pulsating string lights, the collective image and understanding of blockchain technology doesn't go much further than that synapses-on-fire imagery.
So, here's some key information on parachains, multichains and everything blockchain in a brief guide …
Answers To The Burning Crypto Questions
 What is a parachain?– It's a data structure that's application-specific, the beneath diagram below relays what a parachain structure would look like.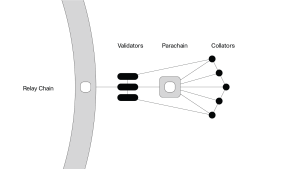 Examples of parachains?– There are four main types or models of parachain on Polkadot's technology. The first is High-Frequency Chains that allow many transactions in a small space of time by making optimised choices during the transaction process. The second model is, Smart Contract Chains these express additional logic that is sent out via the SCC. The third model is known as Encrypted Consortium Chains that are private and don't leak information. Additionally, the fourth model is Privacy Chains, much like encrypted consortium chains, PC doesn't leak information although Privacy Chains use novel cryptography to attain this function.
What are multichains? –  Separate or pre-existing blockchains that occasionally 'shake-hands', or nodes, if we're getting technical and create a bridge between the two blockchains that enables swifter and safer transactions.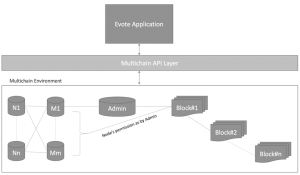 Examples of multichains? – Solana (SOL), Cosmos (ATOM) and HUH Token (HUH) are prime examples of cryptocurrencies working along multichains that have worked around the supposed limits of older crypto technologies like Bitcoin.
What is a blockchain? –  Although not exclusive to cryptocurrency, blockchains are most known for their role in the construction and heavy reliance that crypto has on them. Simply, a blockchain is a database that's shared across a computer network and stores digital information.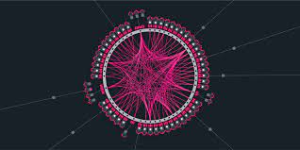 A Glimpse At Polkadot and HUH Token
Polkdat is pioneering the way forward for parachains and it appears that Polkadot holders are fastly becoming more enthralled with the nuts and bolts of how their cryptocurrencies work and that's not too dissimilar to HUH Token's holders.
HUH Token offers a multichain 'hand shake' between Binance and Ethereum, and in doing so has potentially offered HUH Token holders a rare reprieve from the volatility of the cryptocurrency market by allowing HUH to be stored digitally in either Binance or Ethereum.
Polkadot and HUH Token might be taking gigantic, man-on-the-moon steps to greatness with their blockchain technologies … however, they're also aware of the value of popularity and influence which skyrocketed both cryptos to stardom.
Soon, HUH Token will use some of its influencers to post and once again, skyrocket HUH for its holders. While Polkadot brings more integrated applications into its portfolio, upping the value of the currency once again.
If you're interested in acquiring some hands-on experience with blockchain technologies then you can visit the links below or Google HUH Token and Polkadot for more information on those crypto projects.
It's always best to do your research before investing.
Website: https://huh.social
HUH Official Swap: https://swap.huh.social/
Telegram: https://t.me/HUHTOKEN
Twitter: https://twitter.com/HuhToken
Instagram: https://www.instagram.com/huhToken/