The creators of Shiba Inu (SHIB) have revealed the meme coin's plans to enter the metaverse via "Shibverse", but despite its announcement and whale accumulation of over $88 million, SHIB is continuing to fall.
Meanwhile, HUH Token (HUH) has surged over 50% after launching its new social media campaign, where hundreds of prominent social media influencers have begun promoting the "Utimeme".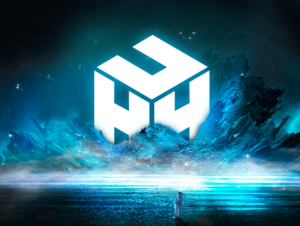 Shibalry is Dead
Shiba Inu's price is continuing its downward trend after already having lost over 80% of its value since its all-time high in November. The largest Ethereum whale wallets amassed Shiba Inu during their recovery from the recent crypto bloodbath and there was a a recent spike in buying volume.
According to data from WhaleStats, the largest Ethereum whale wallets amassed more than $88 million in Shiba Inu over a 24-hour period. The top two purchases by whales with the top-1000 Ethereum addresses were $40 million and $34 million worth of Shiba Inu.
Shiba Inu is now the second-largest whale holding outside of Ethereum. However, Massive accumulation by whales was unable to reverse the trend in SHIB's price.
The developers of Shiba Inu recently announced their entry into the metaverse with the release of "Shibverse."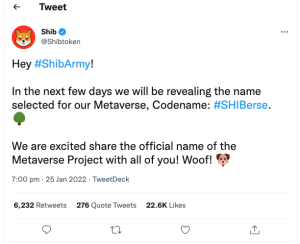 However, the announcement of Shiba Inu's metaverse entry had no discernible effect on the meme coin's price. Proponents believe that traders lost interest in the meme coin in recent weeks, resulting in a decline in its social dominance.
HUH??
On the other hand, HUH Token has surged over 50% in the past 24 hours after launching a new social media campaign, in which hundreds of top social media influencers have started promoting the "Utimeme". The ongoing campaign seems to be working, as HUH ranked in the top 20 cryptocurrencies on PancakeSwap at the time of writing.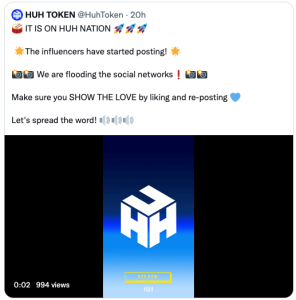 With over ten thousand holders, HUH Token expects to have millions by the end of the year as it rolls out its ambitious plans including a play-to-earn game and a social media platform for web3.0 called the "MetHUHverse", the details of which are available in their WhitePaper.
HUH Token also offers a unique referral scheme, where holders can refer friends and receive 10% of their initial deposit. The referrals are unlimited, meaning holders can continuously make new commissions with each referral.
HUH Token rocketed 3500% after its launch on December 6, 2021 and with its new media campaign and a sense of positivity now returning to the global cryptocurrency markets, HUH looks set to retest its previous all-time high.
This self-dubbed "utimeme" is available on decentralised exchanges Uniswap, PancakeSwap and BitForex with plans of launching on tier-2 exchanges in the coming months.
For more information visit:
Buy On HUH Website: https://swap.huh.social/
Buy On PancakeSwap: https://bit.ly/35qgxsy
Buy On Uniswap: https://bit.ly/3g1rRgC
Website: https://huh.social/
Telegram: https://t.me/HUHTOKEN