Cornwall
Storm Eunice – Please look out for your neighbours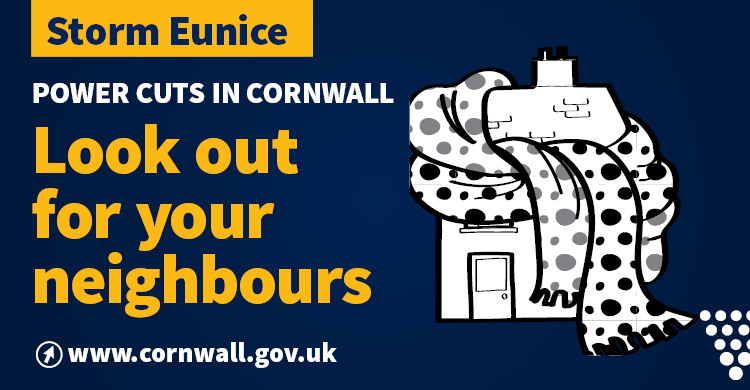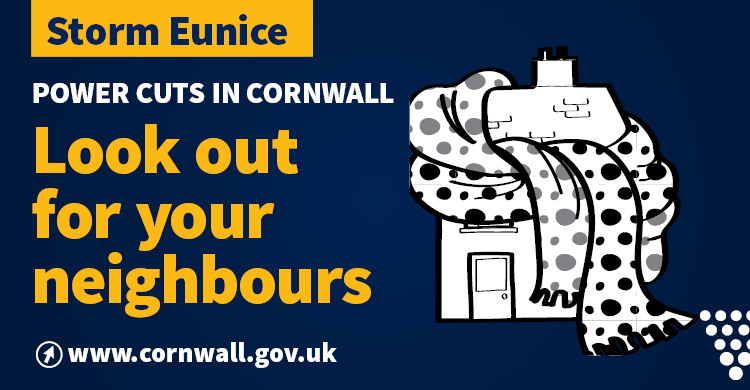 The impact of Storm Eunice is still being felt across Cornwall, with a number of fallen trees and roofs damaged / blown off.  The warning to avoid travel remains in place, unless absolutely necessary. If you do have to make a journey please take extreme care and expect road closures and disruption due to fallen trees and debris. Do not do anything to put yourself at risk.
Cornwall Council is asking people to look out for their vulnerable neighbours, relatives and friends this evening at Storm Eunice leaves at least 27,000 properties in Cornwall without power.
Cllr Martyn Alvey, Portfolio holder for the environment and climate change said:
"Storm Eunice has left in its wake a lot of damage and disruption – including power outages for many households across Cornwall.
"While the power companies are doing everything they can to get households back on grid, and the council and our partners are working hard to clean up the debris and damage left by the storm, there will be residents who, this evening don't have power at home.
"We are encouraging people in Cornwall to look out for their neighbours who are vulnerable and might be struggling this weekend."
Cornwall's multi-agency Tactical Command Group, led by Superintendent Steve Lenney, remains open with Cllr Martyn Alvey, Cabinet Member for Environment, part of the multi-agency group. The Red Warning has now passed and Cornwall remains under a high impact Amber warning until 9pm.
Known issues in Cornwall and the Isles of Scilly
With Council and partners working flat out to clear debris and keep residents safe, the focus of the Cornwall Tactical Command Group now is now on the clear up, getting power back on in homes, and the recovery phase.
Police, Fire and Rescue and Highways calls are now steady and dropping off
Cornwall Fire and Rescue Service have four units deployed to unsafe structures
There are a number of fallen trees and dangerous damage to roofs and Cornwall Fire and Rescue are advising caution to anyone that absolutely has to be out and about
Penmount Crematorium remains closed today (Friday), with all services cancelled for today. Our engineers will be assessing the damage, as soon as it is safe to do so, with a view to expediating repairs
The Tamar Bridge remains closed to high sided vehicles, due to high winds, but remains open for other vehicles
Highways have taken over 200 emergency calls, due to a number of fallen trees across Cornwall. With over 30 roads closed, crews are working hard to clear the trees and reopen roads. To report a fallen tree please call Cornwall Council on 0300 1234 222
A tree has closed the Pelynt to Polperro Road at Barcelona Cross, near Looe and the public are asked to avoid this route.
There remain a number of properties with damaged roofs with roof debris causing issues. With Cornwall still under an Amber Warning, and damaged buildings more vulnerable to further damage, everyone is advised to take extreme care if they absolutely have to be out and about. Inspections to damaged structures will be carried out once it is safe to do so.
Highways will be gritting roads across Cornwall from 6pm tonight.
There are now nearly 27,000 homes in Cornwall without power, with Western Power Distribution (WPD) teams working hard to return power. It is too early for WPD to say how soon those properties will be returned to power. Nationally they still have 90,000 properties without power and have returned power to 170,000 homes. WPD are working with the Red Cross to prioritise people registered as vulnerable. With temperatures dropping tonight, as low as 1.5 degrees Celsius, and averaging 3 degrees Celsius – Cornwall Council is asking people to check on any vulnerable family and neighbours
Connon Bridge Household Waste and Recycling Centre (HWRC) remains closed due to a fallen tree
Bodmin and Launceston Household Waste and Recycling Centres (HWRCs) have reopened. Bude, Newquay and Tintagel HWRCs remain closed until considered safe to reopen.
Bulky waste collections are cancelled today. Biffa will contact anyone scheduled to have a collection, on Monday to rearrange collection.
Recycling and garden waste and clinical waste will be collected on Saturday 19 February and rubbish will be collected on Friday 25 February.
All Covid testing centres in Cornwall are closed until tomorrow (Saturday 19 February), please check the NHS website before attending
The mass Covid vaccination site at Stithians is closed until Monday, while structural inspections take place
The Isles of Scilly has no significant wind and storm damage to report, although sea state is still very rough
All flood warnings are to be downgraded to flood alerts.
For information on power outages please visit Western Power website
For traffic and travel information tune into local radio stations.
Further information
A major incident was declared after a red weather warning was issued for parts of Cornwall for Friday, February 18.
Storm Eunice has been moving across the Isles of Scilly and north coast of Cornwall, up the coast to Devon and South Wales, bringing high winds across the whole of the peninsula., causing fallen trees and dangerous damage to roofs.
The Tactical Command Group consists of Devon and Cornwall Police, Cornwall Council Emergency Planning, out of hours Director and communications, Cornwall Fire and Rescue Service, CORMAC, the Environment Agency, Highways England SW, the Met Office and other utility and emergency services. Cllr Martyn Alvey, the Cabinet Member for Environment, part of the group in the Cornwall Emergency Management Centre.
Cornwall Council and our partners are continuing to work together and are responding to reports of damage and blocked roads.
Having urged people not to travel unless absolutely necessary, and to stay away from the coast, beaches and cliffs – we would like to thank everyone for staying safe and minimising their road travel and visits to coastal areas.
We are still under a Met Office amber warning, covering much of Cornwall, until 9pm tonight. Risks include an increased likelihood of impacts from severe weather, which could potentially disrupt travel plans. Impacts include possible road and rail closures, power cuts and the potential risk to life and property.
To keep up to date with the latest information please follow social media accounts
The Met Office has weather warnings and how to stay safe in a storm information on their website.
All waste and recycling collections have been cancelled for Friday 18 February. Black bag rubbish will be collected on Friday 25 February. Recycling, garden waste and clinical waste will be collected on Saturday 19 February. Cleansing activities are cancelled and will be resumed on Saturday 19 February. 
Some Household Waste Recycling Centres will be closed until at least 12 noon. Visit our website for more information. 
Some schools were closed for the day on Friday 18 February. 
Rail services are greatly reduced, with Paddington to West of England services reduced to one train per hour. All Cornish branch lines have been suspended into lunchtime. For National Rail travel enquiries call 03457 48 49 50 or visit their website 
Transport for Cornwall bus services, including First Kernow, were cancelled before 0700, with the situation being monitored and updates will be posted on their Twitter feed
The Tamar Bridge is now open to all vehicles and the Tamar Ferry Crossings are now running at full ferry service capacity with three ferries operating. If planning journeys for Friday please refer to their website or social media for updates, or call the Ferry on 01752 812233. 
How to get help or report a problem
The Council's highways service and CORMAC have shut all routine roadworks and have increased crews standing by to respond to issues on Cornwall's road network.
To report a blocked or damaged road or pavement that is causing an immediate danger, damage to a Cornwall Housing property, highway emergency or an issue which has the potential to cause harm or injury – please call the council on 0300 1234 222 (24 hour) or use our report it form 
Call 105 or visit www.powercut150.com to report a power cut.
To report flooding, contact the Environment Agency Incident hotline on 0800 80 70 60 (24 hour). Be flood aware and prepare if you can, and know what to do if your home starts to flood or call the Environment Agency on 0345 988 1188 (24 hour).
The Council has activated its Severe Weather Emergency Protocol (SWEP) to provide emergency accommodation for rough sleepers.  If you see, or know of, anyone sleeping rough call 0300 1234 161.
Winter Warm and Wellbeing
The Winter Wellbeing guides have useful advice and information. They cover staying warm, keeping well and being happy and safe this winter.
Organisations that can offer support, Monday – Friday, include:
Crisis Awards of up to £1,500 can help people in emergency or disaster situations with their immediate needs. Benefit contact centre – 0300 1234 121
Community Energy Plus 0800 954 1956
Age UK Cornwall Helpline – 01872 266 383
Cornwall Fire and Rescue Service – 0800 358 1999
Disability Cornwall – lifestyle support scheme -01736 697055  comf@disabilitycornwall.org.uk
Citizens Advice – 0800 1444 8848
Royal Voluntary Service 0330 555 0310, part of British Red Cross
Royal British Legion who offer financial support for emergency situations 0800 802 8080.
The Fuel Petroleum Service (FPS) runs a Cold Weather Priority scheme. This is designed to identify those customers most vulnerable to cold conditions. It ensures that your fuel supplier knows who you are and where you are. They can then take appropriate steps to ensure fuel availability. This is especially true in times of fuel shortage or extreme cold weather.  In Cornwall the following are members of the Fuel Petroleum Service (FPS): 
Heltor Ltd Cornwall Fuels 01726 72890
Mitchell & Webber Ltd 01209 821881
Opie Oils Limited 01209 215164
Watsons Fuels Redruth Depot 01209 313366.
If you find yourself in a situation where you believe you are in danger, call 999.
Update posted at 5pm, Friday 18 February 2022