Project ADDER funding helps local man turn his life around after 30 years of drug use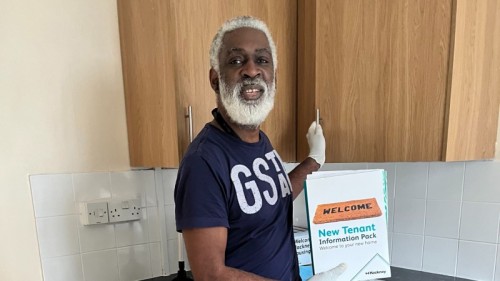 ll picture 3 (1)
"I've done many sentences and I've always gone back with no help from the authorities until now." 61-year-old Lloyd Lee has benefited from a central government initiative to tackle drug-related harm and crime in Hackney.
Project ADDER (Addiction, Diversion, Disruption, Enforcement and Recovery) in Hackney, which launched one year ago,  is one of 13 national project sites and received a total of £1.8 million of government funding across two years of delivery. 
The council has used the funding to work with local partners to help improve the lives of vulnerable people in the borough, such as Lloyd  who has been addicted to crack cocaine for the last 30 years. 
SWIM (support when it matters), a community interest company that empowers people in Hackney to improve their health, well-being and life chances, worked closely with Lloyd  as part of their PACT programme, a culturally sensitive initiative aimed at helping older black men. The team offered weekly support and helped him secure a safe flat away from drugs and crime. 
Lloyd  said: "The SWIM team has given me hope, advice and a belief in myself like never before, especially coming from prison."
When Lloyd  was referred to SWIM he had suffered multiple strokes in the last five years and also had many other health problems and mobility issues. He was living in an unsuitable third floor hostel room. 
"If I stayed in the hostel it would only be a matter of time before I am using again and committing crime."
He added: "Addiction has always been a problem for me but the SWIM team kept me strong because of what they did for me. I've never had this sort of help for anything. It's a great situation for me and I can't afford to chuck it away. 
Speaking about his flat, Lloyd  said: "Getting this flat has been life changing".
He was also helped to get therapy, his universal credit was set-up  and he is now fully engaged with the social working team at the council. 
Lloyd has also been able to re-establish relationships with his children, his mother, and his grandchildren. 
Welcoming the results,