University's vaccination radio show wins award
A special radio show which aimed to encourage young people to get the Covid-19 vaccine – devised by the University of Bedfordshire and Luton Borough Council – has picked up Silver at the 2022 Amplify Awards.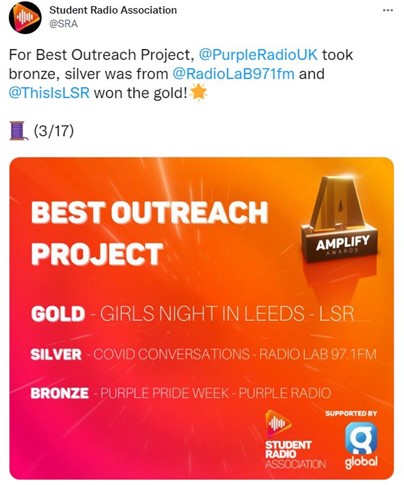 Radio LaB's #CovidConversations project began in September last year after the station was approached by Luton Borough Council with the idea – inspired by the fact that the number of young people in Luton who had been vaccinated against Covid-19 was considerably lower than the national average.
The project has now been awarded Silver in the Best Outreach Project category at the Student Radio Association's Amplify Awards, sponsored by Global Radio.
Third-year Radio & Audio student, Toby Crabb, who was involved in the #CovidConversations campaign, said: "It's fantastic to bring Silver back to Bedfordshire! A lot of us involved in Radio LaB were and are still very passionate about the importance of getting the vaccine, so it's great our campaign has been recognised by this national student radio award."
The #CovidConversations series featured open and honest conversations about the Covid-19 vaccinations with young people and students across Luton, hoping to dispel myths and squash misinformation about the injections – such as whether the vaccine affects fertility and the fast development of the injection. These facts were also backed up by expertise from a variety of medical expert guests, including Professor of Diversity in Public Health, Gurch Randhawa, and healthcare professional and TV personality Dr Emeka Okorocha.
Terry Lee, Senior Tutor in Radio & Audio who oversaw the #CovidConversations initiative, said: "It is important that Radio LaB's volunteers and presenters try to use the platform to help make a positive difference in the wider community. This project is a fantastic example of our students highlighting a problem, working with each other and external organisations and finding a solution. I am immensely proud of everybody involved! Securing a Silver Amplify Award just reinforces the impact and importance of this campaign and of all the community-centric work Radio LaB does."