Taking Big Strides to support Our Bolton NHS Charity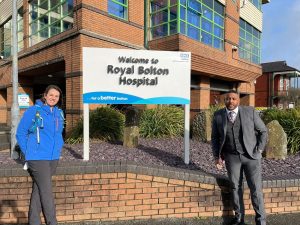 As part of the Our Bolton NHS Charity's winter appeal, the Big Strides challenge was launched on 1st February, 2022.
The aim of the challenge is for participants to commit to a daily-step target of their choice and raise money to help the Our Bolton NHS Charity fund the small things that make a big difference to patients and staff at Bolton NHS Foundation Trust this winter and beyond. To provide a little inspiration, on an average shift, NHS colleagues will walk between 5,000 and 15,000 steps per shift.
The Big Strides challenge has garnered support from Apprentice contestant Aaron Willis who grew up in Bolton and is proud to be supporting a local NHS charity; "The Big Strides is the perfect challenge for me because I know what a positive impact walking can have on physical and mental health. I feel really honoured and proud to be supporting Our Bolton NHS Charity with this fundraising event and have pledged to walk no less than 10,000 steps a day throughout February to help push them ever closer to their £25,000 target."
To take part in the challenge, people are being asked to visit the Bolton NHS Foundation Trust website to find out more details. In addition, they are being asked to share their progress on social media using the hashtags #BigStrides #TheSmallThings.
The Big Strides is also supported by Rebecca Shivji of CounsellingKind: a person-centred wellbeing service, offering counselling, coaching, and self-care events based in the North West. Rebecca has crafted daily mindfulness prompts, which are shared on Our Bolton NHS Charity's social media channels, inviting people to take notice as they take part in the Big Strides.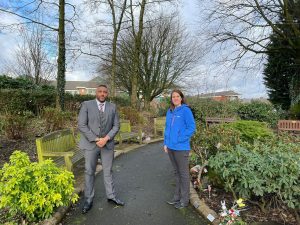 "I am delighted to be involved in the Big Strides fundraising activity, which has a caring element at its core, and aligns with CounsellingKind's well-being ethos," said Rebecca.
"The mental health benefits that can be gained from movement and mindfulness are well-documented and I would encourage everyone to take part in this fantastic initiative."
Our Bolton NHS Charity is the official charity partner of Bolton NHS Foundation Trust that aims to go above and beyond what the NHS can provide so patients receive the standard of care we'd want for ourselves, our families and our friends. Their mission is to invest in the latest technology and research; make improvements to the care environment and experience so patients feel comfortable and at ease, and fund specialist training so our staff provide the highest standard of care to patients.