Cycle track works commence in Hartlepool
Construction is underway of an accessible cycle track at a Hartlepool country park.
The new 750-metre track at Summerhill Country Park will be safe for riders of all ages and abilities.
Thanks to funding from British Cycling, Hartlepool Borough Council is developing a cycling hub which will provide accessible, traffic-free community cycling facilities and opportunities.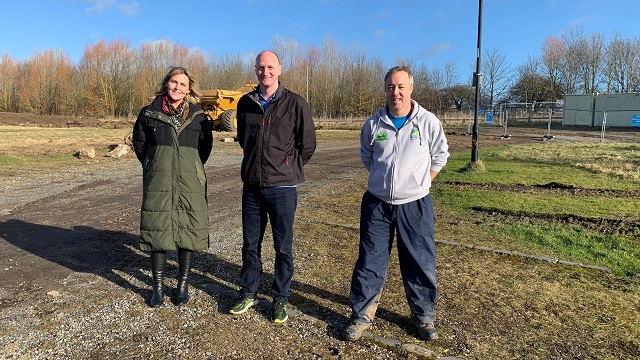 The fenced and floodlit track is aimed at encouraging everyone – whatever their ability – to cycle more safely and more often.
Once construction is complete, the project will also support people to further develop their cycling skills in track and BMX, in partnership with several local clubs.
The works – which will conclude in May 2022 – are being carried out by Rainton Construction Ltd who were awarded the contract following a successful tender submission.
Works comprises of:
A 750-metre "free-form" tarmac, fenced and floodlit cycle track incorporating varying elevations and degrees of cornering difficulty

A dedicated balance bike and learn-to-ride area, for younger people keen to learn new skills

Spectator fencing and a warm up/cool down area on the existing BMX track

Two secure cycle storage containers
Excitingly, the project also includes the provision of adapted bikes to enable disabled people to become more active and enjoy the benefits of cycling.
The will also be a multi-use space suitable for a diverse range of activities such as running and triathlon training.
Councillor Shane Moore, the Leader of Hartlepool Borough Council, said: "We're really excited to see this development get underway.
"It's so important that we extend our inclusive offer at Summerhill so that everyone can get involved and this is a big contribution to that.
"Early on, this project was identified as a key priority from our Neighbourhood Investment Fund and we've been able to match fund what we are investing as a Council with the money from Sport England on behalf of British Cycling.
"It's great that we're getting out there and trying to bring in as much money as possible from external sources to help improve opportunities for people in Hartlepool."
Gemma Ptak, Hartlepool Borough Council's Assistant Director – Preventative and Community Based Services, said: "The new bike track provides a fantastic opportunity for us to host some of the cycling clubs in the borough, across a broad range of ages and abilities.
"Accessibility is a critical part of this work and we're really looking forward to welcoming people from all over the borough – and further afield – to come and enjoy this site.
"This is a fantastic development and we hope it is the start of some really good work around our cycling provision in the Borough and this will be the catalyst for us to be able to move things forward positively."