Time is ticking to apply for a road closure for your Platinum Jubilee street party
As preparations gather pace and street parties are being planned across the county to celebrate the Queen's Platinum Jubilee for the special four-day bank holiday weekend (Thursday 2 June until Sunday 5 June), Dorset Council is reminding residents that the deadline for applications for temporary road closures is fast approaching.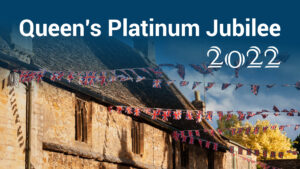 Road closure fees for street parties will be waived for the extended bank holiday, but applications need to be submitted by 21 April so that closures can be arranged.
The Queen's Platinum Jubilee is set to be the country's 'biggest ever' celebration and Dorset Council has already received over 70 applications for temporary road closures for street parties.
Alternatively, the road can be kept open and instead residents can organise a gathering or 'Street Meet' on private land, such as a driveway or front garden, without any requirement to fill in forms.
Town and Parish Councils across Dorset will be organising events, so check out your local information sites to see what's happening near you.
Cllr Val Pothecary, Chairman of Dorset Council, said:
"The Queen's Platinum Jubilee is going to be a very special national event, and we want as many people as possible to take part in the celebrations.
"As well as the more formal and also organised community events that will take place, we're encouraging people to get in the spirit and put on their own local events – it could be as simple as inviting your family and friends for a party in the garden, or a larger community event such as a street party for the neighbourhood."
Find out how you and your community can celebrate The Queen's Platinum Jubilee on the official Platinum Jubilee website.
The Platinum Jubilee website also has an interactive map which give details of all the events and activities that will be taking place in Dorset as well as the rest of UK,  and you can find out about local events and add details of your own to the site.
Other useful websites:
Queen's Green Canopy is encouraging more tree planting to mark the Jubilee