Decarbonisation Grant application deadline extended
A grant scheme that could help Doncaster Businesses reach their net-zero aspirations in line with the UK Government targets and the Climate Emergency declared by Mayor, Ros Jones.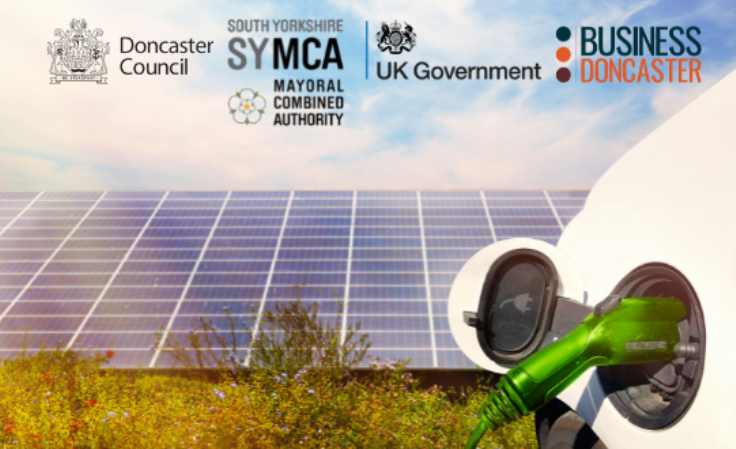 Any SME business can apply for this grant worth up to a maximum of £3,000 and can use it to develop decarbonisation initiatives that will help your business become "greener" and ultimately a more environmentally aware organisation.
We all have a shared purpose to create a stronger, greener, fairer South Yorkshire with climate change at the forefront of everyone's agenda. Business Doncaster encourages every SME business, no matter what industry or sector, to step up and kick start that journey.
Doncaster Mayor Ros Jones said: "We are committed to doing everything possible to reduce our carbon footprint. Having secured this latest government funding, we are looking forward to helping as many businesses as we can to be much more energy-efficient and help the borough achieve its net-zero ambitions."
There are two different routes to achieving net-zero:
Reduce existing emissions
Actively remove greenhouse gases  
How do I become a net-zero carbon company?
Understand your current emissions…
Set targets for reduction…
Deliver carbon reductions and efficiencies…
Develop low carbon products or business models…
Compensate for your current emissions…
Develop climate projects now, as part of your future strategy…
Any of the above involves investing now to improve existing projects, develop new ones and demonstrate your commitment to climate action and change.
Do you measure your businesses carbon footprint? What are you doing to reduce your emissions? Do you want to invest in low carbon business and carbon compensation strategies and take real action towards Net Zero? If yes, then this grant could help you do just that.
This grant is funded by the South Yorkshire Mayoral Combined Authority (SYMCA) and administered by Business Doncaster.
Who is eligible for the Grant?
To be eligible for this grant:
You must be a micro or SME based in Doncaster.
Your business staff headcount must be below 250 FTE. Businesses with more than 250 employees will not be eligible.
Your business must have a balance sheet of below €43million.
Your business must have a turnover of below €50million.
If your business has received another subsidy or grant in the last 3 years, the total (including if accepted this grant) must not be in excess of £348,000. Businesses exceeding this level of funding will not be eligible.
Businesses operating in the following sectors will not be eligible:

Betting shops
Payday loan shops
Pawnbrokers
Amusement arcades
National Charities
National Retailers
For further information or to continue with an application please contact the Business Doncaster team on 01302 735555 or 
info@businessdoncaster.com
Applications close 30 September 2022.
Category: Business & investment
Last updated: 13 May 2022 13:42:03