Award Winning Design Backpack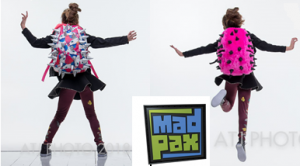 The multi-award winning and celebrity favourite U.S. backpack brand MadPax, has Back to School covered with its new designs for 2018.
Launching this year is the long awaited 'Unicornicus', all things magical & sparkle, the 'Moppet' range made of super soft, fuzzy faux goodness and 'Pactor'… think 'Spike' kicked into primal proportions. MadPax will also be expanding their perfect 'Pint' range to include the best-selling Warp Speed and Don't Burst my Bubble prints.
MadPax styles including the original Spiketus Rex ™, Blok ™ and Bubble ™ along with the 'Pint ™ mini backpack and a range of accessories.
The driving differentiator of these award winning back-packs is the amazing and stunning designs that uniquely incorporate stand out features, such as monsters, seashells, bubbles and loads more.
MadPax come in 16 designs, 3 different sizes and in a rainbow of colours. The Fullpack ™ is an adult sized backpack and great for ages 7+, the Halfpack™ is a mid-sized back recommended for 4-7 year olds and the mini 'Pint' backpack.
Practicality is in no way compromised with features include a roomy main compartment, two side zip pockets, padded laptop sleeve and interior zip pocket. They are lightweight to protect young backs and the Fullpacks all come with a sternum strap.
Tina Huber, Co-Founder of MadPax says: "We created MadPax on the one key principle to create 3D inspired, progressively modern, backpacks for kids of all ages."
MadPax allows kids to express their inner creature, while toting a functional, funky and fun pack.
Many celebrities' kids have been spotted with a MadPax like Hugh Jackman, Willow Smith, Kate Hudson, Ben Affleck & Heidi Klum and UK Kids Blogger Amazing Arabella.
MadPax was founded in Phoenix in 2011 and all of the exclusive range is designed there. They are available from authorised retailers across the UK and Europe and from :www.madpaxworld.com
Ranges, priced from £30 – £75.
For Further Information Contact Anita on anita@madpaxworld.com
or Mobile 07715 086314
Captions: New 2018 Collection, Selection from The MadPax Collection;.