Alcohol and drug addiction are not the kinds of issues that have a socioeconomic preference. A blue-collar professional is just as likely to struggle from addiction as an executive who handles a large corporation. In fact, it can be a little difficult for the latter to admit that they have a problem and seek proper treatment owing to several reasons.
It's common for professionals to give preference to work over their healthcare and seek necessary treatment at the right time. The fear of losing a job often comes in their way of recovering from substance abuse and taking the necessary time off. 
Another crippling fear is that of ruining the reputation they worked so hard to build over the years. It's not easy risking that your colleagues will learn about your problem.
Executive rehab centers provide a comfortable and safe space for high ranking officials and personnel to get the necessary treatment without ignoring their job/career responsibilities. It allows them to lead a sober life.
What are Executive Rehab Centers?
These facilities cater to the specific needs of CEOs and high ranking officials struggling with addiction. It allows them to stay active in terms of their work responsibilities while also receiving treatment in a safe and confidential environment.
The main goal of an executive rehab center is to offer a comfortable recovery environment that combines both business and treatment needs. To achieve their work and recovery goals, rehab centers offer a collection of amenities and business tools coupled with essential treatment programs in a high-end and peaceful facility. 
The length of typical inpatient drug addiction programs can vary from 30 to 90 days. It factors in the unique needs of the client drawn after a comprehensive assessment.
Professionals from multiple fields can participate in one such program. Below are a few kinds of professionals who can join one such facility:
Doctors

Nurses

First responders

Lawyers

Behavioral health clinicians

Pilots

Executive-level professionals working in a corporate environment

Any blue-collar professional with 30+ years of age.
Features of Executive Recovery Centers:
The kind of features and facilities you will find in executive, residential addiction recovery centers is different from a typical conventional rehab center because they cater to a specific kind of population. 
You can expect to find below-mentioned features in one such program:
Confidentiality
This is easily the #1 preference of blue-collar professionals and high ranking executives who seek to recover from addiction. They often want to keep their condition confidential. The only people to know about patients' treatment are the healthcare professionals and whoever they choose to share their story/experience with; and no one else.
Business Amenities & Tools
Executive rehab centers have well-equipped meeting rooms, private workspaces, phones, and access to high-speed internet. All of these features are essential for operating business while also undergoing treatment.
High-end Services
To meet the lifestyle needs of executives, most executive rehab centers are considered luxury rehabs, and will have yoga and meditation classes, spa treatments, professional chefs, private rooms, laundry service, personal trainers, acupuncture, and many more amenities.
Moreover, rehab centers that cater to executives often provide both drug and in-patient alcohol rehab to their clients.
Fewer Patients
Executive rehab centers make it a point to maintain a low staff-to-patient ratio. Because the cost of addiction treatment is usually higher than a standard treatment facility, executive rehabs will only admit a limited number of patients. 
The goal is to offer quality and personalized care as much as possible. Doctors will take the individual assessment to ascertain the best possible treatment for you rather than sticking with a run-of-the-mill approach or following a standard treatment protocol.
Treatment Process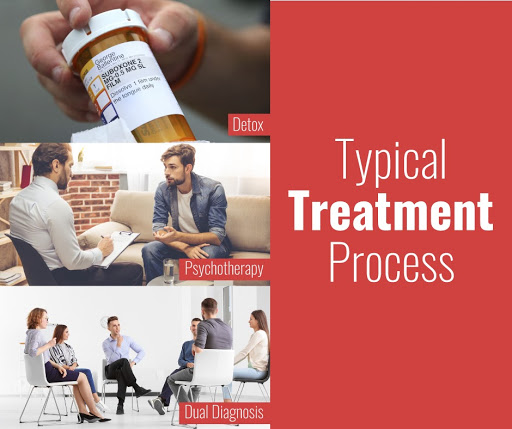 Private rehab centers generally follow a treatment protocol that focuses on the following – 
Individual and/or group psychotherapy with the help of a counselor

Routine follow-ups so that the person continues to receive necessary support and care, even after treatment.
Detox
This is usually the first step in most recovery programs. It aims to put an immediate end to drug usage while also cleansing the body of existing substances. Because of this, the body experiences a collection of unpleasant and painful withdrawal symptoms. To manage these symptoms, healthcare professionals use medication.
Other than that, they use a variety of tools and methods to make sure that detoxification is as safe and comfortable as possible. 
Psychotherapy
Psychotherapy is generally the 2nd phase which begins shortly after detoxification is over. It can operate on both individual and group sessions. Therapy aims to ascertain various psychological reasons and causes that might be causing the person to abuse drugs and alcohol.
Patients also learn about relapse prevention methods and coping mechanisms so they can deal better with stressful situations without having to resort to drugs. 
Below are the commonest forms of therapies used in execute rehab programs:
Cognitive Behavioural Therapy aka CBT – CBT aims to identify and correct distorted thinking patterns that trigger abuse and relapses.
Dialectical Behaviour Therapy – This is a form of CBT wherein the person works with a therapist. He/she learns skills to better regulate their emotions while dealing with cravings and difficult times. It teaches them ways to set personal boundaries so as to minimize temptations and also learn mindfulness.
Motivational Interviewing – Under this, a therapist works to overcome any resistance a person may have towards treatment. They also work on asserting positive reasons that might encourage a person to quit drugs and alcohol.
Dual Diagnosis
Dual diagnosis aka co-occurring disorder is when a person suffers from both substance abuse and mental health condition. Dual-diagnosis treatment often demands a specialized kind of treatment.
While most executive rehab centers are equipped to treat dual-diagnosis, it's important to check beforehand whether or not the facility is qualified to treat co-occurring disorders.
Privacy and Help are Available
It's never too late to seek help if you're struggling with alcohol or drug addiction regardless of your position. With the help of medical aid and a peaceful living environment, you can lead a productive and healthy life. 
With the highest possible level of clinical care, amenities, and a holistic environment, you can get over any addiction. Do not surrender to your addiction. Seek help today!