Brighter future ahead for An Viet Foundation archives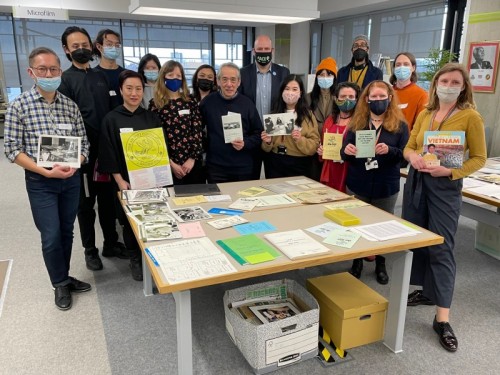 The largest known collection of British-Vietnamese historical documents, currently stored at Hackney Archives, was visited by the Mayor of Hackney this week, to see the work being carried out by a team of local heritage specialists, including archivists, conservators and volunteers, to preserve the records. 
The invaluable catalogue of documents and artefacts, including rare self-published poetry and biographies, unique papers documenting the work of the historic An Viet Foundation, and flyers and posters produced to promote Vietnamese cultural events, were nearly lost to vandalism in 2018. 
Thanks to a £30,000 grant administered by The National Archives through the Government's Covid-19 Archives Fund, specialist conservators and volunteers have been able to to clean, survey, grade, catalogue and repack the 1293 books and almost 50 irreplaceable An Viet Foundation publications to date. A wider search for an appropriate new home for the collection is now underway. 
The An Viet Foundation (AVF) was set up in Hackney in 1981 to support Vietnamese settlement in London after the Second Indochina War, and became a central hub for Vietnamese families providing support with housing, health outreach, English language, and mother-tongue classes. When the AVF formally wound up in 2017, documents from the 'Southeast Asian Research Centre, along with the organisation's records stored in the Old Bath House (formerly An Viet House), were significantly damaged due to vandalism. A much-loved community hub, the Old Bath House is currently set to be refurbished for use as a new East and South-East Asian (ESEA) Community Centre after Council investment was agreed to bring it back into use.