The Leader of Eden District Council, Cllr Virginia Taylor, has launched a bold new Zero Carbon Eden strategy, which aims to bring the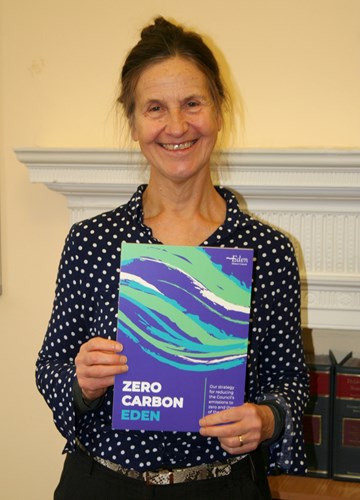 Council's emissions to zero and the Eden district's to net-zero by 2030.
The Zero Carbon and Biodiversity Strategy (2021 to 2030) sets out six key areas in which the Council can make a substantial difference and ultimately achieve net-zero carbon in the district by 2030. Action plans have been developed for Council Assets and Energy; Sustainable Transport; Waste; Business and Community Support; Community Engagement and Publicity; and Land Use.
Also included in the document is the Council's new biodiversity strategy, which aims to ensure that fauna, flora and ecosystems in Eden are preserved, protected and enhanced.
To achieve these biodiversity goals, action will be taken to stop habitat and species loss, establish good management of existing habitats, create and redevelop opportunities for key indicator species, and control and manage invasive species and disease in the local fauna and flora.
In July 2019, Eden District Council declared both a climate and an ecological emergency, standing alongside over 300 local authorities across the country in declaring these emergencies. This new strategy is its latest step in taking action to act sustainably and work to maintain a healthy, clean and green environment both now and for future generations.
For more information on Eden District Council's Zero Carbon Eden commitments, visit www.eden.gov.uk/your-environment/zero-carbon-eden/.
ENDS